Your BlackBerry is much more than a simple communications tool. Like a watch or a pair of sunglasses, it was designed to serve a specific purpose, but it's also a fashion accessory and, therefore, should look good.
With that in mind, instead of offering you our typical shortcuts, tips, tricks or software downloads, we've decided to assemble a list of our favorite Research in Motion (RIM) BlackBerry carrying accessories.
From a lamb skin holster to a ruggedized case made of silicon and polycarbonate shells, you have plenty of options to ensure that your BlackBerry remains as pretty as it was the day you unboxed it.
There are a plethora of products on the market that are designed specifically for carrying and protecting BlackBerrys, and it would be impossible for us to include all that are worth mentioning in our list (as much as we'd love to.) So we selected a handful of our favorites.
1) Holsters — Wear Your BlackBerry With Pride
RIM Original Equipment Manufacture (OEM) Swivel Holster for 8xxx Devices
This cow skin leather holster is designed by the BlackBerry maker itself, and it shows in its beautiful aesthetics. It's one of the most commonly used BlackBerry accessories because it's widely available online and in large electronics stores like Best Buy. It's utilitarian–there are few bells and whistles–but it does feature a swiveling belt clip that can turn 360 to let you choose whether you want your device to sit on a belt vertically, horizontally or anywhere in between; a magnet inside turns off your screen when in place and allows you to employ specific "In Holster" power and notification settings; and the holsters for 8xxx devices have interior grooves to protect trackballs.
The product is available for a number of BlackBerrys, including the entire 8000 series lineup. RIM sells the holster for $29.99 for the Curve, but it can be purchased online for significantly less. The swivel holster is also available in a variety of colors, including black, brown, tan, white, pink and red.
Seidio Spring Clip Swivel Holster for BlackBerry 8xxx Series Devices
If you prefer a plastic holster to a leather one, the Seidio Spring Clip Swivel Holster is for you. The holster's available for "unskinned" devices, as well as those with rubberized protective cases. Like the OEM holster mentioned above, it features a ratcheting swivel clip–though this clip can be locked into place–and it powers down your device's screen when properly inserted.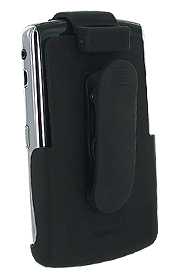 The Seidio holsters also feature a unique spring clip that makes it easy to remove and insert your device–though the clip does take some getting used to.
Unfortunately, the Seidio holsters are available only in black, so if color is important to you, you'll want to keep on shopping. The Seidio Spring Clip Swivel Holster is available for all 8800 series BlackBerrys, skinned and unskinned, for $29.95 from the manufacturer–though, again, you can find it for less online.
2) Totes and Sleeves — Is That a BlackBerry in Your Pocket?
RIM OEM Leather Tote
This lambskin leather tote from RIM is very similar to the OEM swivel holster, minus the rotating belt clip and cow skin material, and it includes all the same power-saving and notification feature. In the clip's place: a removable leather strap with clasps on both ends which can be used to attach your device to a bag or purse. Users who prefer to carry their devices in a pocket or strapped to their laptop bags will appreciate this OEM leather tote's slimmed down profile.
We're big fans of this tote, as we'd much rather carry our devices in pockets than strapped to a belt. We even went as far as removing the small leather flap and metal loop on the tote's reverse side with a tiny pair of scissors to make it even more pocket-friendly–though we can't recommending doing so at home, due to the potential for damage to your tote if done carelessly.
Like its swivel clip sibling, the OEM leather tote comes in a variety of colors and sells for $29.99 at RIM's official store, but you're better off shopping through unofficial channels for this product, as well–at least if you're looking for the lowest price.
RexRegina Morgan Case for BlackBerry Curve 83xx, 88xx
The RexRegina Morgan Case is about a simple a BlackBerry carrying product as you'll find, but high-quality Italian leather makes it truly shine. The pocket or "sleeve" design gives you access to your device's volume keys and USB and headphones jacks while sheathed. Like the RIM OEM holsters and totes, it has a "sleeper" function that shuts down your screen to conserve power and ensure buttons aren't pressed while your device is in place. There are also internal grooves to protect your trackball.
The RexRegina Morgan pocket pouch is available in a variety of leather finishes including two styles of lizard skin, pebble grain and matte, and it's even available in hot pink. The case goes for $44.99, though a very similar vinyl OEM pouch can be purchased for between $19.99 and $29.99, depending on your device. We would, however, recommend more the expensive option if you've got the extra scratch because the leather is luxurious.
Our one complain about pocket pouches or sleeve cases: They never seem to hold our devices in place tight enough after being used for a few weeks and the leather loosens up. Since they also don't feature any sort of top closure, we've had our precious devices slide out on occasion.
3) Side Cases — A Twist on the Traditional Holster
RIM OEM Side Case for Curve 83xx, 88xx
The OEM Side Case from RIM is similar to a tote, as it's a leather case with no belt clip, but what sets it apart is its horizontal orientation and thick leather cover, which completely encloses your BlackBerry for added protection. Like the tote, it features a short leather strap that can be used to attach your device to a bag or purse. And it also has all the same battery saving and notification features as its OEM siblings.
Unlike any of the other cases we've mentioned so far, it has an interior pocket for storing cash, business cards, notes or receipts. (Note: Cards with magnetic strips, like payment and access cards, should not be stored within this pocket, as the case's magnet could wipe them clean.)
The BlackBerry OEM side case is available in all black, black and tan and brown and tan for $39.95.
We've got a few complaints about this side case, however: Because the case fully covers your device when closed, you can't see you LED message indicator. And access to the headphone and USB jacks, as well as the volume keys, is blocked.
RexRegina Winston Case for Curve 83xx, 88xx
The RexRegina Winston Case features a very basic form factor, like its Morgan sibling, and its real strength is the quality construction and leather, which comes in a variety of textures. The product is available in two lizards-skin finishes, as well as pebble grain and matte leather. And it has the standard power-saving features.
Like the RIM OEM side case, your device is housed horizontally when in place; but the Winston doesn't completely enclose the device, so one side is accessible while in place.
We prefer this RexRegina case to the company's pocket pouch because of the leather strap that keeps your device held snuggly in position. The BlackBerry LED message indicator is still blocked, however, and that's not ideal for us. The case sells for $49.99 from the company itself and a variety of online retailers.
4) BlackBerry Skins — Show Some Skin
RIM OEM, Smart Phone Experts and Cellet Skins
Our favorite BlackBerry skins are made by, you guessed it, RIM. Starting to see a pattern? We can't deny it; RIM's own carrying accessories are the best on the market, in our opinion. And as such, we've tried nearly all of them.
There are various manufacturers of BlackBerry skins for just about all of RIM's entire smartphone lineup, and in truth, most of them are comparable. The main difference between them is the quality of rubber material that they're made of.
Though RIM's OEM skins aren't the most durable on the market, they fit better than any of the other products we've tried, and they bear the BlackBerry logo–which we've come to know and trust. They sell for $9.99 from the official BlackBerry store, and they're available practically any color you could want.
Smart Phone Experts also makes quality skins that can be purchased for less than the RIM skins, at just $6.99. And Cellet offer slightly thicker silicon skins for a dollar more.
BlackBerry skins offer some grip, and as such, can save you from dropping the smooth-surfaced smartphones. Or save you form dropping them as often. However, none of them cover the BlackBerry display, so your screen is never safe if you're using a skin as your sole protection.
5) Rugged Cases — Take a Lickin' and Keep on Typin'
When we think of rugged BlackBerry cases, one company comes to mind: OtterBox. If you work in an environment where your BlackBerry is constantly taking a beating, or if you're just plain old clumsy, OtterBox's Defender cases are for you.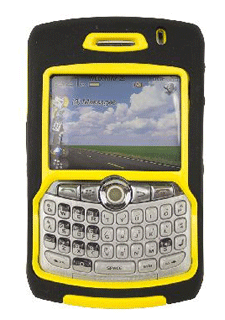 The OtterBox Defender for 8xxx series devices provide there levels of protection: 1) a clear membrane attaches to your device screen and keyboard to reduce scratching, prevent cracks and offer some protection from harsh weather; 2) an inner polycarbonate case form fits to your device; 3) and the external silicon shells wraps around the whole thing to provide extra bulk and shock absorption. The case also comes with its own custom holster and rotating belt clip.
The OtterBox Defender sells for around $50 from the company's online store and other Web retailers.
If you attended RIM's recent WES gathering, you couldn't miss the throngs of attendees sporting this unusual case on their belts; many attendees received it as a freebie. It seemed to have plenty of geek cred with this crew.
One warning: You may slightly resemble Han Solo with an OtterBox on your belt. In other words, the Armani crowd may want to skip this one.