On May 25, NASA's Phoenix Mars lander will enter the Martian atmosphere at nearly 13,000 miles per hour, complete a complex seven-minute series of events, then land on the red planet to begin a three-month mission to explore Martian soil and ice. Some 500,000 people are expected to watch this on the Web: Few of those people will be more interested than Jeanne Holm, chief knowledge architect for NASA's Jet Propulsion Laboratory, and one of the IT leaders responsible for making sure all the images and video from this high-profile mission get managed and delivered to NASA staffers and the public without a hitch.
Few IT pros will ever work on a project as high-profile as a Mars landing. For Holm, this is round two: She also managed content for NASA's JPL during the last Mars mission in 2004.
Holm and some of her colleagues gave us a look at the massive amount of data and effort it will take to accomplish their IT mission, as well as the tools and strategies they're using, from content management to hardware hosting.
By the way, unlike many enterprises today, NASA is not afraid to go Web 2.0. This Mars landing will also be broadcast in its own area on Second Life.
Millions of Viewers, One Big Question
This Mars mission seeks answers to some huge questions, the biggest being whether the Martian arctic can support life. To answer that, the mission will ask what the history of water is in the area, and how polar dynamics shape the climate of Mars, for example. The scientists will make use of gadgets far more innovative than Apple could imagine, the coolest of which may be a robotic arm built by JPL that will dig, scoop and grab soil and ice for analysis. (For a more complete description of the mission and the equipment and team involved, see this primer from the University of Arizona.)
The mission team includes scientists from the University of Arizona, NASA engineers from the Jet Propulsion Laboratory, and flight systems experts from Lockheed Martin Space Systems. Holm works on the content management part of the mission along with colleagues including Carla Bitter, education and public outreach manager for the mission for the University of Arizona, and Charles White, JPL's expert on virtual world technologies, who heads up the Second Life work.
When you see the images coming back from the mission next week, you can thank Bitter and Holm and their teams. From an amazing array of images, Bitter and an editorial board hand-select which ones are most useful for public, museum and scientific audiences. Bitter compares it to picking the world's most exotic flowers from a hothouse each day.
Consider the scope of this content management project. First, video and images must travel from Mars on a unique journey via NASA deep space antennae, before making their way onto NASA computers and the Web. As Holm matter-of-factly puts it, "Our data is millions of miles away."
Yet, beginning with the Mars mission in 2004, images coming from deep space could appear on the Web within about 15 minutes or so of NASA receiving them. "It was a huge mindshift," Holm says. "Before, scientists would analyze the images for hours, days, weeks, before publishing them with the analysis. Now that analysis happens with the worldwide community in real time."
In fact, circa 2002, NASA's content management infrastructure was far from sophisticated, Holm says. A single server in the basement was supporting the NASA website where the public got news of missions, she says. If you visited the site back then, you might see a message like "Tune in at 3 for a press conference", she adds. "That was state of the art for large events at NASA," Holm says. "Delivering information via the Web was a "time-consuming, onerous process."
The 2004 Mars mission benefitted from NASA's launch of a new portal in 2003 and working with content management vendor Vignette to better manage and publish its content to its internal and public audiences, Holm says.
"For this [2008] mission, we are continuing what we did in 2004, where we provide 'real time' images as they are received on Earth from the spacecraft," Holm says. "We see them at the same time as the public sees them."
The NASA site will serve real-time video of the Earth-based events, conferences, science discussions, and so forth. The actual video from Mars must travel for a while via deep space antennae then be processed on Earth before it is posted. So it's not "real time" video from Mars, but it's still showing up rather quickly.
How many people will tune in on the Web? "Well over 250,000 users watched the mission control proceedings on NASA TV, with more than 50,000 connecting simultaneously," Holm says. "In 2004 there were more than 60 million unique visitors and over 550 million page views and 17.5 billion hits. Based on trends since then for our other missions and launches, we expect to see a significant increase to this, perhaps twice as much."
The May 25 landing will also be watched live at 100 to 150 large-scale museum events in the United States.
As for the sheer volume of data involved, the group served more than 330 TB of data in 2004 when the last Mars landings occurred, Holm says. There's no doubt that figure will increase.
To manage all those images and video, Holm, Bitter and their colleagues rely heavily on in-house content management and outside hardware and caching help.
How NASA Outsources IT
"We get huge peaks of interest," says Holm. "We want to handle those peaks—but have a cost-effective organization as well. The way we architect and serve information is key."
The images and video that the team is handling are going out multiple ways to various audiences: internally to NASA staffers, and to the public via the University of Arizona's web servers and the NASA.gov site.
A key tool the team uses in-house to keep the content organized is Vignette 7.2 (specifically, Vignette Builder and Vignette Portal), Holm says. Remember, the mission's content is feeding to podcasts, NASA TV on the Web, Second Life, and elsewhere. "We're taking the same content and representing it in many different ways and by all means," Holm says.
Vignette has been key for the teams at University of Arizona and JPL trying to cull the best images from the mission, Bitter says.
"In previous missions, a system like this didn't exist and people were sharing images via external drives," Bitter says. Some of the images are put up immediately and captioned, or sent to museum audiences, while others are made part of huge mosaic pictures that display the majesty of what the NASA spacecraft encounters, she says.
In addition to the sheer volume of data that must be sifted through, challenges included the large, dispersed team, Holm says. "The content management system has to be easy to use and agnostic," she says, "It's all about speed and accuracy of data."
Externally, the group uses SunGard to host the NASA Portal hardware and uses eTouch Systems to manage it for the NASA CIO, Holm says. Akamai handles the caching. NASA TV also gets some additional streaming assistance from Yahoo, Holm adds.
Video on the Web represents one of the biggest changes for modern-day missions for the public, Holm says. "There's a visceral response we get from people. They feel like they're really there."
And this video failing because of overwhelming demand would be a lot more embarrassing than the now infamous Victoria's Secret Web fashion show.
"Having the hosting site external to the NASA network means we can get our jobs done, Holm says.
The metrics that NASA measures her group by are a bit different than that for most IT leaders. "Internally, if we don't have the accurate data out there, we're crucified," she says. "Our scientists are very specific." The second key metric: "The speed at which the content, analysis, video, is being pushed to the public. To a big extent, we're judged on our ability to serve that content."
That's why working with SunGard, Akamai and Yahoo becomes critical, she says. "You really have to understand you don't want to make it so that success is a problem. We know we're not going to do it ourselves."
NASA Ventures into Second Life
Among the content management lessons learned so far, NASA's content gurus now push harder to target efforts to various audiences.
"Our public audience has become more sophisticated," Bitter says. "There are 8-year-olds out there downloading our podcasts."
"We work really hard at explaining things to the public," Holm says. "Our audience continues to grow. As the public becomes more educated, the challenge becomes, how do we continue to give new people understandable information, plus give other people more scientific information?"
Questions like this boil down to information architecture, Holm says. Her team wants an eight-year-old or a scientist to be able to drill down from the front page to find what he wants. That's one reason why the information architecture continues to become much more sophisticated, she notes.
Another difference in this Mars Mission: User-generated content will play a big role, by public request.
In a strange twist of fate, NASA learned its first important lessons about user-generated content at a tragic time. Holm's team was working on launching the NASA portal for the four weeks preceding the space shuttle Columbia crash. "The intent was to bring it up the following Monday," Holm recalls. "I decided to do load testing as we went live," she says, so her team pushed the portal live a bit ahead of schedule. "Ten hours later, we lost the shuttle," she says.
Members of Congress and the public alike were able to come into the portal and get updates, she notes. "It was a horrible tragedy, but in that moment, our IT team was able to help the public."
Today, her team wrestles with new Web 2.0 technologies, encouraging more dynamic collaboration between the teams using blogs and wikis, and encouraging new public participation via the Second Life project.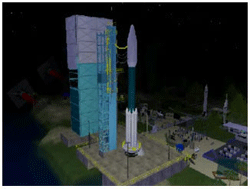 "It's a huge change," Holm says. "If people want to be engaged with NASA, we want them to be part of the family. It's brought a huge sense of excitement to us, too."
On May 25, people who want to watch the landing in NASA's new locale in Second Life can come dressed in virtual space suits, sit in virtual bleachers, and hang out in an atmosphere that's a long way from the beaches of Florida during the famous space race days of the 1960s and 70s. "We'll have the entry, descent and landing synchronized with NASA television," JPL's White says. Be sure to check out the spacecraft models and virtual Mars landscape, if you do visit, he adds.
IT Leadership Lesson
On a personal level, what's it like being part of the IT team supporting a Mars Mission? "These events are energizing and exhausting at the same time," Holm says. "We bring sleeping bags into the office. These sorts of events, you just don't sleep."
Finally, here's her IT leadership tip for those of us who are earthbound: "The key is the leader needs to pace the team," Holm says. "You can't stress out every piece of your team at the same time."