Mike Lazaridis lives enterprise mobility. As Co-CEO and President of Research In Motion, the BlackBerry maker, he's the man who brought wireless push e-mail to handhelds in the late 1990s, changing the way businesspeople use mobile phones forever.
Related Articles
BlackBerry Bible: Everything You Need to Know About Your RIM Smartphone
RIM Execs on the Best BlackBerry Apps: Eight Downloads
RIM WES 2008: My Five Favorite New BlackBerry Products and Services
RIM VP on Mobile Enterprise Apps: Today and Tomorrow
Since that time, RIM has made a name for itself inside enterprises as the smartphone maker to go to for high-quality, reliable–and most importantly, secure–devices and associated infrastructure. That reputation can largely be attributed to Lazaridis's strategy and leadership.
In mid-May, RIM held its seventh annual Wireless Enterprise Symposium in Orlando, where CIO's Al Sacco met with Lazaridis to talk about the future of enterprise mobility, the competition, and more.
Lazaridis talks about the iPhone like a car enthusiast who drives a Bentley might talk about a shiny, new Ford Mustang: Nice, but just not for him–or, in this case, his customers, either.
"The iPhone and BlackBerry are two very different tools," Lazaridis says. He calls Apple's device a "multimedia machine" and the BlackBerry a business tool for "power users."
He won't say that RIM doesn't consider Apple a legitimate competitor in the enterprise smartphone space, but with a smirk he cites two reasons why he thinks the iPhone has a way to go before it's a true BlackBerry rival. First of all: Security.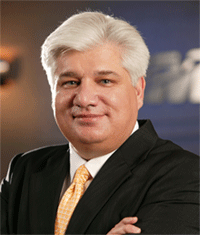 "An eleven-year-old could crack the iPhone's security," he says. "Who wants that? Security is very important to our customers."
Secondly, Lazaridis says BlackBerry power users simply aren't satisfied with the iPhone's touch screen for text entry. RIM customers say they cannot type as fast or as effectively on a touch screen, and that's one big reason why the BlackBerry is a more suitable business device, he says.
That does not, however, mean that RIM won't release a device with a touch screen or other unique user interface and text entry method in the future.
"We're experimenting with a number of very interesting technologies," Lazaridis says.
But the iPhone's lack of security features and a physical keyboard are enough to make him confident that RIM's title as king of the enterprise smartphone space is secure, Lazaridis says.
"You wouldn't walk up to a professional photographer and ask him to do his job" with a throwaway camera, Lazaridis says.
Mobile Device Management (MDM)
When asked about the future of the overall smartphone market, Lazaridis's answer is quite simple:
"It will grow rapidly." he says, laughing. "Very rapidly."
That much is certain. In fact, recent research from In-Stat suggests that the global smartphone market will grow by more than 30 percent each year through 2012.
And that's good news, of course, for companies like RIM, Nokia, Apple and Motorola, the leading worldwide smartphone manufacturers (by sales, according to Canalys), but it also presents a serious challenge for CIOs and IT departments looking to keep track of and maintain their users' mobile devices.
Lazaridis identifies mobile device management (MDM) and monitoring as the biggest challenges that IT departments will face in the coming years as a result of the expected explosion of smartphones in and outside of the enterprise.
As companies realize the true potential of deploying devices like BlackBerrys and Windows Mobile handsets to different sets of staffers who require various permissions and IT policies, the challenge of managing these diverse deployments will only intensify, Lazaridis says.
That's why RIM spends so much time and effort building new and intricate functionality into its BlackBerry Enterprise Server (BES), according to Lazaridis. For instance, BES 4.1 SP5 recently hit the Web with a new feature set meant specifically to ease IT headaches associated with BlackBerry management and upkeep. For example, the new BlackBerry Monitoring Service aims to help organizations reduce BlackBerry downtime and improve the overall performance of their BES infrastructure. The service includes monitoring, alerting, troubleshooting and reporting capabilities to help proactively identify and resolve issues before users even have time to report them.
The next iteration of the BES software, version 5.0, which is expected by year end, will include many more such features, Lazaridis says. But he's quick to note that the company is not trying to outdo or even compete with third-party vendors who offer MDM products and services, like Zenprise or Visage Mobile–both of which were WES exhibitors. Instead, RIM's trying to compliment partners' product with its own.
'"Our goal is to create a full, rich, environment," he says.
The Little-Known BlackBerry Smart Card Reader
The word BlackBerry is immediately associated with RIM's handhelds, and more specifically, the "iconic" keyboard, but in reality, RIM also offers a number of noteworthy products that are often overshadowed by BlackBerry mobile devices, Lazaridis says.
For instance, RIM is a software developer as well as a hardware manufacturer. Its BES software is employed by enterprises around the world to connect and secure corporate mail clients and other applications. And RIM also develops various apps, for both consumers and businesses, such as the new BlackBerry Wallet, which can be used to store and secure sensitive information like credit card numbers and shipping addresses.
But the one product Mike Lazaridis says just doesn't get the attention it deserves, at least from a mass audience, is RIM's BlackBerry Smart Card Reader.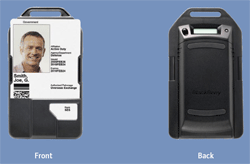 The product can be worn via lanyard or carried in a pocket, and it enables IT-controlled access to Bluetooth-enabled BlackBerry devices and computers using advanced AES-256 encryption. It meets all two-factor authentication requirements, and is about the size of a newer BlackBerry, though significantly lighter.
Corporations or organizations with strict security policies or that need to comply with government directives can use the BlackBerry Smart Card Reader to boost the security of their existing BlackBerry infrastructure. And IT administrators can remotely manage the lifetime of the security keys used on the reader.
To employ the reader, users insert their smartcards into its face, so no awkward peripherals like serial or USB card reader are required. And there's no physical connection to handhelds or PCs because it uses Bluetooth, so there's less risk of a user leaving it behind.
When used in conjunction with BlackBerry Enterprise solution software, the reader offers such advanced security features as AES-256 encryption; FIPS 140-2 validated encryption module; S/MIME support; and wireless IT policy enforcement.
"The [BlackBerry Smart Card Reader] actually offers 3-factor authentication," Lazaridis says, meaning not only do users need to have something physical to gain access–the card reader–and know something–a password–but also, the product can disable connections to BlackBerrys or computers when users leave Bluetooth range.
"You're much less likely to leave the thing plugged into a computer because it's not physically attached. And if you take it with you, the connection to the drive is broken even though the device may still be open," Lazaridis says.
A demonstration of how the product works can be found on RIM's website.
(Just in case you're wondering, Lazaridis wore one of those shiny new BlackBerry Bold smartphones holstered on his belt throughout the interview with CIO.)