Though 802.11n Wi-Fi is in its infancy and there's still no associated official wireless standard, 99 percent of all North American universities will be using it in the year 2013, according to a report released in early May by market-watcher ABI Research. 802.11n, a proposed upgrade to today's wireless networking schemes such as 802.11b and 802.11g, promises far greater speed than its predecessors.
MORE ON Wi-Fi
Deciding When to Upgrade to 802.11n
Wi-Fi in Planes, Trains and Automobiles: Public Irritation?
In-Home Wi-Fi: To Secure or Not to Secure?
Pros and Cons of Dual-Mode Cellular/VoWi-Fi Mobile Phones
Currently, less than three percent of such universities and colleges are using 802.11n Wi-Fi, but adoption of the wireless technology will grow rapidly during the coming five years, ABI Research predicts. Wi-Fi usage in lower-level academic environments, like K-12 schools, is also expected to grow significantly during that time period, due largely to a need for enhanced security, which could be provided via wireless video surveillance, and that fact that more and more schools are instituting what ABI calls "anytime-anywhere learning.".
North American universities are clearly leading the charge towards ubiquitous Wi-Fi in academic locales, but the rest of the globe is starting to join in, led by Europe, according to ABI. However, Wi-Fi adoption in European cities could be hindered, ABI says, by lingering health concerns in that region associated with the technology.
Regardless, global revenue from Wi-Fi access point and controller equipment in the higher-education space will jump more than six-fold from $137 million in 2007 to $837 million in 2013, ABI says.
Today, Aruba Networks, a leading vendor of Wi-Fi and voice-over-Wi-Fi infrastructure, on Wednesday announced that it has shipped its 10,000th 802.11n Wi-Fi access point to the California State university system. The state is using or plans to use Aruba wireless equipment across its 23 campuses.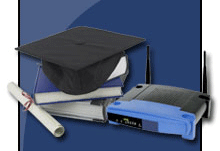 "ABI Research believes that Wi-Fi access point and controller equipment revenue in the global higher education space will skyrocket," in the next five years, says Stan Schatt, ABI VP and research director.
And despite a common belief that the Wi-Fi industry in general is fueled by large enterprise wireless deployments, another recent ABI report found that consumer and small business customers make up the vast majority of that market. In fact, 95 percent of all access point shipments last year were to consumer and small enterprises, ABI says, and revenue from large enterprise purchases accounted for just 32 percent of all access point revenue in 2007.