The Mobile Device Charging Conundrum
Countless gadgets and gizmos available today can replace the boring, utilitarian power packs and USB charging cables that come with Research In Motion (RIM) BlackBerry smartphones. They all serve the same simple purpose: To revive your mobile device's battery when it's dead. But I just found one that's truly compelling.
Related Articles
BlackBerry Bible: Everything You Need to Know About Your RIM Smartphone
Review: kwikSynCh Charger Offers Affordable Relief from Cable Chaos
Five Tips: Get More Battery Life from Your RIM BlackBerry
Stanford Researchers Could Extend Mobile Device Battery Life Tenfold
Some manufacturers try to differentiate their products by offering additional or unique functionality. For instance, some chargers secure devices in place during travel and plug into multiple power outlets–automobile, USB or your wall. Some can juice up a spare battery while powering up your handheld. And others still come with a plethora of adaptors, or "nibs," so they can be used to charge any mobile device under the sun.
What sets RIM's BlackBerry desktop Charging Pod for Curve 83xx series and Pearl 81xx devices apart is its simple and elegant form factor. Your device sits upright while charging in the pod, and the positioning is great for making speaker phone calls, watching video clips or listening to music. This charger also is a fraction of the price and size of similar charging cradles–at least if you go through the right retail channels. And that never hurts.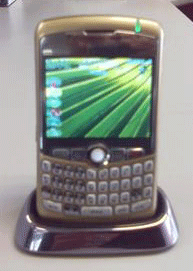 The Charging Pod's not exactly sturdy, however, and if you use any other BlackBerry than a Pearl or Curve, it's not available for your device. You also have to use your own cord to connect it to a power source because it doesn't come with its own.
Why I Like This Charging Pod
The BlackBerry desktop Charging Pod is beautifully designed. Its shiny faux-chrome finish looks great on any desktop or shelf and the port on its rear side fits any standard BlackBerry charging cable, so you can use the USB cord that came with your device, the original wall charger or any other power gizmo with a standard fitting. The inside of the pod has two metal prongs that rest against the two gold pieces of metal just below Pearl and Curve Battery doors to transfer power. It also has a cool backlit BlackBerry logo on its face that glows when attached to an electrical source.
The compact Charging Pod measures just three and a half inches long, one and three quarter inches wide and less than an inch high. It's also lightweight–just about the same heaviness as a wall charger pack–so you can easily throw it into a laptop bag or even a pocket.
And it features a thin rubber mat on its base to keep it from sliding across slippery surfaces so your precious BlackBerry stays put.
Even though RIM sells the charging unit for $39.99 through its official sales channel, ShopBlackBerry.com, I found it through external online retailers like Amazon.com for less than half of that price.
Why You Might Want to Keep Shopping
A few caveats: Though the desktop Charging Pod mostly stays in place due to the rubber on its base, your BlackBerry device simply rests in the cradle with no way to secure it. You'd expect it to "click" or lock into place somehow, or at least fit snugly, but it doesn't. If you so much as bump the BlackBerry or the pod while charging, your device will likely go for a ride.
You cannot sync data via the Charging Pod either–that's probably why it's not called a "Syncing Pod"–so you'll need to plug a separate cable into the device itself if you wish to transfer data while it's charging. And as mentioned above, the product doesn't come with any sort of charging cable so you'll need to use your own.
Unlike other, higher-priced power stations, the Charging Pod does not charge a spare battery, which could come in handy for power users.
Finally, I can't help but wonder how the shiny finish on the pod is going to hold up after some time spent within my laptop bag getting to know my other smartphone accessories–many of which are made of metal.
(It would also be nice, if the glowing RIM logo went out when the device wasn't in the cradle, but that doesn't affect its value or performance.)