iPass, a provider of mobility services for enterprises, on Monday released a new service dubbed iPassConnect that brings its "virtual network" of more than 95,000 Wi-Fi hot spots, dial-up and wired broadband locations, as well as 3G connectivity in the United States, to individuals and small-businesses that may not want to purchase one of the company's existing enterprise service plans.
Related Stories
Wi-Fi in Planes, Trains and Automobiles: Public Irritation?
U.S. Businesses Pay as Much as $693 in International Cellular Roaming Fees Per Traveler, Per Trip
In-Home Wi-Fi: To Secure or Not to Secure?
Mobile Workforce Represents Security Threat in '08 Due to Lack of Training, Awareness
Best of all, with just one laptop card, users can plug in the same user name and password to access the Internet from San Francisco to Shanghai. You pay for the service on a monthly basis.
The main difference between the enterprise offering and the new service plan is the level of security customization enterprise customers receive, says Piero DePaoli, iPass director of global product marketing.
"No company in the world offers a combination Wi-Fi/3G/wired network subscription like ours for a flat monthly rate," DePaoli says.
There are four available tiers of iPassConnect service. Users can pay $29.95 a month for unlimited access to the company's 24,900 North and Central American Wi-Fi hot spots; $44.95 per month for unlimited access to the iPass global networks of 95,000 hot spots; $69.95 for access to unlimited 3G connectivity within the United States and access to North American hot spots; and finally, $84.95 per month for unlimited U.S. 3G and global Wi-Fi access. The service also includes a Web portal with educational materials, related news clippings and original iPass content, as well as 24/7 telephone support.
According to iPass user data, more than half of all mobile business users require more than one Internet service provider while travelling. That means two or more monthly bills for Wi-Fi or cellular data access, not to mentions bills for independent hotel, airport or cafe Internet fees. Those bills alone can equal the cost of an iPassConnect plans, DePaoli says, and that's not even considering ridiculous international roaming fees.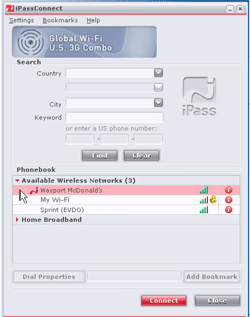 iPass has agreements with 100 Wi-Fi and Ethernet providers, like AT&T, Sprint and T-Mobile, in approximately 80 countries, according to DePaoli. That means iPass users have access to 1,000 Wi-Fi hotspots in more than 500 airports across the world; 22,000 hotels, including many Hyatt, Hilton and Marriott properties; and more than 70,000 retails shops and restaurants like Starbucks, Borders book stores, McDonalds and Kinko's, the company says. And its U.S. 3G EV-DO cellular network connections provides data transfer speeds of up to 1.4 Mbps to some 230 million users, iPass says.
The company also today released an extension of its existing hotspot locator for laptops, the free, mobile-browser-based iPass Handheld Hotspot Finder, which enables any smartphone user to find a list of all available Wi-Fi networks in a given area–whether they're iPass hot spots or not. You simply enter in your location or a location you plan to visit and the website delivers a list of all nearby connections, as well as specifics about hot spots and local maps.
iPassConnect is currently only available to notebook users running Windows 2000, XP or Vista, but DePaoli says the company plans to release a version of the service for additional operating systems, and handheld support for Windows Mobile devices is due this spring.