Nokia is the mobile device maker with the best innovation and implementation strategies, followed by Research In Motion (RIM), which produces the popular BlackBerry smartphone, and Samsung, according to a recent analyst report.
MORE ON Smartphones
Nokia Smartphone Reads Photographed Text Aloud to the Blind, Visually Impaired
Apple Tops Motorola, Microsoft in Global Smartphone Sales; Nokia, RIM Still Market Leaders
Study: BlackBerrys Dominate Enterprise, But iPhone Users Happiest
In-Stat: Worldwide Smartphone Market to Grow More Than 30 Percent Each Year Through 2012
The ranking was issued by technology market research firm ABI Research, whose innovation scores for the 10 companies included were based on a handful of factors, including choice of partnerships with cellular carriers, distribution channels, relative cost, hardware scalability, interface customization, handset differentiation, patent portfolio, battery life, handset size, support for third party application developers and operating system source code licenses, among others. ABI's implementation rankings were based on factors like smartphone shipments, brand equity, the number of handset models available, choice of OS, smartphone market share, smartphone average selling prices, distribution networks, operator relationships, and manufacturing facilities.
Nokia scored the highest in both innovation and implementation.
"Nokia's commitment to driving smart OS into a wider range of devices, and the success of its N series devices, especially the N95, gives it a huge market presence," said Stuart Carlaw, ABI research director, in a statement.
Espoo, Finland-based Nokia is also the world's leading producer of smartphones, and the Symbian operating system (OS) found within the vast majority of Nokia handsets is the most widely used mobile OS, followed by Microsoft's Windows Mobile and RIM's BlackBerry OS, respectively, according to Canalys, another technology market research firm.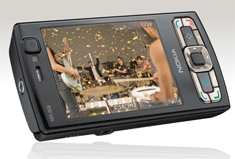 Nokia may be the global smartphone leader, but in the enterprise space RIM is king with nearly three-quarters of business users, a ChangeWave survey recently found. Palm is RIM's closest competitor for enterprise smartphone users with 18 percent of the market, followed by Motorola's nine percent share and Nokia's seven percent of users, according to the ChangeWave survey.
ABI also predicts that the worldwide market for smartphones will triple over the coming five years from 10 percent of the total handset market in 2007 to 31 percent by 2013.
ABI's full ranking of the top 10 smartphone vendors is as follows:
Nokia
RIM
Samsung
Motorola
Sony Ericsson
High Tech Corp (HTC)
Palm
LG
Sharp
Hewlett-Packard (HP)
More information on ABI's Smartphone Vendor Matrix is available on the company's website.