Popular GPS gadget maker Garmin, currently king of the U.S. navigation device space, commands 57 percent of the consumer and enterprise markets, and its dominance will only grow in the second quarter of 2008, according to a new study from market research firm ChangeWave.
MORE ON GPS
Why GPS is No Replacement for Eyes and Ears (Or How to Find Yourself With a $100,000 Bill by Following a GPS Navigator)
GPS and the War on Terror: Tracking and Detecting "Dirty Bombs" With Mobile Phones
Video of Garmin's "nuvifone" GPS Smartphone
ChangeWave queried 3,773 consumer and 2,013 corporate members of its ChangeWave Alliance for the survey, fielded in February.
Garmin currently has 56 percent of the American consumer market for GPS navigation devices, followed by Magellan (12 percent), TomTom (nine percent), Trimble Navigation (three percent) and Lowrance (three percent), ChangeWave says. Garmin scored a gain of 4 percentage points since ChangeWave last conducted the survey in January.
The research company also found Garmin to have a similar share of the U.S. corporate space with 58 percent. When ChangeWave last conducted the corporate survey in November 2007, Garmin was found to have only 47 percent of the U.S. market, or 11 percent less than its current share.
What is GPS doing in the enterprise? One example: Organizations with remote sales or service staffs often employ GPS to keep tabs on their workers as well as send and receive communications with employees on the go and help them find job locations.
During its most recent earnings call, Garmin called the previous quarter its best ever, in accordance with ChangeWave's finding, but that didn't stop a 20 percent drop in the company's stock price.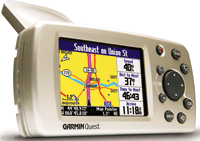 ChangeWave attributes the drop in stock price to a weakening economy and a decrease in overall consumer spending on electronics. And that trend looks to continue. Forty percent of all consumer respondents said they plan to spend less on electronics over the coming quarter than they did one year ago, according to the ChangeWave consumer survey.
With the number of GPS-enabled mobile phones expected to more than double over the next five years, Garmin's future success may depend on more products like its newest GPS device, the "nuvifone" smartphone. The company is trying to capitalize on the success Apple has seen with its iPhone by powering the nuvifone with a similar touch screen user interface.
See more information on the report on the ChangeWave blog.