If you're a frequent traveler and BlackBerry users who hasn't checked out the WorldMate Live travel application, you're missing out on a world of opportunity–poor pun shamelessly intended.
WorldMate Live is basically a traveler's electronic organizer, storing everything within your complete, detailed itineraries and offering services like currency conversion, weather forecasts, flight status updates, hotel booking and nightlife maps and suggestions, all from one easy-to-navigate application.
The WorldMate Live 3.0 update–the latest version available is v3.0.25.6–includes the following new tweaks and enhancements:
Yelp Local Search Services: WorldMate Live's new Yelp.com local search features make it simple to locate nearby restaurants, bars and other nightlife attractions based on your current location or pre-specified locales. Results can be sorted by distance from the user or by Yelp ratings, where available.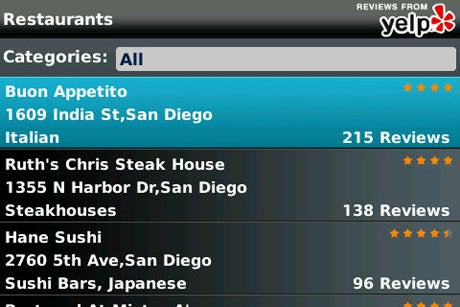 Calendar Synchronization Improvements: Enhancements to WorldMate Live's calendar synchronization functionality, which lets the app integrate with BlackBerry users' on-device and/or corporate calendars, mean that the feature now automatically integrates the different time zones users travel to and syncs all appointments in the appropriate time zones.
Hotel Booking Tweaks: The ability to book hotels and/or make changes to hotel accommodations has been available to WorldMate Live users for some time, but the feature has been revamped to include visual representations of hotels and special promotions, where available. Hotel recommendations are organized based on users' individual pre-set preferences, and you also set specific search criteria so, for instance, you could search for lodging based on Price, distance and star-ratings.
Rail Support in Automatic Itinerary Generation: Electronic confirmation for train/rail travels can now be forwarded directly to WorldMate's itinerary import system for inclusion in WorldMate itineraries. In the past, users could forward any and all airline travel info into WorldMate to have it automatically added to their itineraries. Now the service supports electronic itineraries from companies like Amtrak, Eurostar and TheTrainLine.
Enhanced Map & Directions: WorldMate Live's map and directions feature now works with Research In Motion's (RIM) BlackBerry Maps application instead of a static map, which makes for more detailed and effective directions.
I've been using WorldMate to organize and manage my trip itineraries and related information for a couple of years, and I honestly can't even imagine traveling without it at this point. And with the frequent addition of valuable new features like the ones mentioned above, a great application for road warriors just got even better.
WorldMate Live is available in both free, ad-supported and "commercial," or paid, versions. The commercial application costs $99.99 per year and includes advanced features like pushed flight-alerts, real-time flight status updates, flight schedules, travel directories and priority customer support. iPhone and Windows Mobile versions are also available.
The company claims to have more than 3 million active global users. And WorldMate is also backed by the BlackBerry Partners Fund, an investment group with financial support from BlackBerry-maker RIM.
AS
FREE CIO BlackBerry Newsletter
Get better use out of your BlackBerry and keep up-to-date on the latest developments. Sign-up »