It's a happy day for iPhone users with Gmail e-mail accounts.
Today, Google released an updated version of its Google Sync service for iPhone and Windows Mobile smartphone users, which lets you not only synchronize Gmail contacts and Google calendars with supported devices, it finally brings "push" Gmail functionality to the iPhone and iPod touch.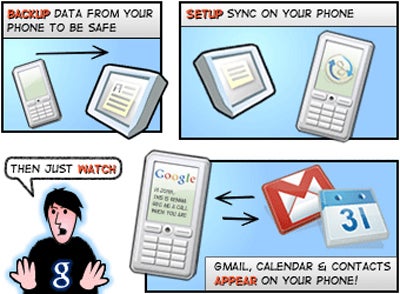 Push mail is delivered near-instantly to users' smartphones after hitting their e-mail inboxes. In the past, iPhone users could set their device to "fetch" Gmail at pre-set intervals, or they could manually retrieve messages themselves, but no official Gmail push solution was available.
Research In Motion (RIM) popularized the concept of push mail in the early-to-mid-2000s, and it's one of the main reasons the company's BlackBerry smartphones became the enterprise handheld of choice for many organizations.
From the Official Google Mobile blog:
"Using Google Sync, you can now get your Gmail messages pushed directly to your phone. Having an over-the-air, always-on connection means that your inbox is up to date, no matter where you are or what you're doing. Sync works with your phone's native email application so there's no additional software needed. Only interested in syncing your Gmail, but not your Calendar? Google Sync allows you to sync just your Contacts, Calendar, or Gmail, or any combination of the three."
But there is a catch…
As pointed out by my colleague and TheiPhoneBlog.com scribbler Rene Ritchie, Microsoft's Exchange ActiveSync is the engine behind Google Sync, and the current iPhone only manages a single ActiveSync account at a time. That means that if you're already using ActiveSync to receive corporate Outlook mail–or any other account that might employ ActiveSync–you're out of luck.
Only a small percentage of iPhone users receive corporate mail on their devices–especially after Apple's iPhone 3.1 OS flub that disabled Outlook mail on many an iPhone–so this news should be music to Apple-smartphone-customers' ears.
Google is focusing more and more on the mobile space in recent days, and not just with its own Android mobile operating system (OS). Google also offers a variety of products and services for the most popular smartphone platforms available, including a number of popular mobile applications and even a BlackBerry-specific secure Gmail add-on for enterprises.
AS