Despite the fact that Research In Motion (RIM) has yet to officially announce its successor to the BlackBerry Bold 9000, the Bold 9700, or "Onyx" as it was codenamed, the Web's seen a number of early reviews, hands-on videos and even an official marketing image from T-Mobile–brought to you by yours truly.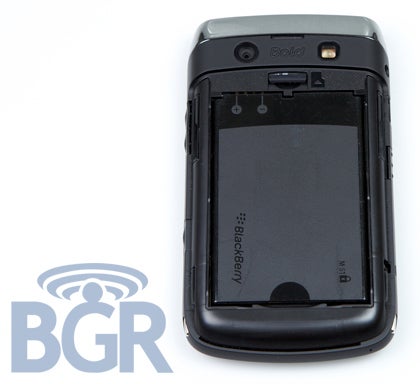 Yesterday, another in-depth review of the BlackBerry Bold 9700 by well-known mobile-industry blogger Boy Genius hit the Web and cemented something I've suspected for a few weeks, but was unable to confirm: The new BlackBerry Bold 9700 ships with the very same RIM-branded 1550mAh battery that comes with its younger sibling, the Bold 9000.
The Bold 9700 is expected to be made official any day now, with 2009 U.S. launches on both T-Mobile and AT&T.
Rumors suggests that T-Mobile might get a slightly different version of the Bold 9700 that employs the same DX-1 standard battery currently shipping with RIM's Tour 9630, though this doesn't really make sense to me. Using a different battery in the T-Mobile 9700 could call for an entirely different manufacturing process, which would in turn boost production costs for the handset maker.
Different batteries could also result in different user experiences for AT&T and T-Mobile customers using Bold 9700 devices, i.e., better battery life on one carrier. And it's unlike RIM to employ different batteries for slightly different version of the same devices. For example, all of RIM's various Curve 83xx devices employ the same battery, regardless of which carrier they're sold through–except for the Curve 8350i, which was released years after the original Curve 8300.
It's also worth noting that since the BlackBerry Bold 9700 battery is the same size as the Bold 9000's, extended batteries originally designed for the BlackBerry 9000 should also work with the Bold 9700–though the new device's battery cover won't fit over non-standard-size batteries like Seidio's 3500mAh battery.
Let's just hope that Seidio and other third-party battery makers give Bold 9000 owners a break and sell new, 9700-compatible extended battery covers separately, so we can employ our existing oversized Bold batteries without purchasing new battery sets with power-packs and covers.
Like I said above, expect an official BlackBerry Bold 9700 announcement from RIM in a month or so, followed by carrier announcements and (hopefully) releases shortly thereafter.
AS
FREE CIO BlackBerry Newsletter
Get better use out of your BlackBerry and keep up-to-date on the latest developments. Sign-up »