Today's a big day in the BlackBerry community–at least if you're a Macintosh computer user.
After years of struggles with awkward third party software offerings and/or virtual machines dedicated to BlackBerry management, Mac computers users with BlackBerry smartphones can finally download a full-featured BlackBerry desktop manager built specifically for Apple computers.
The available software is reportedly an unofficial beta version of BlackBerry Desktop Manager for Mac, but it's labeled v1.0.0 (build 75) which suggests it's probably not too far off from the official version. RIM plans to ship the official BlackBerry Desktop Manager for Mac this fall.
BlackBerry software for Mac lets users perform such basic tasks as personal information backup and restore, contact and calendar sync, third-party application additions, removals and updates, media sync and more. In fact, BlackBerry Desktop Software lets Mac users perform practically the same functionality as the BlackBerry Desktop Manager software for PC, which has been available for years, with one very notable exception: Mac BlackBerry users will not be able to load unofficial or "beta" operating systems via their desktop software. For me, this means I won't be getting rid of my VMware Fusion virtual machine dedicated to BlackBerry management quite yet.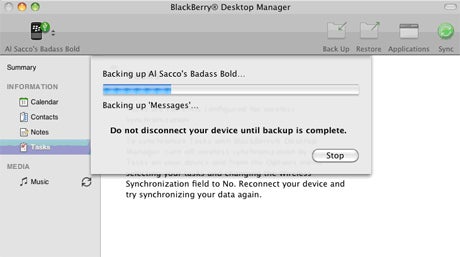 For more detail on RIM's new BlackBerry software for Mac, including differences between the Mac and PC version, read: "Four Things You Didn't Know About BlackBerry Desktop Software for Mac."
I downloaded and installed the new software this morning on my MacBook running Mac OS X 10.6 (Snow Leopard). It took up approximately 25.1MB of space on my hard drive, and it appears to be working flawlessly. I backed up information on my device, restored some random components, performed a media sync and added a few third-party apps, without any issues.
The software also appears to be notably faster than the Windows versions of BlackBerry Desktop Manager; a full backup of my device data using the Mac version took just a fraction of the time it usually takes Desktop Manager for Windows.
It also has a number of cool new features not found in the Windows BlackBerry software. For example, the BlackBerry Desktop Software icon in the Mac OS X dock shows a sync/backup/restores progress-meter whenever you perform any of those actions. And the software fully incorporates all the features of the currently-available BlackBerry Media Sync for Mac, so that app's no longer necessary.
Well? What are ya waitin' for? Grab your copy of BlackBerry Desktop Software for Mac v 1.0.0 here or here before RIM starts yanking it from the Web.
AS
Via CrackBerry
FREE CIO BlackBerry Newsletter
Get better use out of your BlackBerry and keep up-to-date on the latest developments. Sign-up »
Al Sacco was a journalist, blogger and editor who covers the fast-paced mobile beat for CIO.com and IDG Enterprise, with a focus on wearable tech, smartphones and tablet PCs. Al managed CIO.com writers and contributors, covered news, and shared insightful expert analysis of key industry happenings. He also wrote a wide variety of tutorials and how-tos to help readers get the most out of their gadgets, and regularly offered up recommendations on software for a number of mobile platforms. Al resides in Boston and is a passionate reader, traveler, beer lover, film buff and Red Sox fan.