Although TweetDeck remains one of the most popular desktop applications for Twitter, Seesmic Desktop has provided users with an alternative. It touts many similar features, including the ability to group certain followers into their own tidy window panes, multi-account management and integration with Facebook. Also like TweetDeck, Seesmic runs on Adobe AIR, which allows you to run Rich Internet Applications (RIAs) on your desktop.
Full-disclosure: I use TweetDeck to manage my personal Twitter account. As such, the thoughts in this review will relate to how Seesmic compares. In general, the two apps operate in a very similar fashion. The decision to use one instead of the other might be one of design preference and what pieces of functionality are the most important to you.
Adding Users to Groups: Too Complicated
Seesmic allows you to create customized groups, such as "My friends" or "My colleagues." To create one, you simply click on the "+" sign next to "user groups" on the left navigation bar. But you might find that adding users to your customized groups is a chore.
You can add people in two ways. One is to find a tweet recently posted. When you scroll your mouse above someone's Twitter avatar, you can click on a wheel symbol and choose "add to user list." This can be a good way to serendipitously add users later. But it's ineffective if the person hasn't tweeted anything recently and you want to add right away.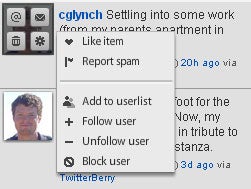 For this scenario, you must search in the window pane that shows your Twitter handle. At the bottom, you will see a console that says "Home." To the right, you will see a "Lookup" button, which allows you to launch a search bar and type in a user name.
Sound complicated? It is at first. If nothing else, it's annoying when compared to how easy this process is on TweetDeck. With TweetDeck, after you elect to create a new group, your entire follower list pops up, and you have the ability to choose users simply by searching and checking off their names.
Tweeting
When tweeting a message, Twitter users like to shorten links and upload pictures. Seesmic helps users perform this task well, and it gives them lots of choices. It integrates with a variety of URL shortening services, including Bit.ly, digg, is.gd, snurl, tr.im and twurl. For pictures, it works with the popular twitpic, as well as twitgoo and mobypicture.
The tweet box spans the width of the Seesmic app, and has clear "add URL" and "add image" controls. It also features a nice "shrink text" option that will, for instance, turn "I am" into "I'm" and "with" into "w/." While TweetDeck also features these options, they're listed as small buttons that aren't as aesthetically pleasing. Seesmic looks better here.
Searching
Seesmic and TweetDeck operate in a similar way as it concerns Twitter search. On both services, when you search a term, you'll see a window pane displaying the results.
On TweetDeck, within that pane, you have a button that enables you to "filter results" by searching for another term within the results. Unfortunately, Seesmic lacks this function.
But I do like the fact Seesmic bakes a search bar into the main interface (upper right corner). And it lists your searches on the left navigation bar for convenient access later .
Facebook Integration
Like TweetDeck, Seesmic seems to be designed with Twitter primarily in mind, with Facebook being a "wouldn't it be nice" type of add-on. But Seesmic has been more ambitious with its use of Facebook Connect, a technology that allows third-party applications to exchange and access information with the huge social network.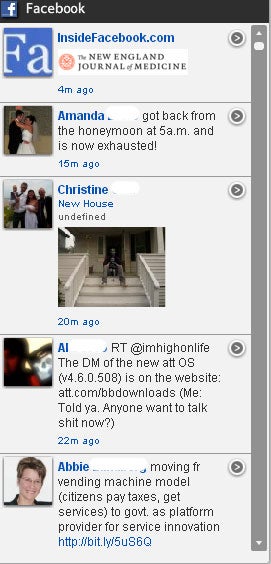 On TweetDeck, you merely receive status updates from your Friends on Facebook, and you can update your status as well. Seesmic allows this, plus lets you view other pieces of rich content on Facebook (pictures, shared articles) that appear in your News Feed. This gives the app tremendous upside, especially if you have friends who frequently update Facebook but don't even bother joining Twitter.
Conclusion
Seesmic has exceeded my expectations. When I first installed it, I viewed it as a copycat of TweetDeck. But after spending some time with it, I came to like the experience and the design. I like interfaces that are lighter in color, and, at times, I find the TweetDeck interface too dark and depressing. As someone who uses Facebook almost as frequently as Twitter, the integration point with that social network is useful. Seesmic is not immediately easy to use, however. As I mentioned, adding users to a group is a pain, and that function is often why people turn to these types of apps in the first place.