Research In Motion (RIM) has been serving up new BlackBerry smartphones like French fries at a small-town fast-food joint in recent days, but its next new product doesn't come with a QWERTY keyboard or a blinking new-message LED. Today, RIM announced an updated version of its BlackBerry Smart Card Reader, a small thin-plastic security card reader that attaches to a lanyard and employs Bluetooth to grants users' proximity-based access to specific machines and systems.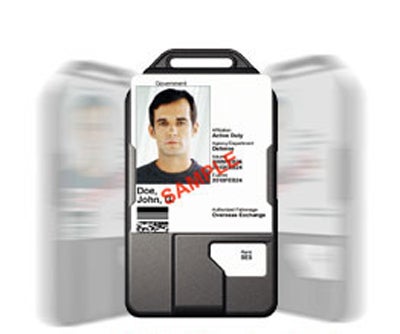 A while back–just over a year to be exact–I sat down with Research In Motion's (RIM) founder and co-CEO Mike Lazaridis at the company's annual Wireless Enterprise Symposium (WES) to discuss the future of BlackBerry and the RIM products/service that most excited the man at the time.
We talked about all the obvious stuff; the iPhone; the future of mobile applications; enterprise smartphone management. But the subject Lazaridis most wanted to discuss was the company's BlackBerry Smart Card Reader.
Lazaridis couldn't stop raving about the card reader, saying it simply doesn't get the attention it deserves in the IT world. (Read, "RIM co-CEO Lazaridis on the Best BlackBerry Product You've Never Heard Of" for more on specifics on the BlackBerry Smart Card Reader.)
The new version, which is expected to become publicly available some time in September, adds a variety of valuable new features and functionality including an enhanced "sleeker" design; support for stronger Bluetooth pairing PINs with new character support; more security options for BlackBerry Enterprise Server (BES) administrators; and it works with a wider range of smart cards out of the box.
Perhaps most notably, the new BlackBerry Smart Card Reader can be used as a standalone security safeguard, even if organizations don't currently use smart cards. For example, organizations can set corporate smartphones to automatically lock when they travel out of range of corresponding BlackBerry Smart Card Readers, though this feature only works with devices running BlackBerry Device OS v5.0 or higher, according to RIM.
The new BlackBerry Smart Card Reader is currently being shown off at the LandWarNet 2009 Conference this week in Ft. Lauderdale, FL, and RIM plans to widely release it next month.
The reader is listed for preorder on ShopBlackBerry.com for $219.99 Canadian (roughly US$198.43) but bulk pricing is also likely available. More details can be found on RIM's website.
Check out "New BlackBerry Accessories: Bluetooth Headsets, Collaboration Tools" for sneak peeks at a few additional upcoming BlackBerry accessories.
AS
FREE CIO BlackBerry Newsletter
Get better use out of your BlackBerry and keep up-to-date on the latest developments. Sign-up »