If you have been using Twitter for more than a few months, you probably don't visit the site's welcome page very much. That's because you either stay logged in all the time, or you access Twitter via TweetDeck or another third-party app that bypasses it.
But if you visit Twitter.com, you'll find a new welcome page that places greater emphasis on searching the service for topics and discussion trends.
In addition, Twitter subtly (but intelligently) rebranded the service, moving away from the limiting "what are you doing?" label that undersold just how powerful the medium is for its users. Now, a new user who visits Twitter.com will see the phrase: "share and discover what's happening right now, anywhere in the world."
The welcome page displays a search bar. Below it, you can see the popular keywords, or hashtags (the "#" symbol followed by a keyword that Twitter users utilize to sort topics).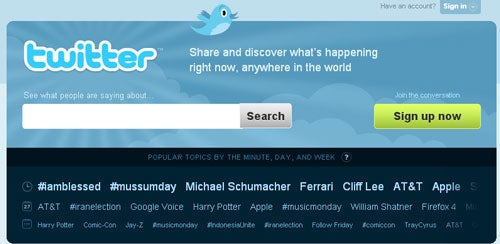 The decision to put search front-and-center gives further evidence of how Twitter hopes to monetize in the future. The fact that Twitter users talk passionately about products from a variety of industries makes it very valuable to advertisers. As Google has shown, the best way to connect those users with the advertiser is through search.
The new home page also shows that Twitter knows the importance of helping users sort through the noise and find helpful topics that interest them. As was highlighted in the past, Twitter has sufffered retention problems because users have difficulty finding people with whom they share common interests (especially if they reside outside the technology or marketing community).
While the new home page is not a big deal for longtime Twitter fans, it should help educate new users how to navigate Twitter for maximum benefit.
C.G. Lynch covers consumer web and social technologies for CIO.com. He writes frequently on Twitter, Facebook and Google. You can follow him on Twitter: @cglynch.