Physicians may not have been the first professionals to embrace BlackBerry devices and smartphones, in general. But they sure aren't wasting any time nowadays. Heck, Dr. John Halamka, CIO of both Beth Israel Deaconness and Harvard Medical School is regarded as a mobile guru, even appearing in his own BlackBerry ad campaign.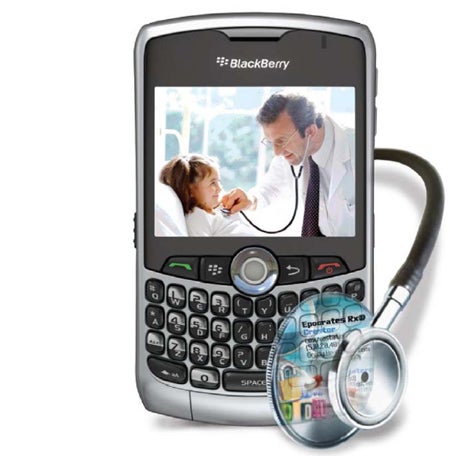 Many doctors and nurses and healthcare organizations have resisted the move from traditional "feature" cell phones, pagers, recorders and other "old-school" gadgets to smartphones due to security concerns and comfort with existing technologies, says Fraser Edward, BlackBerry-maker Research In Motion's (RIM) manager of market development, healthcare.
But the tide is changing, and doctors and their medical staffs, like everyone else, have seen all the new BlackBerry/iPhone/Pre advertising, and they want in on the mobile technology revolution.
Luckily, BlackBerry devices in particular are known throughout the tech world for RIM's strict security safeguards. So BlackBerrys and medical environs could potentially be a match made in security/privacy-heaven.
At least according to Edward, who recently gave CIO.com a state-of-mobile-tech-in-healthcare update during which he showed off a crop of cool, new BlackBerry apps for doctors, nurses and medical staffs.
Here's a look at the medical-related BlackBerry applications that really caught my eye, along with a brief description of each, pricing information–where available–and a Web locale to obtain the software–or at least additional information on how to do so.
Now, let's move on to the latest and greatest in BlackBerry software for medical professionals and their patients.
Medical Reference & Drug Guides
Perhaps the most basic of medical applications for BlackBerry smartphones, mobile medical reference guides from software companies like QxMD and Epocrates Rx help promote patient safety by giving doctors and physicians immediate and simple access to information on specific drugs/narcotics, drug interactions, dosage recommendations and much more.
Such applications offer efficient, rapid and relevant search compared to printed medical reference guides. Guides also enable doctors or physicians to make or validate medical decisions at the point of care, decreasing time to diagnosis/prescription and reducing potential medical errors, according to RIM.
1) QxMD ECG Guide
Creator: QxMD Software
Description, from BlackBerry App World: "The ECG Guide app offers ECG interpretation from a Cardiology perspective, with over 120 high resolution ECG examples and a quiz feature." (Note: QxMD also offers a variety of free, medical-related software, like a pregnancy wheel, cardio calculator and a gastroenterology tool.)
Price: $7.99
Where to Download: BlackBerry App World
2) Epocrates Rx

Creator: Epocrates Inc.

Description, from Epocrates.com: "[S]ubscription drug reference provides hundreds of&medication monographs and enables you to easily check for interactions among prescription, [over the counter] OTC, and alternative medicines. Plus, find the right treatment for hundreds of infectious diseases, and check IV compatibility in a jiffy."

Additional features include a valuable "pill identification" option, which helps you identify pills of unknown origin; detailed information on more than 600 common alternative medicines; and detailed treatment guidelines for hundreds of infectious diseases.

Price: $99.99 a year; $169.99 for two-year subscription

Where to Download: Epocrates.com
FREE CIO BlackBerry Newsletter

Get better use out of your BlackBerry and keep up-to-date on the latest developments. Sign-up »

3) Skyscape Medical Resources

Description, from Blackberry App World: "[A] highly useful collection of free Medical Information and Decision Support resources for Healthcare Professionals, including Physicians, Nurses, Physician Assistants, Nurse Practitioners, Medical Students, Nursing Students and More.

Free resources include: Rx Drug Information; Outlines in Clinical Medicine; Archimedes medical calculator; MedWatch current medical info from FDA and other public sources; and continuing medical education (CME) activities.

Price: Free

Where to Download: BlackBerry App World
Patient Data Management & Charge Capture
New patient data management and charge capture applications give medical professionals access to backend data and patient healthcare information via mobile devices, all the while maintaining HIPAA and other compliance requirements.

4) Clinical Xpert Navigator

Creator: Thomson Reuters Micromedex Solutions

Description, from Thomson Reuters: "Clinical Xpert Navigator provides clinicians with real-time access to patient data via mobile devices&as well as through Web-based platforms such as desktop, laptop and tablet PCs. 'Navigator' consolidates data from multiple hospital information systems and delivers it to clinicians at the point of care.

"Clinical Xpert CareFocus provides clinical surveillance, automating the process of identifying high-risk patients and informing the appropriate caregiver when clinical intervention is needed&.And rounding clinicians can conveniently capture procedure and charge codes at the point of care with Charge Capture. Code information is transmitted back to a secure portal, for rapid processing by the hospital or practice billing staff."

Price: Contact Thomson Reuters for details.

Where to Download: ThomsonHealthcare.com
Dictation
New dictation apps for BlackBerry smartphones enable medical professionals to document any and all relevant patient encounters, in any setting–hospital, clinic or otherwise. Dictation software can help to ensure the accuracy of patient-care; improve and speed up workflow; and decrease the average time needed with patients, to free up time for more needy or time consuming patients/tasks.

5) IQMax

Creator: IQMax Inc.

Description, from IQMax: "With IQMax, physicians can dictate and document patient encounters, capture billable charges, and view patient information including lab results, alerts, allergies, medications, and pathology and radiology reports, at the point of care. Now physicians can use the same device that they use to view email, manage their calendar and contacts, and access the internet, to stay connected to patient and clinical data anytime, anywhere, and anyplace.

"Dictating with IQMax is simple. No longer do physicians have to locate a telephone and go through the laborious process of having to take the time to type or dictate the patient name, chart number, referring physician, and other pertinent demographic data required with traditional dictation systems. IQMax enables physicians to dictate on their BlackBerry device when they want, where they want, in any setting."

IQMax solutions are HIPAA compliant, according to the company.

Price: Contact IQMax for details.

Where to Download: IQMax.com
6) WinScribe

Creator: WinScribe Inc.

Description, from Blackberry App World: "WinScribe for BlackBerry smartphones is a dictation application offering a sleek interface for dictating on BlackBerry mobile devices.

In other words, WinScribe offers a secure digital replacement for tape recorders or a pen and paper.

(Note: This application is part of WinScribe's mobility suite. WinScribe's digital dictation workflow management solution is required for full product functionality.)

Price: Free

Where to Download: BlackBerry App World
Alerting & Paging
Paging apps for BlackBerry smartphones perform all or most of the same functionality provided by traditional pagers, from the same device you use to place phone calls, check email, surf the Web or consume multimedia. Such BlackBerry apps are not only simple to use and effective but also, often cheaper, since they eliminate the need for additional gadgets.

7) WIC Paging

Creator: Wallace Wireless

Description, from WallaceWireless.com: "This advanced communication solution will allow hospitals, public safety institutions and many other large organizations to replace aging pager units with a reliable and easy-to-use application. WIC Pager is also a perfect solution for hospitals that have moved away from pagers and are using basic SMS and email systems as means to send alert messages.

"A single device solution reduces the costs and resources necessary to manage the traditional pager and cell phone combination. In fact, WIC Pager provides a superior paging experience as it can utilize both the Cellular and Wi-Fi networks and allows for quick responses by implementing a one-click call back feature and the benefit of real-time reporting on all pager alerts."

Price: Contact Wallace Wireless for details.

Where to Download: WallaceWireless.com
Telemetry & Results Viewing
Telemetry and results viewing software for BlackBerry securely brings sensitive, critical patient data to doctors' or nurses' BlackBerry devices, so informed decisions can be made instantly, wherever the medical professional is located at a given time. Available solutions largely cater to the obstetrics, cardiology and critical care industry segments.

8) mVisum

Creator: mVisum Inc.

Description, from mVisum.com: "The mVisum Medical Communication System is a communication tool that allows medical professionals to securely receive, review and respond to patient data recorded at the point of care. Information is transmitted via secure HIPAA compliant internet servers then transmitted through mobile technology to the required physicians' handheld smartphone."

Sent data can include EKGs; DICOM Images; Cine Loops; X-Rays; CT Scans; and MRIs, according to mVisum.

And "traditional information such as vital signs and other textual information can also be included in the delivered message thus providing a complete picture of patient condition."

Price: System cost depends on the nature and size of the configuration, according to mVisum. Contact mVisum directly for more information.

Where to Download: mVisum.com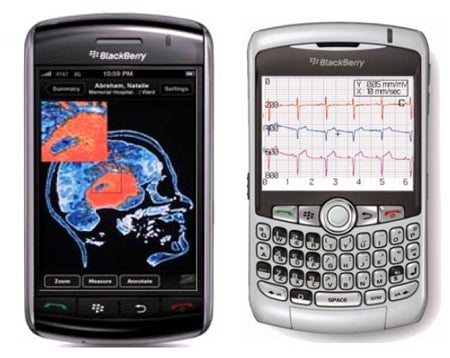 FREE CIO BlackBerry Newsletter

Get better use out of your BlackBerry and keep up-to-date on the latest developments. Sign-up »

AS