Yesterday, search giant Google released a critical new component in its mobile-voice strategy, Google Voice applications for both its own Android mobile OS and the BlackBerry platform. Like the invite-only Google Voice service, the new apps are free. And they go a long ways toward making Google Voice a viable everyday calling solution. But a few key shortcomings need to be addressed before I can consider fully embracing Google Voice.
First off, what is Google Voice? Well, Google Voice is (currently) a free service that provides you with one central phone number that can be tied to various phones–your BlackBerry, iPhone, office phone, a home landline, etc. So whenever someone calls you via Google Voice, by default any and all of the associated phones receive the call.
How do you get in on Google Voice? Sign up for an invite. Unfortunately, you may be waiting for a while–and the service is only available in the United States. The BlackBerry and Android apps can be downloaded for free directly from Google.
The value of the service is in having a single phone number regardless of how many actual lines you employ. And you never have to give out a personal cell number or your home digits; simply "connect" those phones to Google Voice via the online portal, and they'll ring whenever someone calls you via Google. You can also "disconnect" any and all of your Google Voice phones, so they no longer ring when your universal number is dialed.
Overall, I really appreciate the Google Voice service. I employ lots of different devices all the time–my own gadgets, review units, etc.–and Google Voice is a great way to ensure I receive important calls on whatever handset I'm carrying. But until yesterday, there was no easy way to place calls via Google Voice so that recipients' caller IDs showed your Google Voice number and not the number of the phone you called from.
In come the new Google Voice apps for Android and BlackBerry, which not only let you place calls using your Google Voice number, you can also use the app to send text messages. I'm not currently using an Android device, so I wasn't able to evaluate that particular version, but I did put the BlackBerry app through the motions. And though it performs as advertised, there are still a number of obstacles Google will need to clear before Google Voice, and the associated mobile apps, are ready for the big time.
Keep on moving for specifics.
Google Voice for BlackBerry: Thumbs Up
There's a lot to like about the Google Voice for BlackBerry application. It's free. It's simple to use. It's very basic, so you're never bogged down with confusing menus or options. And it works as advertised; I was able to successfully send multiple texts and place calls from a number of phones yesterday via Google Voice.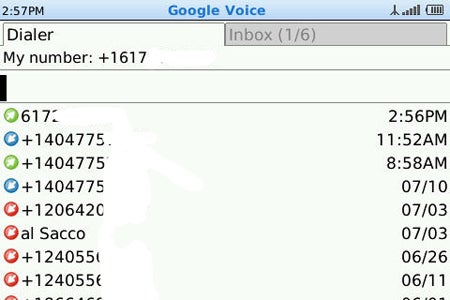 These last features are the most valuable aspects of Google Voice for BlackBerry. To place calls using Google Voice, you open up your BlackBerry address book, scroll to the contact you want to call, hit the BlackBerry Menu key and choose Call Using Google Voice. (Note: The Google Voice app must be running to place calls via your BlackBerry address book.)
You can also initiate Google Voice calls via the app itself. Just click to open it, make sure you're on the "Dialer" menu and scroll down to the blank number field. Then just dial the digits you wish to call and hit your green Send key. You'll see a call initiation screen and you're then routed through a secondary Google number to the number you dialed. It's that simple.
Placing text messages works in the same way and is just as easy. Simply open up the Google Voice app or your BlackBerry address book, scroll over or type in the number you want to text, hit your BlackBerry Menu key and choose SMS.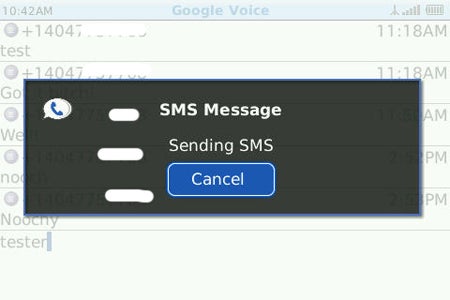 You can also click over to the second section of the Google Voice app to send texts: the Inbox. Your inbox lists all current SMS conversations, along with recent voice mail details. For example, you can see when specific voicemails were left and callers' numbers–you can even view transcripts of messages and download and listen to them with just a couple of clicks. And text conversations are listed in threaded message format, so you can easily navigate past exchanges. (Note: The second Google Voice tab is set to "Inbox" by default, but you can change it to be voicemail- or sms-specific, as well as strictly for received or placed calls.)
The service also offers cool features like conference calling, low international calling rates, call screening and blocking and more. However, none of these features are specific to the BlackBerry or Android apps, so I won't get into much detail here.
Finally, Google Voice for BlackBerry uses "push" technology to alert you to missed calls and texts via icon "badges," which is a nice touch, though they're a bit redundant because you still get the default BlackBerry missed call and new text indicators.
On the other hand…
Google Voice for BlackBerry: Thumbs Down
Most of my gripes here relate to the Google Voice service and not necessarily the BlackBerry app. But in most instances, if Google were to modify the service to address these complaints, my app-related concerns would be resolved as well.
Atop my list of complaints is the fact that there's really no easy way to determine who's calling you via Google Voice. Sure, you can set your caller ID options–via the online Google portal– to display callers' names and numbers where available. Or you can choose only to display your Google Voice number as caller ID so you know that the caller dialed you via Google Voice.
But the only way that I've found to determine all of this information at the same time is to enabled Google call screening and caller ID. Then you can see what number's calling, and if it's not a "recognized" number, or one stored in your address book, Google asks the caller to state their name before connecting the call. Then when you pick up, Google Voice tells you who's calling and asks if you want to take the call.
Never mind the fact that it's annoying to callers to receive a recorded greeting instead of the intended recipient, that whole process–checking caller ID, answering call, listening to greeting, accepting/rejecting call–is tedious at best. Ideally, I'd love to see an option that lets you view both the incoming number, caller ID and that fact that the caller dialed my Google Voice number. That would eliminate the need for a silly–and frustrating–greeting, while providing all the information I'd need to decide whether or not to answer the call.
Unfortunately, you can't simply open your BlackBerry Phone app and dial via Google Voice from there. If you attempt to dial from the Phone application, you won't see any Google Voice option. I make the vast majority of phone calls from the Phone app, so this is particularly annoying to me.
I also experienced some minor, but annoying, connectivity issues. For example, I frequently hit the Refresh option in Google Voice Menu but the command really only worked two out of three times on average. When it didn't, I got a frustrating error message, even when I had full cellular and Wi-Fi coverage.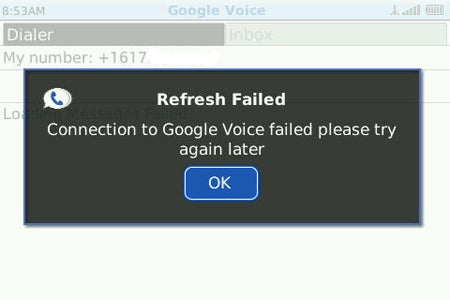 I also had to delete the app from my device at one point yesterday and then reinstall it because it stopped connecting my calls. Specifically, whenever I dialed a number through the Google Voice app, my call was instantly dropped. However, the app worked fine again after a fresh install.
I'd also suggest closing out of the application when you're not using it, since it appears to be a bit of resource hog.
And, to make a long review short…
Google Voice for BlackBerry: Conclusion
Google's really onto something with Google Voice, and it's slowly putting the pieces in place to make the service a viable calling option for everyone from world-travelling business people to consumers with home, office and mobile phone lines. However, the process isn't yet complete, and Google Voice still isn't quite ready for widespread use–especially for less-than-tech-savvy folks.
That said, the service isn't too far from being ready for the masses. By resolving some caller identity confusion and adding support for a few more native BlackBerry services, the company could vastly improve the Google Voice on BlackBerry experience.
AS