After you join Twitter, who do you follow? Deciding this can be an overwhelming task, especially if your goal is to avoid the noise on Twitter and trade messages with trusted colleagues and thought leaders in your industry.
Millions of people tweet everyday. Consequently, it's hard to find the best experts or luminaries. What are their Twitter handles? Are they even on Twitter?
Like many challenges facing users who meander through the burgeoning social network each day, there isn't a perfect solution. But we caught up with some social media experts who offered useful tips on how best to find the right people on Twitter, based on your interests.
Simply Search
For starters, Twitter offers some basic search tools that help, such as the "Find People" tool, which you access next to the "profile" link in the upper right corner of your home page. After you click on it, you will be brought to a page with four tabs.
Under the first tab, labeled "find on Twitter," you can search for someone's Twitter profile and handle by entering his or her name. It's not always intuitive, though. You must key in users' names precisely as they have them in their Twitter profiles. For example, I queried the tool for the name "Tom Wailgum," a colleague of mine at CIO.com. He didn't turn up in the results. Why? He used the more formal "Thomas Wailgum" in his Twitter profile.
With generic names, like a "John Smith," you might have the opposite problem: You'll get too many results (middle initials might help). Celebrities and luminaries in the business world — like a Jack Welch — usually come up pretty easily, however.
Under the "find on other networks" tab, Twitter will search your e-mail accounts to see which of your colleagues or business contacts might already be using Twitter. Unfortunately for businesspeople, this tool searches consumer messaging services (Gmail, Yahoo, and AOL), rather than Microsoft Outlook or Lotus Notes.
Twitter also includes a "suggested users" tab, which the service automatically generates. It's worth a look.
You can then use Twitter's main search tool to search for keywords related to your industry (and you can see who is tweeting them), says Caroline Dangson (@carolinedangson), an IDC research analyst.
"It's a bit more manual, but search can be effective because Twitter isn't a closed network like Facebook," Dangson says.
On Twitter's advanced search page, if you perform a search for a business keyword of interest — say, "supply chain management" — you might find some interesting people discussing the topic.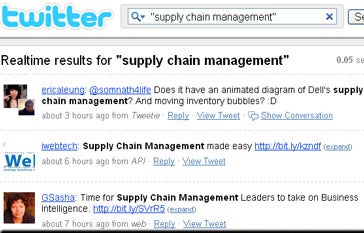 You can also search for hashtags. Twitter users utilize hashtags to categorize common topics. For example, during the disputed election in Iran, people wrote "#iranelection" at the end of their tweets. Third-party sites index hashtags as well. (For more details, we did this overview on Twitter hashtags)
Follow Who They Follow
Once you find some colleagues and thought leaders to follow, you should look at who they are following, too, says Jeremiah Owyang (@jowyang), a senior Forrester analyst.
"You should see who they are listening to," Owyang says. "It can give you some ideas."
Retweets
As you follow leaders in your industry, you should also take note of what messages they decide to retweet, says Dangson. On Twitter, users retweet messages that they find interesting by setting them off with a "RT" and the Twitter handle of the person who wrote it.

If your company's CEO retweets a person's message, odds are, you should begin following that person as well. To learn more about retweets, you can read our overview on how to track retweets.
Follower Tracking Sites
Finally, third-party sites categorize Twitter users by profession, industry and geographic location. Because many of these sites rely on user contributions, "they aren't perfect, but they can give you an idea of who has a lot of influence [on Twitter]," Owyang says.
The most popular is WeFollow.com, which was started by Kevin Rose (@kevinrose), the founder of digg, a social networking site whose users aggregate and vote on news stories. WeFollow sorts Twitter users into popular categories, such as media, technology, business and entrepreneur. On the site's right column, you can see the most popular categories. To view the entire directory, you must click on "more Twitter tags." It might contain ones that are more relevant to your industry.
The home page of WeFollow is more or less a collection of tweets authored by celebrities and a few of Twitter's power users who think they are the former. But any user can add himself to the ranks of WeFollow by creating a profile on the site.
TwitterPacks is another user-generated site. It sorts Twitter followers by company, location, industry, or topic area (to name a few). Built on wiki technology, TwitterPacks relies on users to edit certain categories and build up the database.
Another nascent tool is Twollow. It automatically will follow people on Twitter for you based on certain keywords you decide are most relevant. According to the site, it helps you "discover people with the same interests as you."
Unlike many Twitter tools, which are free, the creators of Twollow hope to make a buck. After a seven-day, free trial, you pay for this tool; prices vary based on the number of keywords you would like it to query. It ranges from $5.99 a month on the low-end, to $99 a year on the high-end.
Don't be afraid to follow
You shouldn't bother being overly cautious about following people on Twitter. After all, you can always unfollow them, says Dangson. Follower lists swell in size, to hundreds and thousands.
"So a lot of the time they won't even notice who comes and goes," Dangson says. "You can follow people and then stop following them. It's not a permanent decision and most people won't be offended."
C.G. Lynch covers Twitter, Facebook and Google for CIO.com. You can follow him on Twitter: @cglynch.