The secondary market for PCs in emerging parts of the world is sizeable: In 2008 alone, according to Gartner, 37 million used PCs were refurbished and exported to developing markets. Gartner analysts forecast that the number will jump to 69 million by 2012.
The global economic recession has only intensified demand in markets for secondary PCs, which Gartner defines as one that is repurposed after its primary use has ended and must have been used for more than 120 days. Demand for secondary PCs, say Gartner analysts, "will outstrip supply for years to come."
On its face, the used PC market can be considered a good thing (or a "win win" in 1990s parlance): Developing countries and their government organizations, schools and populations get good computers that might have ended up prematurely residing in a storage closet or landfill. Gartner maintains that the PC manufacturing process accounts for 70 percent of the natural resources used in the life cycle of a PC, so it's good for Mother Nature to extend the lifetime of any PC.
However, as the June Gartner report explains, "reuse does not necessarily mean 'greener' IT because growing exports for reuse or recycling are leading to increasing e-waste in emerging markets that simply don't have the controls or incentives to adequately dispose of PC parts.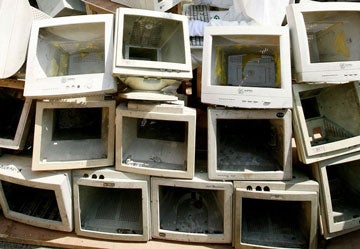 "Although reuse must be considered preferable to most other forms of waste management," notes Meike Escherich, principal research analyst at Gartner in the report, "without effective controls, exports for reuse can be an excuse for dumping, and even in the best case result in 'passing the toxic buck' to emerging economies, which are seldom equipped to deal with this problem in an environmentally and socially responsible way."
Sustainable Efforts or Greenwash?
Gartner estimates that by 2012, emerging countries will annually have to dispose of 30 million secondary PCs. Those computers, bearing the names and logos of big-name vendors, that end up in landfills can do much to vanquish any sustainability or green efforts made by the OEMs. "Nothing exposes greenwash' more dramatically than an A-branded PC found dumped in a developing country in Asia or Africa," Escherich notes.
A 2009 Techworld.com article noted that thousands of old electronic goods and components leave Europe bound for Africa and Asia every day, despite regulations, according to Greenpeace. "Some will be repaired and reused," notes Greenpeace in the article, "but many are beyond repair, meaning that they will eventually be dumped in places where no facilities exist for safe recycling."
Those companies that sell their aged PCs on the secondary market have to be mindful of thorny compliance issues relating to how they properly discard of their unwanted IT equipment, say analysts. Handled incorrectly, incidents of poor controls over secondary markets and lapses in security mechanisms can be embarrassing and bad for business. (See CIO.com's special report on Environmentally Sustainable IT.)
For instance, a team of reporters in 2009 illustrated the possible security problems when they bought a computer hard drive for $40 in a Ghana market which contained sensitive documents belonging to a Northrop Grumman employee. The documents were marked "competitive sensitive" and detailed company contracts with the U.S. Defense Intelligence Agency, the National Aeronautics and Space Administration and the Transportation Security Agency.
An Even Bigger Problem: Mobile Phones and TVs
In reaction to the Gartner report, Computer Aid International, a U.K. charitable organization that refurbishes donated PCs to nonprofit organizations in developing countries, downplayed the overall environmental impact of used PCs in emerging nations.
Instead, CEO Tony Roberts wanted to draw attention to the more than 5 billion mobile phones, 1.5 billion TVs and numerous other appliances that people have used and thrown away, as reported in a CRN article.
"Reusing second-hand PCs which still have several years of productive life in them continues to be the most environmentally responsible corporate decision for legacy IT equipment," Roberts told CRN. "Given that 75 percent of the energy used by a PC across its working life is expended during its manufacture, to recycle component parts of a computer which is still in working order is irresponsible."
Do you Tweet? Follow me on Twitter @twailgum. Follow everything from CIO.com on Twitter @CIOonline.