BoxTone, a maker of BlackBerry platform monitoring/support software and services, on Tuesday will begin selling a version of its product that's tailored specifically for its Managed Service Provider (MSP) customers.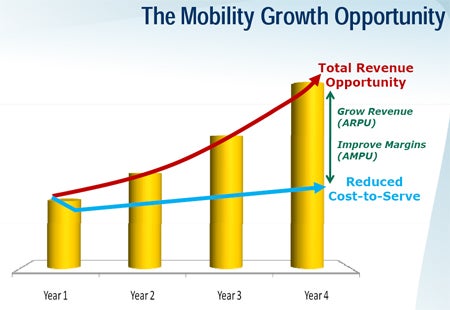 BoxTone MSP customers provide third-party BlackBerry support to other organizations. BoxTone already calls such heavies as LiveOffice and Raiffeisen Informatik MSP customers, along with both EDS and Perot Systems, which currently manage two of the largest BlackBerry fleets in the world, says Brian C. Reed, chief marketing officer at BoxTone.
The current state of the economy, along with related corporate mandates to cut costs wherever possible, make it the perfect time for organizations to investigate external BlackBerry support options, Reed says.
The MSP-specific BoxTone "Bundle" includes Incident, Problem and Service Desk Management modules for identifying and diagnosing BlackBerry issues. Such modules can reportedly reduce BlackBerry-related user-incidences by 30 percent to 40 percent. And problem escalations and mean-times to repair can be chopped by 70 percent to 80 percent, according to BoxTone.
An Asset, Expense and Compliance Management module also lets BoxTone users look at detailed BlackBerry usage metrics like device statistics, roaming information and policy compliance. And the whole package comes with a variety of training and support services to help customers get the most from BoxTone.
Reed claims that MSPs already support some 60,000 individual BlackBerry users via BoxTone software.
"MSPs can trust BoxTone to scale like no other software, supporting up to 50,000 BlackBerry smartphones from a single instance," says BoxTone CEO Alan Snyder, in a statement.
BoxTone's MSP Bundle is set for release tomorrow, June 30, and pricing varies based on how each MSP chooses to bill its own customers for BlackBerry support.
For more on BoxTone's current offerings, read "myBoxTone Expert for BlackBerry: The On-Device IT Help Desk." Additional information on BoxTone's MSP Bundle is available on the company's website.
AS
FREE CIO BlackBerry Newsletter
Get better use out of your BlackBerry and keep up-to-date on the latest developments. Sign-up »
Al Sacco was a journalist, blogger and editor who covers the fast-paced mobile beat for CIO.com and IDG Enterprise, with a focus on wearable tech, smartphones and tablet PCs. Al managed CIO.com writers and contributors, covered news, and shared insightful expert analysis of key industry happenings. He also wrote a wide variety of tutorials and how-tos to help readers get the most out of their gadgets, and regularly offered up recommendations on software for a number of mobile platforms. Al resides in Boston and is a passionate reader, traveler, beer lover, film buff and Red Sox fan.