Perhaps you found a manufacturers' defect in your Palm Pre handheld and need to swap it out for another? Maybe you decided to trade the Pre with a friend of colleague for a new iPhone 3GS or a BlackBerry Curve 8900? Or possibly you found that the Pre's just not for you, and you're returning it to Sprint.
Whatever your reason for moving from the Pre to another device, you'll want to completely wipe your handheld and restore it to factory settings for security/privacy reasons before bidding it adieu–and so the next user starts their Pre experience with a clean slate.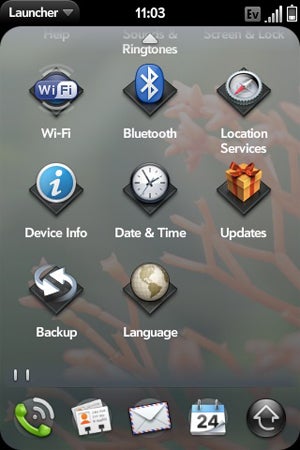 Follow these four-step processes to partially or fully wipe your Palm Pre.
And if you still seek more Pre goodness, check out our uber guide to Pre tips, tricks and keyboard shortcuts, as well as our latest free Pre apps listing.
Palm Pre: Partial Erase
Performing a Partial Erase on your Pre deletes any and all applications you installed on your device, as well as any associated settings and data. However, it will not wipe content stored on the device's internal memory, like images, music files and video clips.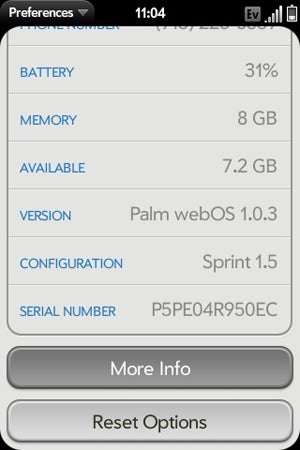 To initiate a Partial Erase, locate and click your Pre's Device Info icon. Scroll to the very bottom of the following screen and choose Reset Options.
The Reset Options screen lists three different choices: 1) Restart; 2) Partial Erase; and 3) Full Erase. Select Partial Erase by rapidly tapping that option twice. You'll then be prompted to confirm or deny the action. If you choose to confirm it by clicking Partial Erase one more time, your device's display goes black, shows a pulsating Palm logo for a few minutes and then restarts.
Palm Pre: Full Erase
Performing a Full Erase on your Pre deletes any and all applications you installed on your device, as well as any associated settings and data. It also does away with images, music files and video clips stored within on the device's internal memory.
A Palm Pre Full Erase is initiated in exactly the same way as a Partial Erase, but you should choose Full Erase on the Reset Options screen.
Confirm or deny the Full Erase on the following screen, and you're all set.
Note: After resetting your Pre, you'll need to create a new "Palm Profile" or log in to an existing profile to employ the device.
Palm Profiles
The Palm Pre uses Palm Profiles to register users, associate them with specific devices and to backup up personal information to "the cloud." You must setup a new Palm Profile the first time you use a Pre.
After resetting your Pre, you can log back into an existing Palm Profile using the e-mail address and password you provided when creating it. Your device will then sync your previous contacts, applications and associated information from the Web to your device.
You can also log in to an existing Palm Profile with a new Pre so, for instance, you could use your original information to log in to your Palm Profile on a completely new Pre.
AS
Al Sacco was a journalist, blogger and editor who covers the fast-paced mobile beat for CIO.com and IDG Enterprise, with a focus on wearable tech, smartphones and tablet PCs. Al managed CIO.com writers and contributors, covered news, and shared insightful expert analysis of key industry happenings. He also wrote a wide variety of tutorials and how-tos to help readers get the most out of their gadgets, and regularly offered up recommendations on software for a number of mobile platforms. Al resides in Boston and is a passionate reader, traveler, beer lover, film buff and Red Sox fan.