The Pre, Palm's first device to run the brand new webOS mobile operating system, just hit the U.S. market, but application developers are already working studiously away on Pre apps to populate the company's equally new app store, the Pre "App Catalog."
Right now, App Catalog pickings are relatively slim—at least in comparison to Apple's iTunes App Store or RIM's BlackBerry App World. But that doesn't mean there's no quality Pre software to be had. On the contrary; I found eight great free Pre apps that I know you'll love.
I've got apps for baseball fanatics, music lovers, movie buffs, social networking hounds, constant travelers and more. Keep moving for my list of hand-picked free Pre apps. And if you still seek more Pre-goodness, read, "Palm Pre Tips & Tricks: Killer Keyboard Shortcuts, Touch-Gestures and More".
Sporting News for Pre: Everything Baseball
If you're a Palm Pre owner and a baseball fan, you need to check out Sporting News Pro Baseball. I'm an avid Red Sox fan, and I'm constantly searching for new ways to stay up to date with my team's various happenings. I'm also a connoisseur of fine mobile applications—I write weekly free BlackBerry apps stories. And I can honestly say I've yet to find another baseball app for any platform that I like more than Sporting News Pro Baseball for Pre.
The free app not only provides the basics like league-wide scores and statistics, users have easy, one-click access to news from around the American and National leagues, as well as team-specific stats and rosters, schedules and standings. You can even create your own fantasy baseball team within the app.
Navigation is a breeze, thanks to well-designed pages and intuitive controls. And marking certain teams as "favorites" brings scores and other information on those teams directly to the app's landing page for quick and easy access.
To find Sporting News Pro Baseball, search the Palm Pre App Catalog for "baseball."
LinkedIn for Palm Pre: Get Connected on the Go
LinkedI n is one of the most popular business-oriented social networks, and the LinkedIn for Pre app gives you access to most all of its basic features from wherever you have wireless connectivity.
The main LinkedIn for Pre landing screen displays all of your "Connections," which you can scroll through by dragging a finger up or down on the device's display. Click on a connection and you can view individual profiles, which include information like geographical region, industry, number of connections, work experience, education and current company listings, as well as a "Message button" that lets you quick compose messages to contacts.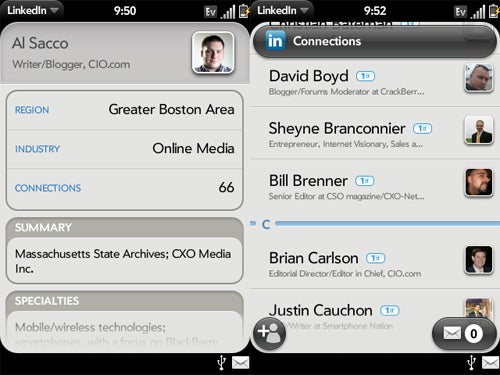 A tiny Inbox icon in the bottom right corner lets you check your inbox for new messages with a single click. And an Add New Contact icon in the lower left corner on the app's main screen means you can quickly send out invitations to connect with new contacts.
It's also worth noting, that no such BlackBerry app exists—I honestly have no idea why—so Pre owners have a leg up on BlackBerry users in that regard.
To find the app, search the Palm Pre App Catalog for "LinkedIn."
mobile by Citysearch for Pre: Don't Leave Home Without It
Frequent travelers and weekend road-trippers alike will love mobile by Citysearch for the Palm Pre. The free app employ's the Pre's built-in GPS to detect your location—unless you'd rather set it yourself—and then serve up location-aware search results for restaurants, bars, shopping centers, hotels, spas and much more.
In each search category, you can choose from Recommended and Nearby listings. And if you click on an item of interest, the app displays a variety of new options, including contact info, addresses, hours of operation and a message from the establishment's owner, where available. By tapping the sides of the screen, you scroll through other listings. And you can also read reviews from additional users, leave your own evaluations, show locations in Google Maps and share listings via e-mail, text or Twitter.
Many entries include a photo, as well, so you can get a look at the property. And bookmarks enable you to save listings that catch your eye for future use.
To find mobile by Citysearch, search the Palm Pre App Catalog for "Citysearch."
Flixster for Pre: Your Movie Theatre Companion
Flixster is a Pre-owning, movie buff's best friend. The free application provides everything you need to find nearby theatres, movie information, listings and reviews. And you can even buy tickets via MovieTickets.com directly from the app.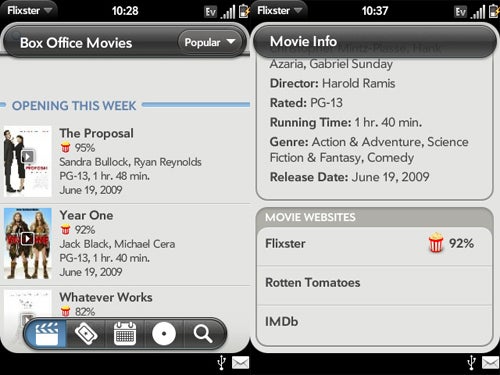 Flixster delivers location-aware search results for movie show times, along with descriptions of popular box office films and theatre information, with maps, so you can find your way to the movies wherever you may roam. A Browse DVDs section lets you query a database of more than 50,000 films on DVD, according to Flixster. The Upcoming Movies section lets you know what's in store for the coming weeks and months. And reviews from both Flixster.com and RottenTomatoes.com are available without ever leaving the app.
Flixster search lets you look for films by title, director or lead actors. And the app's navigation it intuitive; a nav bar gives quick access to current Box Office Movies, Nearby Theatres, Upcoming Movies, DVDs and Search from any screen within Flixster for Pre.
You can also watch a number of trailers, though the ones I checked out were poor quality.
To find Flixster, search the Palm Pre App Catalog for "movies."
Tweed: Twitter via Pre
The central motivating question behind the popular "micro-blogging" service Twitter is this: What are you doing? And there's no better time or place to answer that question than when you're out and about doing whatever it is that you do best, right? I mean, there are only so many things one can do while sitting in front of a computer screen…
Thanks to Tweed, Pre owners can share and communicate with their followers, on the go or otherwise, via an intuitive and easy to use—if a bit barebones—Twitter app. Tweed gives Pre users access to all the basic Twitter features, like Friends Timeline, Public Timeline, Replies, Direct Messages, Trending Topics, Favorites and more. And you can turn on notifications, so a tiny icon appears at the bottom of your Pre's display whenever you have new activity.
As for "advanced functionality," Tweed doesn't have much to offer, except for a location feature which lets you include your current whereabouts in "tweets." I was particularly disappointed that Tweed doesn't currently support TwitPic, which lets you post images along with Twitter messages.
Note: There's another player in the Pre-Twitter-game, as well, called Spaz. I used both apps and found that Tweed delivers a better overall experience, at least for me. Also, Spaz is currently free, but its creators plan to throw a price tag on it in the near future.
To find Tweed or Spaz, search the Palm Pre App Catalog for "Twitter."
Pandora Radio: Free Internet Radio in Your Pocket
I'm a huge fan of Pandora Radio, and I've recommended the BlackBerry and iPhone apps on CIO.com numerous times. I feel just as strongly about the new Pandora for Pre offering, because, well, it's almost exactly the same. It's more similar to the iPhone application, because of the touch-based navigation, but all of the same basic functionality is present in Pandora for Pre.
Quick description of Pandora Radio: Pandora is an Internet radio "station" that lets you program personalized channels based on artists you like. For example, a John Lennon fan could create a 'The Beatles' station that plays tunes from the Fab Four, mixed in with songs recommended by other Beatles fans on Pandora. The service is a great way to find new artists you may have never heard before.
The Pandora interface is very simple, and that's one of its strengths. It's easy to add new artist channels, and all of your existing channels are displayed alphabetically or by creation date on the app's home screen. Just tap one and your music starts playing. A small Add New Channel icon in the home screen's lower left corner lets you easily add new stations. And if you already have a Pandora account, all your previous stations populate to the Pre app once you sign in.
And you can "vote up" or "vote down" songs&mdashs;to let the app know whether or not you want to hear more similar content—and skip up to six songs per hour, per station.
To find Pandora Radio, search the Palm Pre App Catalog for "radio."
WHERE for Palm Pre: Local Search Done Right
WHERE for the Pre is the only local search application you'll ever need. The app uses your Pre's internal GPS to detect your location and then delivers a wide variety of local search results.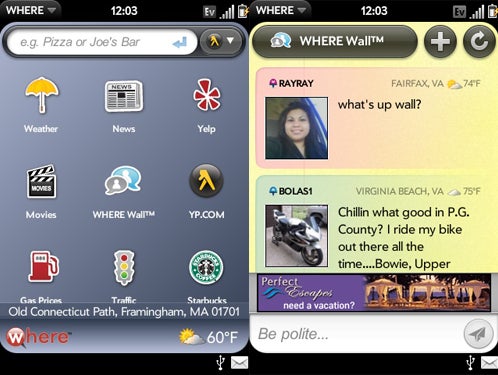 For example, you can employ WHERE to find nearby movies and movie times. You can quickly query business listings via a built-in YellowPages.com widget. Detailed weather reports for single days and extended forecasts are available. A Starbucks section helps ensure you're never without a latte when in need. Local traffic can be found in the Traffic section. And the Yelp.com integration means you can instantly read reviews from Yelp.
The app has a fairly detailed News section, where you can pick from U.S. news, entertainment, sports, technology, odd and local happenings and query Microsoft's new Bing search engine.
You can also communicate with other WHERE users a la Twitter-style status updates on the "WHERE Wall," though you have to create a separate account to do so.
To find the app, search the Palm Pre App Catalog for "Where."
Speed Brain for Pre:
The Palm Pre doesn't ship with any games, but thankfully, App Catalog already has a few third-party options listed. One that caught my eye is Speed Brain, which is a very basic matching game that claims to "provide a mental workout that will help you quickly understand information and react to it."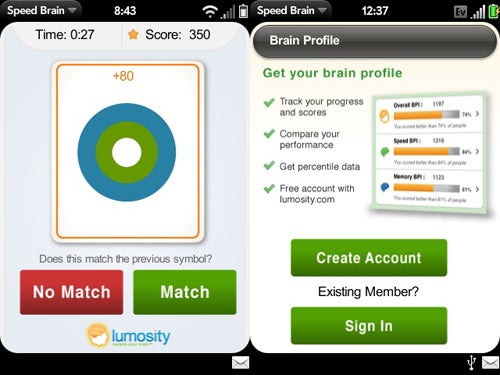 I'm not so sure of the validity of that statement, but Speed Brain is fun. The concept is simple: The game shows you a shape on the main screen, when you're ready to start, you tap the screen and another similar or identical shape appears. If the shape is the same, you click the Match button. If not, you tap No Match. The object of the game is get more and more correct answers in the 45 seconds you're allotted.
The game keeps track of your high scores and even gives you a "percentile" rating so you can see where you stack up against other players. And after time, Speed Brain creates a "Brain Profile" that lets you track your progress and compare performance and check percentile data.