Whether you're a BlackBerry "newbie" or experienced mobile soldier, there are always things you can do–or buy–to soup up your 'Berry.
BlackBerry accessories galore can be found online and in brick-and-mortar stores like Best Buy. But sometimes it's a task just to determine what add-ons are truly valuable, and worth dropping a few bucks for, and which are just icing on the smartphone-cake.
That's why I've collected my six most frequently used BlackBerry accessories, searched out the best deals for each, and presented them here for your perusal. In all categories, I offer up a few different options with varying price levels, but you can pick and purchase one of each for a combined total of $100. I did anyway, and my BlackBerry is the better for it.
Keep on reading for more on my can't-miss best BlackBerry accessories.
1) BlackBerry Desktop Charging/Sync Pods
I bought my first BlackBerry charge pod a year or so ago for my Curve 8320, and now whenever I get a new Research In Motion (RIM) device, I immediately pick up a compatible pod. That's because the product makes it infinitely simpler to power up my BlackBerry; I never have to worry about physically connecting a charge cable to my device. With the charge pod, I simply drop my BlackBerry into place and remove it when I'm ready to go.
(Read my full review of the BlackBerry Curve 83xx Desktop Charging Pod.)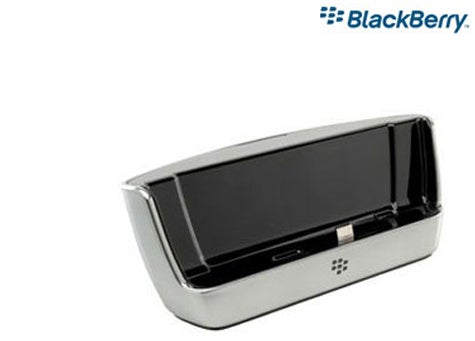 The BlackBerry Charge Pod sits on your desk and stays in place thanks to a small rubber pad on its base. You plug in a miniUSB or microUSB charging cable–depending on your device model–into the back of the pod, then plug the other end of the charger into an electrical outlet and you're good to go. Just drop your /Berry into place and, voila, you're charging.
The BlackBerry Storm pod is called a Sync Pod since it not only charges that device, it can also be used to sync data. The Sync Pod connects to the Storm via micro USB port instead of charting via small on-device charging panels like all the other pods.
Note: BlackBerry Charge/Sync Pods do not come with charging cords. You must use your own cord or purchase a new one. The products are available for BlackBerry Pearl 81xx and 82xx, Curve 83xx and 89xx, Bold 9000 and Storm 95xx devices. Amazon.com sells Curve 83xx pods for as little as $6; Bold 9000 pods go for $8; and the Storm syncing version can be had for $14.
FREE CIO BlackBerry Newsletter
Get better use out of your BlackBerry and keep up-to-date on the latest developments. Sign-up »
2) Spare or Replacement BlackBerry Batteries The battery inside your BlackBerry just may be its most important component. After all, when you're out of the juice, the fun, the work, and everything in between is over&until you can recharge, at least–or pop in a replacement battery. BlackBerry Bold OEM 1400mAh Batteries You can never really comprehend the value of spare BlackBerry batteries until you really need one. So why not just take it from me: You won't regret spending a bit of extra scratch on a replacement battery when your device dies at some inopportune moment, but you're able to simply switch out its power pack.
Pricing on BlackBerry batteries varies by device model, but most can be had for between $20 and $30–less for batteries for older 'Berrys. Currently, a replacement battery just like the one the BlackBerry Bold ships with, the 1400mAh version, sells for as little as $26 on Amazon.com. Extended 1650mAh Bold batteries retail for about $50 on Amazon, while 3500mAh batteries with replacement covers go for about $55.
3) BlackBerry Screen Protectors
Whether or not you use a screen protector on your smartphone seems to be a matter of preference: Some folks love 'em, while others, well…others don't.
I fall into the former group, as I carry my BlackBerry mostly naked in a jeans or jacket pocket, and I don't use a holster or other case for protection. That means my device often mixes it up with keys and lighters and other potential damaging knickknacks. If I didn't use a screen protector, my BlackBerry display would look like a skating rink after an NHL playoff game.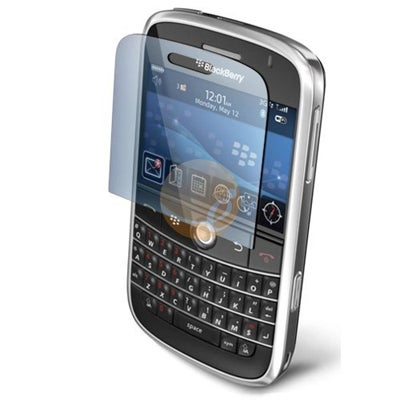 I prefer BodyGuardz's screen protectors, since I've had very good luck with the brand. In fact, I've been using the same BodyGuardz screen protector for almost six months, and it's barely showing its age. However, BodyGuardz aren't exactly cheap. You can buy two complete sets that fits and protect the BlackBerry Bold for $20 on Amazon, or you can pick up two screen protectors (recommended) for $15.
Screen and device protection from other companies, like Zagg, are a bit more affordable at $12 or less on Amazon. And you can even pick up generic screen protectors for less than a dollar each.
4) BlackBerry microSD Memory Cards
Memory cards are essential if you want to use your BlackBerry for listening to music or viewing video; the miniscule amount of storage space built into your BlackBerry's internal memory makes it less-than-ideal for keeping and consuming multimedia.
Luckily, compatible memory cards are relatively affordable, especially if you only need a small amount of storage. Amazon's currently selling 4GB cards for as little as $6; 8GB cards are listed for $14; and 16GB go for about $46.
BlackBerry smartphones running OS4.6 or higher support microSD cards up to 32GB.
Read "BlackBerry How To: Insert, Format and Use microSD Memory Cards," for more on memory cards and RIM smartphones.
5) BlackBerry Headsets and Earbuds
A good headset or pair of earbuds is a necessity if you want to realize the true potential of your BlackBerry smartphone. RIM makes its own phones, and its high-end headset is a great option for anyone looking to use the headphones solely with BlackBerry devices. That's because the product has a multimedia "controller" built into its cord that only fully works with BlackBerry devices.
(Read my full review of RIM's BlackBerry Premium Multimedia Headset.)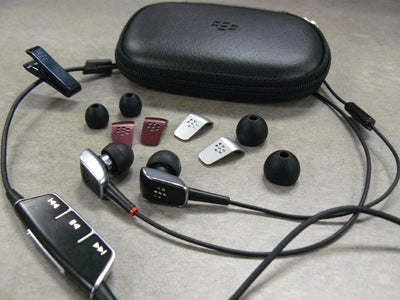 For the purposes of this article, I'm focusing on headsets and earbuds, since they're more mobility-focused than headphones.
The quality of the BlackBerry Premium Multimedia Headset, which can also be used to place hands-free calls, isn't great, and serious audiophiles might be a bit let down. But it's significantly cheaper than additional high-end alternatives. RIM sells the headset for $90, but you can pick it up for half that price at CrackBerry.com.
Beats by Dre earbuds and headsets from V-Moda are also viable options for folks serious about their music, but they're both significantly more pricey than RIM's options at $150 and $95 respectively on Amazon.
FREE CIO BlackBerry Newsletter
Get better use out of your BlackBerry and keep up-to-date on the latest developments. Sign-up »
6) BlackBerry Skins
Last but not least, you may want to protect your BlackBerry device with some sort of skin. As mentioned above, I very rarely use skins or cases or any sort–largely because my ColorWared BlackBerry is so damn purty–but it's generally a good idea.
Various manufacturers produce skins for a wide variety of BlackBerry devices. RIM's own skins are my favorite, as they always seem to fit the best. Right now, RIM's skins typically sell for between $2 and $10 on Amazon.com, so you could pick up a few in different colors without breaking the bank.
You can even find cheaper options: Generic skins for devices like the Bold sell for less than $1. If that doesn't fit into your budget, I'm not sure what else I can tell ya…
Read "BlackBerry Bold Skin Review: OEM Skin vs. OtterBox Impact for Bold" for details on BlackBerry skins. And check out "The Best Ways to Carry Your RIM BlackBerry In Style" for more on BlackBerry cases.
Okay, so let's add all that up. We've got $8 for a BlackBerry Bold Charging Pod; $26 for a replacement Bold battery; $15 for the BodyGuardz screen protector; $6 for a 4GB microSD memory card; $40 for RIM's best earbuds; and $5 for a BlackBerry skin from RIM.
By my calculations, that's exactly $100. And there you have it: Six must-have BlackBerry accessories for less than a bill. You'll have to figure out the shipping costs yourself…
AS