It's no secret that U.S. President Barack Obama is a BlackBerry user; the man jumped through hoops just to be able to keep his beloved 'Berry after moving into the Oval Office. Now, just four months after his inauguration, you can now see just what the leader of the free world is messaging about–and with whom. But don't worry, there's been no breach of national security…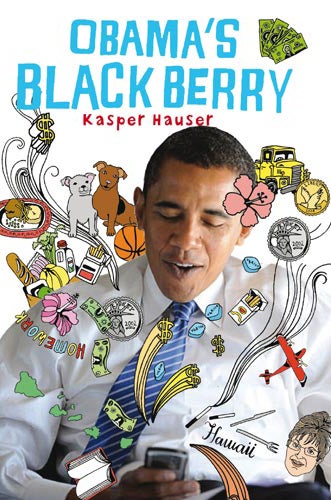 San Francisco-based comedy troupe, Kasper Hauser, has compiled and published a collection of messages between Mr. Obama and his various presidential colleagues, including vice prez Joe Biden, as well as California Governor Arnold "I'll be back" Schwarzenegger and Secretary of State Hillary Clinton. Okay, the texts aren't actually, ahem, real–Obama's using special BlackBerry software from Genesis Key to ensure his communications aren't intercepted in such a way.
But they are rather cute…as is the fact that Kasper Hauser is apparently promoting the book via an iPhone application which will randomly generate amusing White House-related texts. Not a BlackBerry app…an iPhone app.
A couple examples of texts from the book:
Text Message from Hillary Clinton, Secretary of State
HBomb: r u still mad about the primary?
Barack0: no, why?
HBomb: why am I flying coach to Zimbabwe?
Barack0: have fun eating pretzels and watching "Marley and me" 😉
FROM: Arnold Schwarzenegger

TO: Barack Obama

SUBJECT: Let me go after Bin Laden alone
"Dear Mr. President,
Listen to me: with a parachute, some Red Bulls and a crossbow I could capture Bin Laden in 24 hours. I could even do it naked. I will grow my hair long for this…"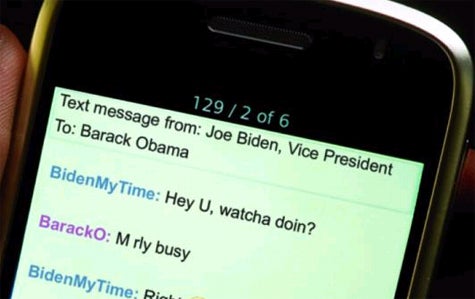 You can pick up the book from your local bookseller, as well as all the usual online suspects, including Amazon.com.
And if you still seek smartphone-related reading material, check out "CrackBerry: True Tales of BlackBerry Use and Abuse."
AS
Via WSJ.com and FoxNews.com
FREE CIO BlackBerry Newsletter
Get better use out of your BlackBerry and keep up-to-date on the latest developments. Sign-up »