Research In Motion's (RIM) Wireless Enterprise Symposium (WES) is the largest BlackBerry event of the year, and as such, all the heavies in the space–from BlackBerry administrators to analysts and pundits, as well as power-users and unabashed CrackBerry addicts–come out to see the latest and greatest the BlackBerry world as to offer.
CIO.com was on the scene in Orlando this week for WES, and I spent hours in the trenches BlackBerry Solutions Showcase speaking with various vendors about their newest wares. I came across a plethora of noteworthy products and services, too, and though many more deserve mention, I've culled my 10 favorite offerings, listed in alphabetical order, for folks who couldn't make the show.
And if you still haven't seen enough by the time you make it through the list, check out my Best of WES from last year: "WES 2008: My Five Favorite New BlackBerry Products and Services."
1) Cellcrypt
Cellcrypt Mobile for BlackBerry is the very first product that encrypts BlackBerry voice traffic–phone calls–and though it's not exactly cheap at $1000 per user per year, the peace of mind of knowing your calls aren't being tapped could be invaluable depending on your line of work.
Simon Bransfield-Garth, Cellcrypt's CEO, says exploits meant to tap into BlackBerry phone calls are entirely possible, and though we haven't really seen any in recent days, it could take just one high-profile attack to raise public awareness. Cellcrypt may be the first to offer BlackBerry voice encryption, but I think you'll start seeing more products like it in the near future.
Read "Cellcrypt for BlackBerry Encrypts, Secures Cellular Voice Conversations" for more on the company's new BlackBerry offering.
2) Chalk Media
I knew Chalk Media was a company I'd want to keep an eye on when I first talked with the Chalk folks at WES 2008, and it looks as though RIM had similar feelings; the BlackBerry-maker acquired Chalk late last year.
The Mobile chalkboard from Chalk Media is an application suite that lets corporations and organizations quickly create and distribute media-rich "pushcasts," to staffers' or customers' BlackBerry devices. Such pushcasts can include PowerPoint slides, surveys, call or e-mail requests, video and more. Media chalkboard also enables IT administrators to secure and track the delivery of content, i.e., determine who's consuming what content. And Chalk's pushcasts are accessible without wireless connectivity, because they're pushed onto users' devices whenever there's network coverage and stored until the content is needed.
The product is particularly interesting because it puts the BlackBerry media player, which is typically considered a consumer-oriented feature, to work as a corporate tool.
More information on Chalk is available on the company's website.
FREE CIO BlackBerry Newsletter
Get better use out of your BlackBerry and keep up-to-date on the latest developments. Sign-up »
3) Giesecke & Devrient GmbH
You've probably heard of traditional smart cards and smart card readers that enable organizations to grant secure access to corporate resources to authorized parties with the appropriate card credentials. In fact, RIM actually makes its own BlackBerry Smartcard Reader, which is about the size of an average BlackBerry but significantly lighter.
Today, thanks to German company Giesecke & Devrient (G&D), you can now do away with extra gadgets and accessories and pack your smart card inside your BlackBerry smartphone.
G&D's Mobile Security Card looks just like a normal microSD flash memory card, and it fits into your device's microSD slot, but it sports an embedded Common Criteria EAL 5+ certified smart card chip, according to the company.
I'd never seen anything quite like this before stopping by G&D's booth, and I think it signals a trend toward using microSD cards for more than simple storage.
For more on the G&D Mobile Security Card, stop by the company's website.
4) Google
Earlier this week, Google announced its new Google Apps Connector for BES, which lets organizations employ Gmail along with Google's Calendar and Contacts offerings, via BES, to take advantage of RIM's renowned "push" technology and the various BES security safeguards.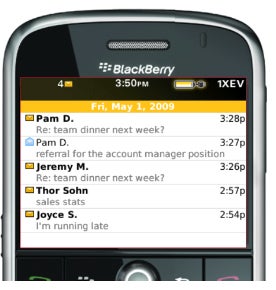 I had some time to experiment with the Google Apps Connector before its official launch, and overall, I was impressed. It's still in early developments stages and won't be available until this summer, but the product certainly makes Google Web mail and calendar much more suitable for enterprise use. And it'll actually save CIOs and BlackBerry administrators some cash, according to Google Director of Product Management Raju Gulabani.
Read, "Google Apps Connector for BES: BlackBerry Gets Native Gmail, Google Contacts and Calendar" for more.
5) Gwabbit (Technicopia)
If you haven't already heard of Gwabbit for Microsoft Outlook and BlackBerry, from Technicopia, it's time to check them out. Gwabbit vastly reduces the time it takes to transfer contact information from Outlook e-mail messages to your BlackBerry address book, by automating the process. In other words, whenever you get an e-mail with a signature block, Gwabbit asks if you'd like to add the information to your device contacts. Simply click your trackball to confirm or deny the request, and you're good to go.
Gwabbit for Outlook has been around for some time, but I hadn't seen the company's new Gwabbit for BlackBerry plug-in until I stopped by its booth at WES. And I was immediately glad I did. I'll need to give it a try myself to see how well it performs over time, but I see huge potential in Gwabbit…even if you do have to pay $9.99 a year for it (BlackBerry version).
Visit the Gwabbit site for more information.
6) iLane
iLane isn't new, but it was still one of the coolest products on display at WES 2009. The company's tagline is "Hear your e-mail. Clear your inbox. Watch the road." And that pretty much sums up iLane nicely; it's a small gadget, a bit larger than a deck of cards, that lets you manage your BlackBerry e-mail via spoken instructions. It also reads e-mail back to you, and lets you access your calendar without ever taking your hands off the wheel of your car.
The product can also be used to send various messages, including e-mail and SMS, and place phone calls using voice commands. And it even delivers weather forecasts from The Weather Network, as well as news and sports information from The Associated Press. Not bad, right?
Unfortunately, iLane's a bit pricey at $599 along with a $7.99 monthly fee.
More information can be located on iLane.com.
7) LogMeIn
LogMeIn Rescue+Mobile is strictly for enterprise BlackBerry administrators, but there were plenty of end users ooo-ing and ahhh-ing at the company's WES 2009 booth. That's because it's fun to watch the product in action as it remotely takes control of BlackBerry devices.
The idea is to allow BlackBerry admins remote access to their users' devices to help resolve technical issues and train them on new features or functionalities. And there's no need to preinstall software on user devices.
Tools to allow IT help desk remote access to their staffers' PCs have been around for years, but LogMeIn is one of the first full-featured products of its kind for BlackBerry. The company also has a cool new product that lets BlackBerry Storm owners remotely access their desktop computers.
LogMeIn Rescue+Mobile is available for Windows Mobile and Symbian devices in addition to BlackBerrys, and more information, as well as a two-week free trial, can be found on the company's website.
8) OtterBox
OtterBox is well-know throughout the BlackBerry community for its bulky, boxy smartphone cases, designed to withstand some seriously harsh treatment. If you want or need the best protection available for a BlackBerry smartphone, you definitely want to consider OtterBox.
Its cases aren't exactly pretty–I prefer sleeker, stylish cases, and don't require much protection since I baby my devices–but boy do they get the job done. And the OtterBox folks just love proving that fact by throwing, smashing and generally battering OtterBox-equipped devices to no end, without causing the BlackBerrys any noticeable damage.
The company wasn't really showing off anything at WES that I hadn't seen already, but its booth was easily one of the most jam-packed locales on the show floor–the company's tendency to give away freebies certainly didn't hurt.
Check out OtterBox online and read "BlackBerry Bold Skin Review: OEM Skin vs. OtterBox Impact for Bold" for more on the company's Impact skins for BlackBerry.
FREE CIO BlackBerry Newsletter
Get better use out of your BlackBerry and keep up-to-date on the latest developments. Sign-up »
9) Viigo
I won't spend much time on Viigo, as I've mentioned the product countless times on CIO.com–I even filmed a how-to video for the app–but I will say this: Viigo is and has been one of my favorites BlackBerry applications for years. And it just keeps on getting better and better.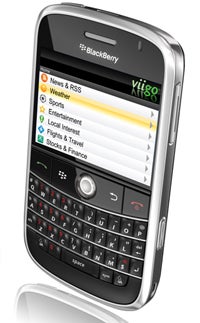 Viigo is mainly an RSS reader, but the development team adds new features so frequently that it's really more of a "lifestyle app" than anything else at this point. You can check real-time weather reports, find sports scores, get stock and finance information, access your Twitter and FriendFeed accounts, make restaurant reservations and much more, all from Viigo–and all for free.
The Viigo team also added a number of cool new features to the enterprise-version of its application at WES, and it released a new alpha build with an Audio & Podcasts section that lets you stream all your favorite podcasts directly to your device.
(Viigo is also the single most downloaded application on BlackBerry App World, according to RIM's Manager of Developer Relations, Mike Kirkup.)
Visit Viigo.com for more.
10) Xobni
Like Gwabbit, Xobni–"inbox" spelled backwards–is a Microsoft Outlook plug-in designed to enhance your BlackBerry e-mail and contact-management experience. Xobni has been on the market for a while, but the company just announced that it will release a BlackBerry-specific version some time this summer.
That's exciting news, as Xobni really does add another dimension to Outlook mail, through rapid e-mail and contacts search–the company claims it can search mail 50 times faster than Outlook–message attachment finder features, threaded conversations, and much more. And it integrates with Facebook and LinkedIn, so you can see your contacts' profile information, where available.
Oh yeah, Xobni is free, too, so the price is certainly right. You can sign up to be notified as soon as the BlackBerry version becomes available.