Ever wished you could get "push" Gmail on your BlackBerry smartphone? Or securely–and wirelessly–sync your Google contacts and calendar? If so, your wishes may be granted this summer, thanks to a new service from the search giant.
Google Apps Connector for BES, which will become available to Google Apps Premier and Education Edition customers, free of charge, this coming July, will enable corporate BlackBerry users to access Gmail, Google contacts and calendar via the native BlackBerry messaging, contacts and calendar apps, just as they would using Microsoft Exchange and Outlook.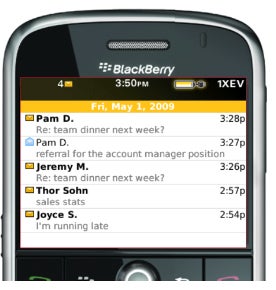 That means corporate Gmail users will be able to take advantage of RIM's renowned "push" technology, which delivers messages and information to users' handhelds near-instantly. Gmail messages viewed or deleted via handheld will automatically be marked as viewed or deleted in Gmail inboxes based on new wireless reconciliation settings. And users will also be able to utilize the variety of security safeguards built into BES.
Google already offers Gmail for BlackBerry and calendar syncing applications, but they don't utilize BES servers, and therefore cannot take advantage of push, the built-in security protections, or the new wireless reconciliation options.
In addition to the native mail and calendar/contacts sync, Google Apps Connector for BES will also enable users to access their organizations' Global Address Lists (GAL) so they can find contact information on corporate servers and not just in the contacts stored locally on their devices.
And the new connector for BES lets users sync Gmail folders and labeled messages, as well as archive certain communications for future searches–though wireless connectivity is required to access archived messages. The archive feature is entirely new to the BlackBerry, as BES users can currently only search messages stored on their devices.
Raju Gulabani, a Google Director of Product Management, says the ideal customer for the new Google Apps Connector for BES is the mid- to large-size company that already employs BES for Exchange v4.16, but would like to reduce its cost-per-user. Businesses that switch from an average BES for Exchange deployment to Google mail and the Google Apps Connector for BES could reduce their total cost-per-user by as much as 70 percent, according to Gulabani.
FREE CIO BlackBerry Newsletter
Get better use out of your BlackBerry and keep up-to-date on the latest developments. Sign-up »
However, companies with BES for Lotus Domino or Novell Groupwise–or older versions of BES for Exchange–need to upgrade to BES for Exchange v4.16 to employ the Google Apps Connector, Gulabani says. Support for RIM's latest BES, v5.0, is expected in the future.
Unfortunately, the calendar sync function is only "one way," so users will automatically see new appointments or meetings added via a desktop computer, but entries made on the BlackBerry will not "reverse sync" with the full Web version of Google Calendar. However, the company is working on adding this functionality and it should be available some time during the second half of 2009, according to Gulabani.
I also noticed that it takes longer than I'd like for new contacts added to my Gmail address book online to make it over to my BlackBerry. Contact sync took as long as 30 minutes in some cases.
Google announced an enterprise-centric version of its Google Mobile App, as well, which is meant to make it simple for BlackBerry administrators to deploy the app suite to large groups of users. BES installation packages are available immediately at mobile.google.com/enterprise.
More information on the Google Apps for BES Connector is available on the company's site.