In February, Lenovo announced a new product called Constant Connect, that lets ThinkPad laptop users with BlackBerry smartphones employ a Bluetooth-enabled ExpressCard to synchronize corporate e-mail between their notebooks and smartphones–even if those computers are powered off. Today, the company informed me that Constant Connect is now available for purchase.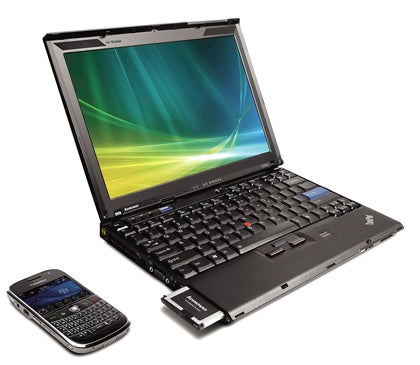 The idea behind Constant Connect is to make it simpler and more effective for road warriors to manage corporate e-mail while on the go. It's also meant to reduce the need to pay for expensive airport or hotel Wi-Fi, since it enables users to receive, compose and send corporate mail via laptop using only your BlackBerry's wireless connection.
The 54mm Constant Connect ExpressCard, which features a built-in Bluetooth radio–with a range of about 30 feet–and 500MB of storage, sells for $150. The card will work with any Intel Montevina based ThinkPad and BlackBerry running RIM OS v4.2 or higher.
Constant Connect can now be purchased online in the United States separately or along with new ThinkPads via Lenovo and the company's business partners. ThinkPad users outside of the United States will unfortunately have to wait until later this year.
Lenovo Constant Connect Video Demo
Check out the above video for details on how Constant Connect works. And read, "Lenovo Constant Connect Boosts RIM BlackBerry, ThinkPad Integration," for my take on why the service could be an invaluable tool for frequent business travelers.
FREE CIO BlackBerry Newsletter
Get better use out of your BlackBerry and keep up-to-date on the latest developments. Sign-up »