Every so often, wireless carriers take it upon themselves to push out their own branded, or at least sanctioned, applications and services to BlackBerry users in the form of "service book" updates–regardless of whether or not said users actually want them. AT&T seems to be particularly fond of the practice, and this weekend it not only pushed out a dozen or so new link-icons to its BlackBerry customers' devices, but also delivered a new version of its own "app store," Media Mall 2.0.
Keep in mind that with the recent launch of Research In Motion's (RIM) BlackBerry App World mobile software store, it has never been easier to locate and obtain great apps for your BlackBerry device. Conversely, AT&T's poorly formatted, over-priced Media Mall, along with the completely random apps it occasionally delivers via service book updates, merely clutters customers' devices.
Wireless carriers push out service book updates to their BlackBerry users all the time, and those updates are often meant to improve the performance of your device; however, some carriers take the opportunity to distribute apps, or links to download full–and not always free–versions of programs, along with the legitimate updates. AT&T's not the only culprit, either, though it appears to push out more of these "updates" than any other U.S. carrier, at least in my experience.
Thankfully, there's a simple way to ditch apps that you don't want, though you need to repeat the process every time you reboot if you want to ensure all those apps remain deleted. Not up for deleting after every hard- or soft-reset? No problem; there's an even easier way to simply hide those pesky apps. Out of sight, out of mind, right?
How to Remove Carrier-Supplied Apps, Services
The new AT&T applications and services, which include such annoying exciting titles as Brain Challenge Vol. 2, Mobile Banking, Make-UR-Tones and WikiMobile, "magically" appeared in most AT&T BlackBerry users' Downloads folder last weekend.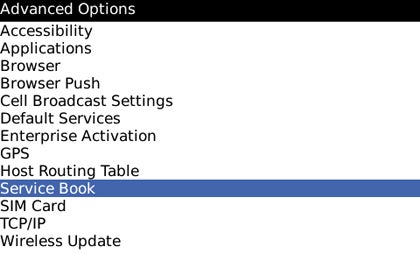 To delete them, open your BlackBerry Options, scroll to Advanced Options and click it. On the following page, scroll to Service Book and open that menu.
On the Service Book page, you'll see a variety of listings that start with a check mark and end with some text in brackets, like so: "Check Mark" WikiMobile VPL 9000 [BrowserConfig]. You'll note an individual listing for each and every carrier-supplied app or service that was pushed to your device.
To erase the carrier-supplied icons, simply delete the associated service book listing. To do so, scroll over the listing, hit your BlackBerry Menu key–located directly to the left of your trackball–and choose Delete.
The service book entry for AT&T's Media Mall looks like this to BlackBerry Bold 9000 users:
"Check Mark" Mall VPL 9000 [BrowserConfig]
Delete it and the Media Mall icon on your BlackBerry icon screen disappears. Follow this process for each and every icon you want to erase, and your device will be clean of unwanted carrier-clutter in no time.
Note: As mentioned above, you'll need to repeat this process every time you reboot your device and whenever AT&T decides to "re-push" those service books–at least if you want to be rid of the carrier apps and services.
Then again, you could always simply hide them….
FREE CIO BlackBerry Newsletter
Get better use out of your BlackBerry and keep up-to-date on the latest developments. Sign-up »
How to Hide Unwanted BlackBerry Apps, Icons Hiding unwanted or unused BlackBerry apps and services doesn't delete them from your device altogether, but it does put them out of sight. If that's good enough for your purposes, this could be the better option, since you won't have to hide the icons every time you reboot. BlackBerry Show All/Hide Menu To hide an icon on your BlackBerry simply scroll over it, click your BlackBerry Menu key and choose Hide from the list of options that appears. That icon will then disappear from view until you hit the Menu key again and choose Show All. This will display all "hidden" icons, though they'll still look "grayed-out" to signify that they're hidden. To hide all those hidden icons again, uncheck the Show All option in your BlackBerry Menu.
For more BlackBerry organization tips, read "Using Folders to Unclutter Your BlackBerry."
Props to Giancarlo of GeekBerry.net