Sick of craning your neck and/or maintaining uncomfortable positions for hours while in flight so you can watch episodes of Battlestar Galactica via iPhone or catch the latest music video on your BlackBerry? Though far from perfect, iFlyz, an "in-flight personal media solution" aims to reduce bodily strain and improve your overall smartphone multimedia experience while traveling by airplane–or any other mode of transportation that provides a fold-down, seat-back tray table.
The product works by gripping your smartphone's rear side with a tiny suction cup while clamping onto an airplane's seatback tray-table. And it works when tray-tables are both open and closed.
iFlyz does indeed free up your hands while watching video or listening to music on your smartphone, but its short, rigid gooseneck and awkward tray-table clamp could be more of a headache than a help for some users.
Keep reading for additional detail on why iFlyz might be just right for you–or why it might not.
iFlyz iLikez
The best thing about iFlyz is its small size, which makes it relatively easy to fit into the bottom of a carry-on or laptop bag. With the tray-table-clamp squeezed shut, iFlyz is less than five-and-a-half inches long, two-and-three-quarter inches tall and an inch-and-a-half wide.
It's also composed mostly of smooth, hard plastic–as opposed to metal–so it won't likely scratch any gadgets or other items packed alongside it in your travel bag.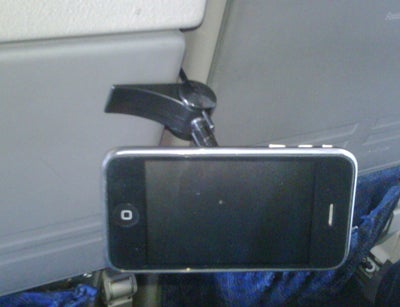 I tested iFlyz on a Boston to New York flight using both an iPhone 3G and BlackBerry Bold. My initial concern was that the iFlyz suction cup wouldn't be strong enough to hold my gadgets in place during the flight, especially if there was any significant turbulence. But I applied a small amount of moisture to the cup before sticking it to my device and was pleasantly surprised when my iPhone 3G stayed put for a full episode of The Simpsons. (My BlackBerry Bold had much less luck in that department, but I'll get to that in the next section…)
The clamp that attaches iFlyz to seatback tray-tables also worked better than I expected; I clipped iFlyz onto the top of the tray-table in the closed position and to the side of it while opened and it stayed put, for the most part–even with turbulence.
On the flip side…
iFlyz iDislikez
My two main iFlyz gripes: 1) There's no way to easily adjust the tray-table clamp or lock it in place; and 2) the gooseneck arm that lets you position your device is too rigid and not quite strong enough to support the full weight of an iPhone or BlackBerry Bold in all possible arrangements.
For example, the only way to open and close the iFlyz tray-table clamp is by yanking and pulling on one end until it budges–which is easier said than done when it's clamped shut for travel because there's no good place to grab onto it. And you've got to squeeze it shut on your tray table when you want to employ it. The product would greatly benefit from some sort of handle or crank that lets you tighten and release the lock without having to grope and pull at its edges to get a grip.
iFlyz's gooseneck arm is bendable in most direction, which helps to comfortably position your devices for viewing, but it's not really strong enough to bear the full weight of the iPhone 3G with its arm extended upward in the 12 o'clock position. Since the product attaches to a tray-table that's typically going to be lower than your eye-level, it's almost always going to be titled upward. Since iFlyz isn't quite strong enough to bear the full weight of your smartphone while fully extended upward–your iPhone will keep drooping down–its overall value is greatly hindered.
While I had relative success with iFlyz and my iPhone 3G, the product just didn't get along with my BlackBerry Bold for one simple reason: The Bold has a rough, faux-leather back cover. The tiny iFlyz suction cup works fine on smooth surfaces like the rear side of the iPhone, but it couldn't quite get a solid grip on the Bold; the device would stay put for a few minutes and then simply drop from iFlyz into my lap.
Finally, at $29.95, iFlyz is just too expensive, even if that price does include shipping. The company claims iFlyz is the only product of its kind that can be used while your seat tray is both open and closed. Regardless of whether or not that is true, there are plenty of alternative product that serve similar purposes. And most of them cost (much) less than iFlyz. Two examples: Belkin's $15 acrylic iPhone case with stand; and the $5.99 Crabble stand.
Conclusion: iFlyz Surmised
iFlyz mostly delivers on its promise to provide a lightweight, portable solution for travelers who want to watch video or surf through music during flights without holding their gadgets the entire time. But its value is dependent on which device you own–and how much that gadget weighs. The smoother the back panel of your smartphone or media player the better; if you employ a handheld with a rough or contoured back panel, you'll want to skip iFlyz. iFlyz owners will also be better off with a smaller, less weighty device.