Let's face it: You can kill a lot of time with Google Earth 5.0. With this highly-visual, recently-released tool, you can fly anywhere on Earth for free, from your neighborhood to your upcoming fishing spots. You can check out terrain and 3D buildings, plot your ideal vacation tour, explore the ocean floor and even see Mars up close. It's a rich application that can take plenty of time to fully explore—both in terms of places and functionality. To make it easier for you, we've outlined five ways to get a small taste for what Google Earth 5.0 can do.
Dive Under the Ocean
California's Davidson Seamount is home to large coral forests, deep-sea fishes, basket stars and rare and unidentified sea life. And with Google Earth 5.0, you can explore this 26-mile long undersea treasure and other areas of the ocean floor. If you delve into this feature, you will find that some areas under the ocean render better visually than others. Checking out Davidson Seamount will give you a feel for where the underwater topography renders well.
1. To check out the Davidson Seamount, you must first download Google Earth 5.0 and launch the app.
2. For all sections in this article, be sure "Street View," "3D Buildings," "Ocean," "Places of Interest," and "Terrain" are checked in the Layers section. (After you try explore a few places, you may want to exaggerate elevation. To do so, go to Tools > Options. You can set "Terrain Quality" to "Higher" and "Elevation Exaggeration" to 3 from its default at 1.)
3. Under View, go to Water Surface and make sure it's clicked. This allows you to see waves on the surface of the water.
4. In the "Fly to" window (upper left-hand corner) type "Davidson Seamount" and hit return. Underneath the box will come up a "Davidson Seamount" option with a pushpin to its left. Click on that.
5. You'll fly to above the ocean and come to a stop.
6. To the right of the screen you'll see a zoom slider. Click the + at the top of the slider to zoom in or grab the middle control and pull it up towards the + end.
7. Go to about Eye alt -4377 ft. (You can see altitude at the bottom of your screen.)
8. From there, use your mouse to drag the view in different directions and explore the topography. You can use the "look joystick" (at the top of the controls to look around from one vantage point) or the "move joystick" to move down, up, right or left.
Explore Mars
Could there be life on Mars? Nobody knows yet, of course, but the question has fueled much science fiction as well as scientific inquiry. You can ponder that question yourself as you check out the new Mars mode in Google Earth 5.0.
1. After loading Google Earth, go to the little planet icon at the top center of the view, pull down and click on Mars. You'll then see a real simulation of the planet Mars. In this view, you will use the same controls, and you'll also have Layers to choose from as you do in the Earth view.
2. Type in "Valles Marineris" in "Fly to" and press return.
3. Zoom in to explore the canyon. Often called the Grand Canyon of Mars, the Valles Marineris system of canyons stretches across 4000 km long, or the equivalent of the United States' width. Located just south of the Martian equator, the canyon measures six to seven times deeper than the Earth's Grand Canyon in some places.
5. When you have finished exploring the Valles Marineris, go to the Layers sections. Click on "Mars Gallery" then on "Rovers and Landers." In this section you can learn about rovers and landers that have explored Mars and images they have taken. For example, a view from the Phoenix Lander is a composite of more than 400 images. In this view you can also see 3D models of the devices. Also in Layers, see"A Travelers Guide to Mars," which offers informational balloons and images about such Martian features as Polar Caps and Olympus Mons.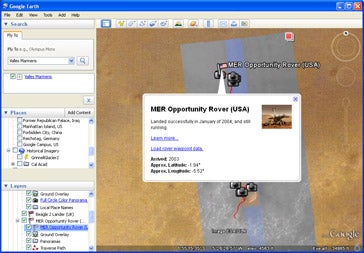 Go on a Sightseeing Tour
The absolute easiest way to kill some time in Google Earth is to take a tour provided by Google Earth itself. Las Vegas, the Imperial Palace in Japan or Eiffel Tower, anyone?
1. Under places, open the "Sightseeing" folder. Click on the box if it's not checked.
2. Double click the play tour icon. (It's the one that looks like a little folder and is at the bottom right of the Places section.) You'll be flown to all the places that are clicked. This tour goes by pretty quickly, but you can pause it anytime to explore places of interest to you. (The play icon shows up at the lower bottom-left of the screen.)
Hang Out in Times Square
You can't help but be wowed by the Street View in Google Earth, in places where rendering is good. Choose Times Square to check out Google Earth's street view visuals at their best.
1. Type in "Times Square" in "Fly To."
2. Zoom in until you're at Street View.
3. You'll see a bunch of globes along the street. Click on any of these to see a photo. Choose "Show full screen."
4. If you put your cursor to the top right, a thumbnail of the image appears next to the zoom slider. Choose the small square inside it and drag it left or right tosee a 360 degree view of the spot the photo depicts.
View Fenway Park from the Pitcher's Mound
During baseball's off-season, you can tour the historic home of the Red Sox for $8. During the season, you'll need to pay anywhere from $20 (for standing room) to $125 (for field box seats). Google Earth, on the other hand, lets you tour Fenway for free. With a little imagination, you can get a bit of the rush Dice-K and Josh Beckett must experience as they stand on the pitchers' mound.
1. In "Fly To," type "Fenway Park." You'll be offered "Fenway Park, 4 Yawkey Way, Boston, MA." Click on that for an aerial view above the park.
2. Zoom in and explore the surrounding area (and photos), then zoom in until you're at street view and imagine that you're standing on the field. Use the "look joystick" and the "move joystick" to imagine you are one of baseball's pros, or click on one of the photo icons within the park to learn more about it.