Research In Motion (RIM) and Lenovo on Monday announced a new service for mobile professionals, called Lenovo Constant Connect, that lets ThinkPad laptop computer users with BlackBerry smartphones employ a brand new, Bluetooth-enabled ExpressCard along with their ThinkPads to synchronize corporate e-mail between notebooks and smartphones–even if their computers are turned off.
For example, Lenovo Constant Connect users can fire up their ThinkPad laptops during a flight, read and respond to corporate mail saved within their mail clients on their machines, store those responses and power down their computers for landing. With the Constant Connect Express Card in place, the messages composed while in flight will be automatically synced over to their BlackBerrys and sent just as soon as users turn on their handhelds and establish wireless network connections.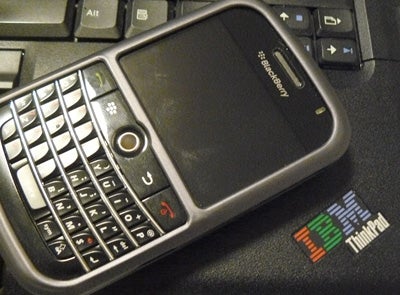 The idea is to make it simpler and more effective for road warriors to manage corporate e-mail while on the go. Lenovo Constant Connect for BlackBerry is also meant to reduce the need to pay for expensive airport or hotel Wi-Fi, since it enables users to receive, compose and send corporate mail via laptop using only your BlackBerry's wireless connection.
The 54mm Constant Connect ExpressCard, which features a built-in Bluetooth radio–with a range of about 30 feet–and 500MB of storage, will sell for approximately $150, and it's expected to hit the United States during the second quarter of this year. ThinkPad users outside of the United States will have to wait until late 2009 for the Constant Connect release.
In the past, BlackBerry users could "tether" their laptops to smartphones–via USB cord or Bluetooth–to employ their BlackBerrys' wireless connections, but doing so requires a somewhat lengthy setup and initialization process, and laptop computers must still be powered on.
Constant Connect, which is two years in the making, will reportedly work along with any Lenovo ThinkPad shipped during the summer of 2008 or more recently. BlackBerry handheld software v4.2 or higher is required, though that ought not to be too much of an issue, as the majority of RIM's current crop of BlackBerrys runs v4.5 or higher out of the box.
Initially, the service will support only Exchange, Outlook, POP and Gmail. It seems bizarre that the Constant Connect would launch without Lotus Notes support as the two products are Lenovo/IBM offerings, but Lenovo expects Notes support to come during the second half of 2009.
Watch a video of Lenovo Constant Connect for BlackBerry in action.
In related news, RIM and IBM recently announced that the two companies will soon be offering new Lotus collaboration tools, as well as a couple of new utilities for BlackBerry developers.
FREE CIO BlackBerry Newsletter
Get better use out of your BlackBerry and keep up-to-date on the latest developments. Sign-up »