When Research In Motion (RIM) on Wednesday officially announced and demonstrated its upcoming BlackBerry Enterprise Server (BES) 5.0, the core piece of BlackBerry infrastructure for secure, mobile corporate messaging, the company understandably focused on the enterprise and the BlackBerry administrators who are tasked with managing and keeping BlackBerry smartphones up and running. But RIM certainly didn't snub the end users; BES 5.0 also has a number of new features designed specifically for you.
The new BES–formerly codenamed "Argon" in reference to the element, which is particularly stable–will become available some time during the second quarter of this year, according to RIM.
Check out these five upcoming BES 5.0 features that RIM thinks will significantly enhance the overall BlackBerry experience for corporate users. (And when you're done reading, don't forget to check out our companion article, "BES 5.0: Five Features CIOs Need to Know About.")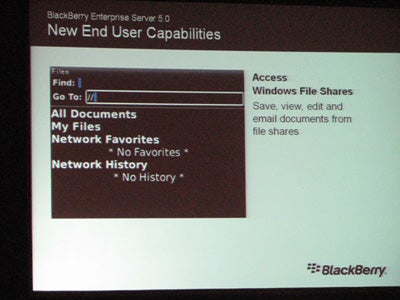 1) Flag E-Mail by Color Based on Message Urgency in BES 5.0
BES 5.0 lets BlackBerry users "flag," or mark," e-mail messages that need further attention. Best of all: You can assign each flagged message a color to signify the urgency with which you need to respond.
For example, a message from your significant other reminding you to pick up milk on the way home from work could be marked with a yellow flag to signify that the message is important and needs to be acted upon. And an e-mail from the CEO informing you that you'd better submit that last TPS report by the end of the day, or you'll be looking for a new job, could be flagged red, to demonstrate immediacy.
2) Download, Save Mail and Attachments to External Media Cards with BES 5.0
Corporate BlackBerry users on BES 5.0 will be able to download e-mail messages and save attachments to microSD cards. Along with Documents to Go, which allows viewing and editing of Microsoft Word, PowerPoint and Excel files and currently ships with all BlackBerrys running handheld OS 4.5 or higher, BlackBerry users will now be able to fully edit and save various documents to memory cards, for backup or for transfer to another device.
3) Remote Access to Corporate Drives via BES 5.0
BES 5.0 delivers a brand new feature that lets you securely access data on corporate servers via your BlackBerry device. That means a salesperson stuck somewhere without a laptop or other Web access, besides a BlackBerry, could use his handheld to update a progress sheet on a corporate drive, behind a firewall, so that the information can be accessed by others in time for a meeting.
4) Enhanced On-Device Folder Creation, Management in BES 5.0
The ability to create and manage corporate e-mail folders via BlackBerry will be introduced in BES 5.0. That means you will be able to create new, unique folders on your BlackBerry to store messages that relate to specific subjects. You'll also be able to access existing folders with your corporate e-mail client, and even delete, tweak or move such folders, all from the BlackBerry.
Changes made on the device will carry over to the corporate e-mail client, so a folder deleted via BlackBerry will disappear from the desktop mail app. And new folders created on a BlackBerry will show up when you access your mail via desktop. (It's unclear which corporate mail clients BES 5.0 will support, but it stands to reason that Microsoft Outlook, Lotus Notes and Novell Groupwise will be included, as they're the three most commonly used enterprise mail offerings.)
5) On-Device Access to Attachments in Calendar Entries, Meeting Requests
Enterprise BlackBerry users on BES 5.0 will be able to open and view various attachments within calendar entries and meeting invites. So, for instance, meeting agendas tied to requests for attendance can now be viewed, and presumably saved, via BlackBerry. While this functionality may seem minor, it's a significant step towards eliminating the feature gap between the desktop and smartphone.
More information on BES 5.0 is available online.
FREE CIO BlackBerry Newsletter
Get better use out of your BlackBerry and keep up-to-date on the latest developments. Sign-up »