It's not often that Steve Ballmer sounds like Steve Jobs.
But in setting the stage for the upcoming Windows 7 operating system, Microsoft CEO Steve Ballmer seems to be taking a cue from his rival Steve Jobs' playbook—counting on early-adopter consumers to urge their offices to use the technology they're already using at home. Whether Microsoft can pull off this marketing tactic with Apple's customary cool remains to be seen.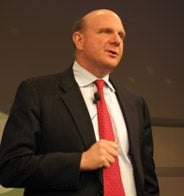 In an interview at a New York City event Tuesday to mark the extension of Microsoft's collaboration with EMC to help IT pros improve virtualization, security and content management, Ballmer touched on the progress of Windows 7, stressing that its faster performance, longer battery life and simplified security settings will be "a pretty good step forward in terms of what users care about."
For these reasons and others, Ballmer warns, enterprises that stick with Windows XP too long they will hear about it from impatient users who have been using newer computers running Vista and Windows 7 at home.
Says Ballmer: "If you deploy a four or five-year old operating system today, most people will ask their boss why the heck they don't have the stuff they have at home."
Ballmer's thoughts are being put into action lately. Microsoft recently revealed that it will move directly from beta 1 of Windows 7 to release candidate, implying a quicker release of the new OS than initially expected.
Additionally, Microsoft announced yesterday that it will issue discounted upgrade licenses to customers moving from Windows XP to Windows 7.
Ballmer did say that it is too early in Windows 7's lifespan to "start beating the big drum," but emphasized that ease-of-use is a priority, particularly in "some of the improvements made in Vista on security." This is arguably a reference to the infamous UAC (user account control) pop-up security feature in Vista that has drawn ire from users for being annoying and inflexible.
In Windows 7, the UAC setting can be controlled by the user. For instance, the user can set UAC for "always notify me" at the most conservative level or "never notify me" if they don't want to use UAC. There are two moderate options in between that will notify users only about certain changes that take place on their computers.
When asked what features in Windows 7 could convince Windows XP shops that have skipped Vista to move to Windows 7, Ballmer did not get specific, mentioning more flexible security settings, faster performance and general ease of use.
Nor did he say directly that Windows 7 was any more appealing than Vista. It is worth noting that adoption rates for Windows Vista in the enterprise remain low two years after its general release. According to a recent report by Forrester, Windows Vista is now powering just fewer than 10 percent of all PCs within enterprises in North America and Europe. Nevertheless a uptick in Vista use may be on the horizon, as the report also states that 31 percent of IT decision-makers said they are beginning migrations to Windows Vista.
Ballmer admits that compatibility issues have held Vista back. But he adds that they were a necessary evil in order for Vista to break new ground on security.
"Our enterprise customers basically are pretty happy with what we did with Windows Vista, with one notable exception, which we needed to do to improve security, which was to break compatibility," Ballmer says.
Not surprisingly, Ballmer is not following the storyline, most prevalent in the media, that Windows 7 will be a savior that will sweep the negative perceptions of Vista under the rug.
"I think our enterprise customers mostly would say, 'hey, look, what we're really trying to do is get ready for either one of them [Windows 7 or Vista]. We'll decide which one to deploy, but we just really have to make sure our install base of applications are compatible.'"