Sometimes it's hard to tell that a business model is broken. Then events startle you to clarity. For instance: The same week in 2007 that Airbus delivered the largest passenger plane ever built (four jet engines, 471 seats), the trade magazine Airfinance Journal, citing the industry's cry for fuel efficiency, hailed the "return of the turboprop," an airplane invented in the 1930s that uses a gas turbine to turn a propeller.
More on CIO.com
What It Takes to Succeed Now as a CIO
Other times, the revelation comes in numbers. Ten years ago, a barrel of oil was about $16 and flying planes was lucrative. U.S. airlines together made $5.3 billion in 1999, which would be the industry's most successful year ever. Collective net earnings dropped by nearly half to $2.5 billion the following year, leading to five years of losses that began as the dotcom economy burst. Then came the 9/11 terrorist attacks, which grounded planes for three days and scared customers away from the skies for months, even years. Oil, meanwhile, climbed to all-time highs, eviscerating any hope of airline profits. The industry was profitable in 2006 and 2007, but now we're in an economic death spiral that touches virtually all industries in many countries around the world. When the airlines close the books on 2008, they are expected to lose up to $10 billion—twice as much as they made ten years ago.
"You just kind of shake your head," says Carter Stewart, managing director at Trans World Consulting, an airline consulting firm in London. After nine years, several shotgun mergers and a $15 billion federal bailout in 2001, the industry is no better off, he says. There are too many planes flying too many places, producing high demand for expensive jet fuel and, some say, an unwinnable competition. Customers routinely complain that they can't get the flights they want when and where they want them.
So the airlines are trying new tactics, such as cutting flights, hedging fuel costs and offering passengers amenities such as in-flight Wi-Fi. Plus, the so-called "unbundled services model" has some airlines selling everything from pillows to luggage space to meal deals.
But these tactics require technology support—and in few industries is the business model as baked into the IT as in the airlines, says Stewart, who formerly directed project management offices at American Airlines, TWA and London-based Silverjet. Who hasn't stood in front of an agent at the airport, listened to her clack on an unseen keyboard for several minutes—no mouse, no touch screen—only to hear, "I'm sorry, the system won't let me do that"?
Most legacy proprietary reservations systems can't do everything a Web-based booking system can do, such as presell an onboard snack to one customer and—at Air Canada anyway—subtract the cost of that snack for another customer who wants to bring his own. "Technology is lagging where airlines want to be right now," says Darin Lee, a consultant who specializes in the economics of the airline industry at LECG, an economics consulting firm.
How some airline CIOs are grappling with the crisis brings lessons to other IT leaders facing near-crippling economics, where major new systems development is being deferred, layoffs appear likely and budgets are being starved to conserve cash.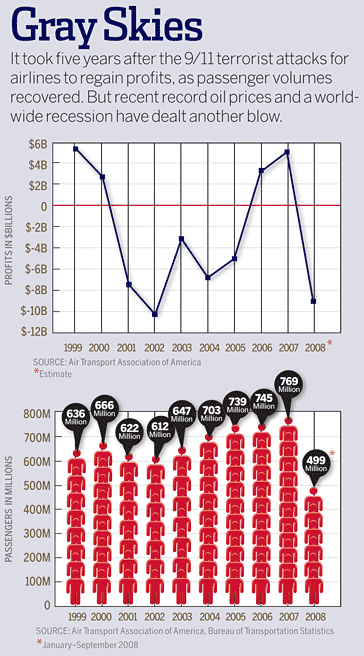 For example, Southwest Airlines, which used to be known as a no-frills cattle-caller, now uses technology to provide darn-near luxury services to its customers, such as the ability to change flights with no fee. Sabre Holdings, which provides reservation systems and other software and services to Southwest and American Airlines, among hundreds of others, is using deft, money-saving ways of handling IT labor issues. And Pinnacle, a low-cost regional carrier based in Memphis, Tenn., is finding success by approaching IT as neither a cost center nor a source of innovation but as a risk to be managed.
All you hear about the alignment of people, process and technology with business strategy is playing out—quite painfully—in the airline industry.
"A lot of people questioned my sanity, coming to an airline," says Jeff Dato, who joined Pinnacle as vice president of risk management and IT in 2006. "We're all one bad day from having our doors close," he says of the turbulent industry. Then again, he adds, this challenging time "is a wonderful opportunity to make an impact."
Designing IT for Customers
As much as consumers may perceive "the airlines" as a monolithic business—created, it sometimes seems, to make travel as hellish as possible—each carrier deals with different IT problems and business problems.
At US Airways, the CIO spot has been vacant since Joe Beery left late last year to become SVP and CIO at pharmaceutical company Invitrogen. At Continental Airlines, work recently started to integrate its reservations, ticketing and other systems with those of the Star Alliance, a network of 21 airlines that share customers. Any difficulties that may arise from the technology integration present a "significant" financial risk to Continental, according to documents the airline filed with the Securities and Exchange Commission.
Meanwhile, American and United, which have been around for decades, use some technology that is also decades old. Changing these systems can take a lot of time and requires programmers to know the proprietary software well, says Raphael Bejar, CEO of Airsavings SA, an airline IT provider. Even former scrappers like Southwest and JetBlue now have legacy technology that can limit the services they offer and the ways they can spark revenue, Bejar says. While each carrier has its own problems, some issues stretch across companies. Namely, at every airline, everyone from the CEO down must fight to win customers, while at the same time getting as much revenue as possible from each one.
Several airlines, such as US Airways and United, now charge for pillows, headsets or other niceties aboard the plane, as well as for services such as checking bags. These items used to be folded into the cost of a ticket. The idea now is to let customers choose which products to buy, thereby generating new revenue.
Flight attendants and gate agents conduct the transactions in various ways. US Airways, for example, is testing handheld devices from Guest Logix to process credit card payments onboard its planes. The goal is to eliminate cash in flight this year, says Lisa LeCarre, the president of the union for US Airways Phoenix-based flight attendants. Selling items on the plane rather than at the time of ticketing means that these transactions don't go through US Airways' reservation systems—minimizing the IT work necessary to process the purchases.
Air Canada, however, goes further with unbundling, offering a buffet of options for fliers to buy or reject when booking a ticket. Air Canada built the Web-based system in 2006, separate from its traditional reservation service provided by Galileo. A year later, Galileo built a desktop version to roll out to travel agents so they, too, could access the à la carte products that Air Canada now offers.
Customers at the airline's website can choose from four levels of options, with goods and services ranging in price. For example, passengers can add extra services to their fare, such as prebuying a meal and a snack at a discount. Sometimes, customers can opt for ticket discounts, too.
The strategy seems to be working for Air Canada. As of last September, ancillary revenue per passenger totalled $210 million, up $71 million since 2005, according to a company presentation to investors. And 49 percent of customers choose a ticket fare other than the lowest available.
Trans World's Stewart predicts that unbundling will be short-lived. The revenue gained from selling add-on products can't fully compensate for volatile fuel prices raising flight costs and too many available seats pushing ticket prices down, he says. Plus, modifying legacy reservation systems across the industry, such as Galileo, Sabre and others, to track all the products available from the airlines and the hundreds of sales combinations will take too long and cost too much, he says.
An airline bringing the idea to a reservation systems supplier, he says, would probably hear a response that asked for a feasibility study, requirements documentation, a change request and time for testing. Then the reservation vendor would develop a quote for the job. "All of this would take four or five months and nothing's been done yet," he says. "These types of things are very slow."
Southwest, meanwhile, is using IT in a different way to target customers. Business and IT strategists with the company maintain that charging extra for such items as snacks bothers customers. "We don't expect our customers to have to pay for every little service we offer," says Jan Marshall, Southwest's CIO. "It's part of flying."
Instead, Southwest is trying to attract passengers by making flying more pleasant. In 2006, Southwest executives, seeing the strain the airline industry was enduring, discussed ways to maintain market share by improving their customers' experience. One simple question, Marshall says, set off hot debate and ultimately spawned a major IT project: Should Southwest assign seats?
The airline had historically asked customers to wait at the gate and be seated on a first come, first served basis—kind of like lining up for concert tickets. Then it switched to group boarding; For a while, agents handed out colored boarding cards to each waiting passenger. Then management wondered whether to refine seat assignments further.
Marketers, technologists and operations specialists alike fanned out at various airports to test theories on live customers, then watch their behavior. Such customer anthropology can mean the difference between wasted and well-spent IT dollars, Marshall says.
"What we discovered was that our customers didn't want assigned seats. They wanted to pick their seats but didn't want to stand in line," she says. "Our people saw that right away without building a prototype system back in headquarters that might have made the wrong assumptions." However, from this research grew an eight-month project that, at its height, involved more than 500 employees across the company as well as outside contractors.
Southwest defined three objectives: to assign boarding classes to all ticket holders; to let customers choose to pay $10 or $20 to board early; and to single out Business Select members (Southwest's elite frequent flyers) to board first. To accomplish these goals Southwest is replacing many of its back-end systems with a service-oriented architecture built on SAP financial and HR applications, among other investments.
The company divided IT workers into about 15 teams to work on the various platforms on which Southwest does business. These include its website, the frequent flyer and airport systems, revenue reporting, as well as the reservation engine and booking system. "When we roll something out, we roll it out to all our customer touch points," Marshall says.
Marshall declines to say what the project cost. But working many changes to legacy systems is a burden airlines must shoulder, says Bejar of Airsavings.
Updating the Legacy Collection
In the early 1960s, American Airlines and IBM built Sabre and wowed the computing world with what was then the largest real-time corporate data processing system. Sabre became an independent, publicly-held company in 2000; today it's a $3 billion private firm with thousands of customers. The Sabre application remains one of the biggest corporate software systems, spanning from mainframe to Java technology.
Sabre must support a variety of business models, such as unbundled or traditional ticketing, and everything in between, because of the variety of customers it serves, says Barry Vandevier, Sabre CIO.
As Sabre has evolved into an airline IT solutions provider, the company has focused on separating business rules from its code. Legacy mainframe environments from Sabre's origins were more rigid than today's technology. Sabre has invested heavily in open systems and next-generation rules engines. In areas where it still utilizes mainframes, Vandevier can encapsulate the mainframe logic as a service while using an open system environment or rules engine to enable the needed flexibility. "This doesn't happen overnight. We've been leveraging this product for a lot of customers for a long time."
He is trying to make modifications to the granddaddy Sabre software happen faster by using agile development techniques. Every two to four weeks, a component is delivered for tire kicking and criticism from Southwest, American or any other appropriate constituency. "Five years ago, that pace and partnership wasn't happening," he says.
The challenge is broader than making changes to accommodate unbundled product offerings. Getting the airlines' IT teams and Sabre's people to work in lockstep is key to delivering any enhancements in time to capitalize on them, Vandevier says. That starts at the top.
For example, Vandevier has a dedicated team that he considers an extension of Southwest's IT department to handle change requests or new reservation features. Marshall and Vandevier talk through what has to happen technologically and managerially on both sides. Every month, they review in detail the projects underway.
But CIOs talking doesn't mean any real work gets done, Vandevier jokes, so he likes to have Sabre IT people on a given project connect with counterparts at Southwest more than he is in touch with Marshall. "Interaction at all levels is critical," he says, interlocking his fingers to show how tight he wants the teams.
Southwest builds its own Web applications. But when the time arrives to build interfaces between Southwest.com's back-end software and Sabre's reservation system, Vandevier's staff steps up.
With any IT project, Vandevier carefully considers to which country he assigns the work. In 2003, 85 percent of Sabre's workforce was in the United States. By 2006, it was 45 percent. The migration was planned to take advantage of deep skills available for lower pay offshore. "We're pushing for more efficiency," he says.
IT work can occur in any of the countries, but each has a specialty. In Poland, where many on staff have earned master's degrees in computer science, Sabre employees concentrate on serving growing business in the Asia-Pacific region (although they also serve other regions). In India, Sabre's slant is data warehousing and business intelligence. Buenos Aires is where Sabre focuses on marketing applications; a short time difference—two hours between it and Sabre's Dallas offices—make meetings convenient.
In the United States is where strategic planning of new products and services and caretaking of the Sabre reservation system, among other tasks occur. Ongoing work includes converting major Sabre products to open systems technology. Such projects include the newer SabreSonic Customer Sales and Service customer relationship management system, as well as GetThere, an application big companies use internally to book business travel.
Development for a single project is usually confined to one or two locations. Any more than that makes it hard to coordinate, and project managers can lose track of who's doing what when, Vandevier says. To help, Sabre recently built a social networking site named Cubeless, to help far-flung IT staff get to know each other and pose technology or business questions broadly across the company. All 9,000 employees have a profile page to populate with pictures and personal and professional details. The travel agencies using Sabre and internal call centers are on Cubeless, too.
Distributing the workforce may complicate logistics but is a good financial hedge, Vandevier says. Treating IT overall as a risk to hedge, in fact, can help CIOs react more nimbly to change.
IT Through Reality Glasses
Pinnacle Holding is no American or Southwest or even an ATA. The $790 million Pinnacle runs two regional carriers that fly customers around 35 states and Canada for Delta, Northwest (its former parent company) and other big names. But this small airline is taking bold steps to manage IT more flexibly and more cost-effectively, so it's easier to change course with the business climate. Namely, Pinnacle approaches IT as a risk to be managed and one that can help mitigate risks in other parts of the company. At Pinnacle, IT is not a cost to be borne or a magical savior that transforms.
Senior executives at Pinnacle are "extremely conservative," says Dato, the vice president of risk management and IT. He was hired in 2006 to help the company manage IT risks and those inherent in being a growing airline in a chaotic economy. Dato joined Pinnacle after consulting there for about five months, from KPMG. "I'm not a technologist," he points out. "I'm in risk and operational efficiency."
A risk-based approach to technology is the successor to managing IT as a portfolio of investments, says Jim Sutter, principle at The Peer Consulting Group and a former technology executive at Xerox and Rockwell. That is, instead of balancing IT projects, CIOs should think purely as business executives, partnering with a peer to lobby for a given project within the overall priorities of the company. Being focused on risk means emphasizing how a project will prevent mistakes that the company might otherwise make, Sutter advises.
One of the first conversations Dato had with C-level executives was about the nature of risk. Some is allowable; but some specific risks shouldn't go unchecked. "There's good risk and bad risk, like cholesterol," he says.
On the bad side, for three years after its spin-off, former parent Northwest was Pinnacle's only customer. The deal precluded Pinnacle from flying for anyone else. Pinnacle renegotiated in 2006, settling on an agreement that cut its revenue from Northwest by about half but left it free to fly for competing airlines. Diversifying customers is key to managing financial and operational risk, he says.
Now an example from the "good risk" category. Pinnacle's board requires Dato to provide metrics showing why it should fund IT requests. Board members want the usual: estimated costs and returns expressed financially and operationally. But they also want a narrative explanation of how the numbers will be achieved. Telling a story at a human level makes the risk calculation more tangible, he says. To that end, in 2007 Dato built a case for a new Web-based training system.
Ground crews, pilots and flight attendants come to Memphis, Tenn., headquarters regularly to refresh safety, mechanical and other training. What the board didn't know, Dato says, was that this travel amounted to 60,000 nights per year in hotel stays. A training management system from Plateau Systems that Dato proposed would provide online access to most courses, saving one to three nights of travel per person, per year and "hundreds of thousands of dollars." The board could have elected to spend the project money on other things, Dato says. But the numbers and anecdote together helped convince them to spend it on the IT work and avoid the greater financial risk of bringing employees to headquarters for training.
Overall, Dato is evaluating Web replacements for nearly all of Pinnacle's software, which was a mix of various applications from different vendors, none of which was built to work together. By midyear, most systems will be Web-based, some hosted offsite in software-as-a-service configurations, he says. The list of systems includes financials, human resources and aviation maintenance, among others.
Lawson's Human Capital Management suite, for example, replaces a group of legacy systems used for managing job applicants' data. Pinnacle HR employees had to enter data manually and generate 29 pieces of paperwork for each job seeker, according to Lawson. Being able to access this information online, along with employee personnel records and training certifications, cuts Pinnacle's compliance risk, Dato says. "Our world is heavily regulated. We needed this information more available and more complete for audits."
Fortunately for Pinnacle, with most of this spade work completed in 2007 and 2008, Dato and his 30 IT staff will ride through 2009 and into 2010 tweaking and strengthening controls. They won't have to scratch their eyes out trying to figure out which necessary IT projects to defer as cash dries up, the way many CIOs—in the airline industry and elsewhere—will spend the coming year.
Each of these airlines hopes it's making the right business, and therefore technology, choices. But no one will know for sure until the recession abates (one hopes) and customers accept or rebuff the new products, consultant Lee says.
"Airlines have been through a number of recessions, it's true. But this is not your garden-variety recession," he says. It's deep and it's global, he says, which means few, if any, bright spots for the aviation industry. But anyone, in the airline business or not, who stands still will get plowed under, adds Bejar.
"There are two types of technology people," he says. There are those who say that this is the right time to invest to prepare for upcoming growth. And there are those who won't do anything, waiting for the crisis to end. "Those," he says, "are the ones who tend to disappear."