Sharp-eyed and highly caffeinated regulars might have noticed the brand-new employee at the Mercer Island Drive Thru Starbucks in November. The newbie, wearing the standard-issue green apron, was receiving a crash course in just about every function at the 1,800-square-foot store. He took a turn as a barista, manned the drive-thru, handed out samples to customers, took out the trash, and assisted a patron who was trying to connect to the Wi-Fi network. He tinkered with the store's point-of-sale (POS) system. He even did some scheduling.
What customers likely didn't realize was that the nearly six-foot, three-inch man offering them free cookie and coffee samples was not just any barista. He was Starbucks' new CIO, Stephen Gillett. To Gillett, who frothed lattes last fall as part of the coffeemaker's week-long executive immersion process, nearly every business and customer-facing process in the store was new.
MORE ON CIO.com
SLIDESHOW Strong Brew, Free Samples and the Drive-Thru: A Week in the Life of Starbucks' New CIO
"They do a lot in the store," says Gillett, the former CIO of stock-photography company Corbis whose background includes senior IT posts at digital media ventures Yahoo and CNet. (Gillett can claim some retail experience: in his younger days he worked at a restaurant and an Albertsons grocery store.) "They do a lot of manual things, and they do a lot of automated things using systems and process. For me, it really amplified the expediency by which I want to deliver some of our key transformational technology platforms." (To see a slideshow of Gillett's in-store experiences and hear the reasons why Starbucks thinks its immersion program is important, see "Strong Brew, Free Samples and the Drive-Thru: A Week in the Life of Starbucks' New CIO.")
Since being named SVP and CIO in May 2008, Gillett has learned all about the expediency required at his new gig—whether it's delivering coffee to a hurried drive-thru customer or refreshing Starbucks' core technology portfolio. And the pressure is on. Starbucks is in the midst of a grueling companywide transformation to recapture the brand's mystique with aficionados who once didn't mind paying three to four bucks for a cup of upscale coffee. But with the economy's unraveling, newly frugal consumers are now more concerned with choosing between paying their bills each month—not with two shots of espresso or three.
This abrupt about-face by its customer base has jolted Starbucks. In 2008, the company shuttered 600 of its nearly 6,800 U.S. stores and laid off more than 12,000 employees out of a global workforce of 176,000. Fourth-quarter 2008 earnings plunged 97 percent compared with the previous year, and the stock has tanked, losing half its value last year. In 2009, the company has said it expects to reduce its cost structure by more than $400 million.
Against this backdrop, Gillett's mission is to create and implement the technology vision of "anything that touches the consumer, whether it's in back-end [IT operations] or in how a customer interacts in a physical Starbucks store," says Chet Kuchinad, EVP of Starbucks partner resources, who lead the team that hired Gillett. "Stephen's not just about legacy systems and not just about efficiency. He's about how we take technology and connect with Starbucks' consumers in a different way. Frankly, we've just begun, and there's a lot of work to be done yet."
Gillett's keenly aware of the stakes, and his role. "I feel like the pressure is equally distributed among the executive team," he says. "I'm part of the team, and the pressure is shared."
The Evolution of a Next-Gen CIO
Gillett knows a thing or two about pressure and being a team player. He was a member of the University of Oregon Ducks football team, which plays in the Pac-10 Division 1 football conference and usually competes in big-time bowl games, like Gillett's team did in 1996 at the Cotton Bowl. Gillett played the offensive guard position, where the success of the entire offense depends on five large men working in concert to provide protection for the quarterback and open lanes for running backs.
At a glance, Gillett is both a contradiction and affirmation of IT stereotypes: a jock, but also an MBA grad and once one of the top guild masters in the online role-playing game World of Warcraft. Those gaming skills helped Gillett land a senior director of engineering position at Yahoo and they've enhanced his leadership skills more than his MBA coursework, says Dr. John Seely Brown, director emeritus of Xerox PARC and a visiting scholar at the University of Southern California, whom Gillett counts among his vast social network.
Former managers describe Gillett as a socially gifted and highly charismatic businessperson. Just how charismatic? In 2006, he became the CIO of Corbis, which is owned by Bill Gates. During his tenure, Gillett often went head to head with Gates on internal technology-purchasing decisions and persuaded Gates to adopt tech platforms that were, in some instances, from Microsoft's competition, such as SAP's ERP products.
"Stephen was able to explain to Bill why Bill's product wasn't the right product," says Ted Cahall, EVP of the platforms business unit and technologies division at AOL, whom Gillett worked under at CNET and who twice attempted to hire Gillett for the AOL CIO position.
"You'll meet a lot of technology people who are extremely intelligent but they have really stunted social skills," Cahall says. "They don't have an ability to sell their ideas and don't have the ability to ingratiate themselves with key leaders. Stephen does that so well."
MORE ON CIO.com
How IT Systems Can Help Starbucks Fix Itself
Free Wi-Fi: Should Retailers Offer It to Customers?
Of course, you don't become CIO of any organization without having the technical chops. At 12 Entrepreneuring, where Seely Brown and Gillett worked together, Seely Brown says under Gillett's watch the company installed the first complete VoIP Cisco system and "bet our entire enterprise on it working," he writes in an e-mail. The system worked quite well. "I think [Gillett] even helped Cisco debug the system," Seely Brown says. Cisco used some of 12 Entrepreneuring's learnings in a product-training video. "[That's] just one simple example of thinking both about the technology," says Seely Brown, "and the people."
And, by the way, Gillett's just 32 years old. So it's a safe bet that he's one of the youngest Fortune 500 CIOs. But his take on leadership and success makes him sound older than his years. "Those are traits that are really age agnostic," Gillett says. "Having a proven track record is what really drives your ability to execute."
What emerges, then, is not only a picture of the IT leader who's tasked to transform Starbucks' technology infrastructure and digital in-store offerings, but also a glimpse of the next generation of CIOs: a technologist with an MBA, a socially adept leader with loads of ambition, and a senior vice president of a multibillion-dollar company who uses the Web for LinkedIn as well as World of Warcraft.
The Right CIO for the Job
In January 2008, long-time leader Howard Schultz returned as CEO to rescue the ailing company. Former CIO Bryan Crynes left shortly thereafter. It would have been reasonable for Starbucks to reach into the retail or restaurant industries for a seasoned and well-known IT chief to help drive its transformation. "I was a bit surprised that they would call someone like me," Gillett concedes, given his lack of a traditional retail or supply chain background.
But Starbucks was "looking for a very different kind of CIO," Kuchinad says, one who could manage the traditional IT requirements and "bring innovation to some of the legacy systems." Most importantly, the leadership team wanted a CIO who understood Starbucks' new generation of customers and how they engaged with the brand in store and online.
Paula Rosenblum, managing partner at Retail Systems Research and a former retail CIO, says Gillett's hire was a signal of significant change. "Starbucks wanted to skew new and skew fresh," she says, "and get out of this old and stodgy, 'Well, if we do this in the supply chain, we'll save 15 cents and cost control our way to profitability.' That's not what they're about. They're about the customer experience."
Yet over the last few years, the company was so focused on the back end, "we were not devoting as much resources to the customer-facing side," says Kuchinad. "What fascinated the leadership team was Stephen's knowledge of where and how these consumers lived, and how he was technologically engaged with them. While he did not have the traditional retail IT experience, we wanted someone who was leading edge, who knew where the technology was evolving."
Starbucks wanted a fresher blend: someone who could manage a traditional IT environment and provide a creative take on how technology could better serve its customers using tools such as remote ordering and automated systems, loyalty cards and business intelligence.
"When you look at our customers and what's happening in our stores," Gillett says, "you see wireless devices, iPhones, converged networks, laptops. You see a generation of customers who are entering our stores and engaging [with us] in new ways."
Gillett believes that everything he learned at his previous employers is applicable to Starbucks' retail model. "There are a lot of things a traditional retailer can learn from big Internet and big software," he says, "as far as scale, analytics and really using those tools that drive the Web-type companies."
A Tall Order
The "Starbucks experience" is something you'll hear often from its executives. During the past several years, that experience has been diluted by an overexpansion to some 17,000 stores worldwide, diverging product offerings, new coffee-making equipment and cut-throat competition from Dunkin' Donuts and McDonald's. In a highly publicized 2007 internal memo, Schultz, who was not running day-to-day operations but still held the chairman title, derided "the watering down of the Starbucks experience" and "the commoditization of our brand."
Starbucks has been in a transformation mode since Schultz returned and took back the CEO reins. "Starbucks has to find a way in this economy of expressing the value message along with the indulgence factor," says RSR's Rosenblum. "So the challenge is to create, whether through technology [applications] or otherwise, that there's the perception of value. Along with that, it's really important for retailers to find clever and innovative ways to save money."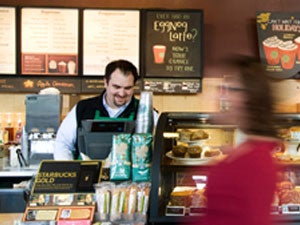 Gillett's priorities are wide ranging, but three in particular illustrate what he's up against. First, he says he's attempting to change internal perceptions of the IT department "from being perceived as and operating like a traditional IT shop…to becoming a technology company and using the term 'technology' versus 'IT' when we look at how we're going to transform our business."
His plan includes aligning IT's activities with those at the top of the company's transformational agenda, mainly its customer experience strategies. For example, ethical sourcing of coffee is a big piece of its social responsibility platform. Customer surveys have shown it is important, and executives view it as a competitive differentiator. Starbucks does have a system (using Oracle databases) that tracks coffee origin and other related information, Gillett notes. "If we want to increase the amount of fair-trade coffee or fair-trade cocoa in our inventory," Gillett says, "technology has to be able to deploy a system that can track which purchases are actually fair-trade certified and what aren't. You can't make that type of a statement without having a technology impact."
Gillett is also completing a previously planned global, multi-year Oracle ERP rollout. He spent his first couple of months learning the business and, ultimately, how the ERP rollout would impact business processes and activities. He found that in many cases, the ERP systems being introduced are replacing manual processes, "which is the most efficient thing you can do," Gillett says. (For more on enterprise software, see the Enterprise Software Unplugged blog.)
Perhaps his most crucial duty is to enhance Starbucks' ability to mine its customer data to help "re-ignite our passion with our customers," Gillett says. A lot is hanging on the loyalty card data (Starbucks' Reward cards) and business intelligence (BI) reporting tools to extract meaningful customer analysis. At a financial analyst briefing in early December, Starbucks marketing executives talked up success they've had, so far, with the Starbucks Reward cards and the new Gold Card in 2008. One of the first positions Gillett opened up when he was hired was a VP of business intelligence.
"Analytics is an absolutely key driver of everything you do," Gillett says. "And generating BI demand across the business and strong analytics is something that Starbucks is going to usher in. Technology has to play an absolutely critical role in all that."
A November 2008 Aberdeen report on BI's use in the retail industry, as well as a survey of 152 companies, shows Gillett has considerable work ahead. "Many organizations spend months and endure significant costs to obtain the reporting and analysis capabilities that BI promises," writes Aberdeen research director David Hatch, "only to find that different 'versions of the truth' still exist without any definite way of determining which one is real or accurate."
Gillett says that Starbucks is making progress but is nowhere near mastering BI. "[The business users] haven't indoctrinated it into everyday business decision-making yet," he says. "We still have a lot of decisions based on real-time data, intuition, or historical trends. I think in today's economic climate, having strong analytic and BI-based decision making can help give a new dimension to that."
As for the role that he and IT can play on the Starbucks team and in its transformation, he seems characteristically assured of himself.
"Technology and IT have a critical role in all that because we have to understand our customers with [respect to] today's economic climate and the cost pressures they face," Gillett says. "We have to understand our customers in ways that we've never had to in the past. I think BI and data warehousing, and consumer insights from a marketing perspective are going to be what gives us that view into the Starbucks customer."