Gmail, Google's web-based e-mail service, has quietly been adding more add-ons and features via its Gmail Labs. Many of these free add-ons for Gmail — a service that's free to consumers (with advertisements) or available in a business version for $50 per user per year as a component of its Google Apps software package — improve personal productivity by embedding widgets on the blank real estate around your inbox.
More Gmail and Google Apps coverage on CIO.com
Understanding What Google Apps Is (And Isn't)
Cost Savings Found When Microsoft Outlook Ousted for Gmail
Salesforce's Addition of Google Apps Shows Google's Intent to Enter Business Software Market
Gmail Labs reflects Google's belief in agile development and its overall software philosophy: develop new features quickly, release them (even if unpolished) and solicit user feedback. That's quite a different approach as compared to older e-mail systems from IBM (Lotus Notes) or Microsoft (Exchange and Outlook), where changes or additions are large in scale, but rolled out less frequently and in a much more hierarchical manner.
I have a few favorites from Gmail Labs that have helped me cut down on the time I normally take to toggle between applications. Ironically, one of them is even designed to cut down on how much time I spend in e-mail, addressing an endemic problem that plagues the 21st century worker like me.
To add any of these features, click on the green beaker in the top right corner of your Gmail account (just to the right of where your e-mail address appears in bold lettering). Once you're in Gmail Labs, you'll see a list of the add-ons with brief descriptions. You simply click "enable" or "disable" for any of these, and make sure you hit "save" at the bottom of the page. (If more work is required in setting one up, I've noted that in the application info below.). Also, each lab feature has a "send feedback" link where you can write to Google Apps and Gmail developers.
One caveat: As the Google guys and gals like to remind us, this is their test kitchen, so these add-ons could (and probably will) break from time to time.
1. SMS Text Gmail Chat
How it helps do no evil: Gmail automatically sets you up with a Gmail Chat widget that lets you send your Gmail friends instant messages (and you can also upload your AOL Instant Messenger screen name Chat contacts). But often, these contacts either leave their computers to run to the store or out for lunch.
You could send them an e-mail, but not everyone owns a smart phone with e-mail. But many of those folks have SMS Text, at least. As a result, this add-on is handy because it allows you to send an SMS text message to them from your Gmail chat box.
How to set it up: There is a little legwork involved after you click to "enable" SMS text on the Gmail Labs page. After you enable it and click save, return to your Gmail inbox and go to the chat widget (it's on the left column of your Gmail by default, but there's actually another feature in Gmail Labs that allows you to move it to the right side if you wish). Go to the search bar in the chat widget (it says "search, add or invite"). In that field, begin typing the name of the desired contact. Once the name pops up, scroll down to the name. Once you scroll over the name, you'll see an option that says "Send SMS Text."
From there, add and save the number for that contact.
Now, go to that person's name on your buddy list in the chat widget, and you'll be able to send him or her an SMS Text.
Doing No Good: Be mindful that normal text messaging fees apply for your recipient, and that only U.S. phones can utilize this feature for now. Because SMS texts have 160 character count, it would be nice to see a character countdown as you type the text (like you would on Twitter).
Also, when you receive a text from a Gmail sender, a random phone number appears (we presume from wherever it gets routed). When I sent my colleague and mobile expert Al Sacco a text message (see screenshot below), a Montana-based number appeared in the message on Sacco's BlackBerry screen. This could throw off a recipient who doesn't memorize your number (since my number, for instance, is a San Francisco-based 415, and calling me back at this Montana number would be useless).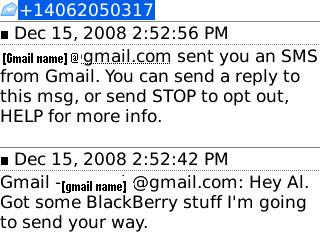 2. Forgotten Attachment Detector
How it helps do no evil: It happens all the time. You craft an e-mail message, explaining what you'd like done or someone to see in an attached file. But, of course, you send it and forget to attach said file.
If you enable the Gmail forgotten attachment detector, a pop-up reminder will come up when you use words like "attach" or "attachment," asking if you've forgotten it.
How to set it up: Go to Gmail Labs, click "enable," and save. Doing No Good: Unfortunately, this detector doesn't always work. In fact, I only got it to work on two of five attempts using pretty obvious diction in the body of the e-mail. There's a lot of discussion in the Gmail Labs about this feature. It has a lot of potential, but needs work.
3. E-Mail Addict
How it helps do no evil: We spend too much time in e-mail. With e-mail addict, once an hour your e-mail will shut down, asking you to "take a break" and you will become invisible on Google Chat for 15 minutes.
How to set it up: Go to Gmail Labs, click "enable" and save.
Doing no good: If your boss sends you a very important e-mail during that time period, you may not be happy camper. But odds are, your boss has other ways of getting in touch with you, and I find very little wrong with people who decide to enable this add-on. Again, we spend WAY too much time in e-mail.
4. Google Docs Gadget
How it helps do no evil: While some of you might say "pry my Microsoft Office from my cold dead hands," the Google Apps developers have spent a lot of time during the past year building upon their Web-based Documents, Spreadsheets and Presentations apps.
While each still lacks some of the features in Office, Google Docs has some upsides. Mainly, it doesn't require that you store files locally (so if you lose your laptop, you're only out the hardware, not the files). It also has amazing version control. If you liked how a document looked 20 minutes ago, you can revert back.
For the full web-based version of Google Docs, you've typically needed to click on the "Documents" link in the top left side of Gmail, launching a new tab in your browser. Now, with this Google Docs Gadget, you can see your recent documents as a widget beside your Gmail inbox. It has a "new" tab that immediately allows you to begin a new document, spreadsheet, presentation or form writer.
How it works: Go to Gmail Labs, click enable, and save. The widget will appear on left column of your Gmail page.
Doing No Good: The document list in the widget doesn't always update very quickly after you add new documents. I can deal with this, but it'd be nice to have some sort of "refresh" button to force the issue if I wanted.
5. Google Calendar Gadget
How it helps do no evil: One of the fundamental problems with Web-based e-mail and productivity suites is a lack of integration, where each app is walled off from one another. One of the most important aspects of any on-premise e-mail system like Lotus Notes or Microsoft Exchange has been the integration with your calendar. By adding the Google Calendar gadget,you have that capability in Gmail on the left side of your page. You can add events to your calendar (the full version can be found by clicking the "Calendar" link in the upper left side of Gmail). In the widget, under options, you can click to show a mini-calendar of the current month.
How it works: Go to Gmail Labs, click enable, and save. The widget will appear on left column of your Gmail page.
Doing no good: When you start to add an event, you can't add many details other than the time and the activity (Tuesday, 7 p.m. dinner with Anna at Nick's Crispy Tacos). If you click to add more details, you're sent to a more robust page with fields for addresses, numbers, etc. (that will open as a tab in your browser). While that's really not a huge deal, a smaller pop-up beside the widget might be preferable.