One business travel irritation is that it interferes with getting work done. If you have to give a presentation in New York tonight, and you need to create the PowerPoint presentation before you arrive, the problem isn't as much the time spent enroute than how much you can accomplish on the trip. Even when there's no specific must-do task, busy business travelers want to make time-in-transit productive working time.
Flying is often the only real option for longer trips, over two or three hundred miles. For short trips (say, under a hundred miles), the time may not be critical.
But for trips in the middle range, you may have better alternatives. For example, New York City is about 200 miles from my home in the Boston area. I can get to New York by plane, train or bus. (I can also drive, but not if I want to use my computer.) Which is the best option for business travelers? In this article, I'll share the productivity advantages and disadvantages for each transportation choice.
What Drives Notebook In-Transit Productivity
Based on my own experiences and that of fellow techno-travelers, the criteria for using a notebook computer productively while in transit include are, in order of importance:
Comfort: It's hard to get any work done if you can't open your notebook computer fully on a seat table and if you don't have at least some elbow room.
Internet access: Live e-mail requires Internet access, as does quick Web research, but you can do a fair amount off-line if need be.
Some travel venues have begun provisioning free or fee on-board WiFi or wired access. But if you don't want to wait on the travel vendor, you can roll your own. Mobile (cellular) service provides access to most non-airflight travelers, as long as you're in an area where there's service.
Very infrequent travelers may find a solution in Verizon's $9.99 BroadbandAccess Day Pass; no contract is needed. You'll need a device capable of accessing Verizon's wireless network, such as a notebook with embedded mobile broadband, or a Verizon Wireless BroadbandAccess USB modem or ExpressCard. You can also consider upgrading your phone plan to include some data services, and learn to tether to your notebook.
Power: Keeping the laptop turned on is essential, but this is the easiest issue to address. Some vehicles have power outlets. If you aren't confident your notebook battery will last the entire trip, invest in a spare battery (usually the most weight- and space-effective solution) or buy an external notebook battery.
Time is, of course, a consideration. Does your preferred approach fit your schedule? You can work out the door-to-door time for yourself, given your previous experience. In addition to the time you spend waiting at the airline gate, factor in time spent waiting at baggage claim. Plus, most rail and bus service leaves from and arrives at downtown locations, while airports add at least cab fare.
Also, there is the reality of delays. Even trains can be delayed, although busses and planes are more likely to suffer from this.
Up, Up and…
In-flight Internet service is starting to be provided by some airlines. But between time you spend in the security and boarding lines, and take-off and landing use prohibitions, the odds are that you can't use your notebook for more than half the travel time anyway.
Given a comparable-time choice, stay away from planes, says wireless industry analyst Craig Mathias, founder of Farpoint Group. "Air travel is now completely inefficient for business people: Few flights, always full, no power, no Internet access, and 'keep things off for take off and landing,'" he says. "The seats are now so close together [that] it's too uncomfortable to type, unless you've got an end seat or first class."
Take the A (for Acela) Train
Today's intercity rail can be a relaxing, productive experience. On Amtrak, there's no security check, many (though not all) stations have good to-go food, and if you reserve your ticket online, you can get it from a kiosk machine. Trains like the Amtrak Acela Express, which runs from Boston through Washington, D.C., have seat tables and per-seat electric outlets.
The Acela Express from Boston to New York currently costs between $124 and $140 one-way and takes 3.5 hours. The Northeast-Regional costs $62-$89, taking only 20-35 minutes more time, but it is also less comfortable than the Express. (In comparison, a cheap round-trip airline flight from Boston to New York is about $150.)
The Acela Express' First Class car is even roomier than Business class, but costs another $70. However, even the Acela's regular business class seats are comfortable enough, with enough seat space to open a notebook fully onto the seat table, and AC power outlets at each seat. And each train has a "quiet car"—no cell phones or schmoozing permitted—if you can find a seat. Also, the club car has a few larger-sized tables if you need to spread out.
"I find the Amtrak Acela train from Boston to New York City to be the best option in terms of space, quietness, comfort, power outlets et cetera," reports Steve An, CTO of LocaModa. "My CEO and I have often gotten much of our final prep work done on the train before meetings. I don't think we would fly to New York even if it's free. Other options are too restrictive for a true productive working environment."
"When traveling between Boston and New York, I prefer the Amtrak Acela when I need to get serious work done," says Scott Rosenberg, rabbi at Boston-area Temple Reyim. "The work space and plug makes writing and working on presentations uncomplicated. My productivity on the Acela far exceeds the levels I achieve when flying, and the work space is far more comfortable."
The train has no onboard WiFi, but cell coverage is available along most of the route. You should be able to tether or use mobile broadband for connectivity, though I haven't tried this personally.
"If I need Internet access, I rely on my Treo, which has served me well in spite of its small keyboard and small screen limitations," says Rosenberg.
For Internet access while on the train, LocaModa's An uses EV-DO wireless data cards in his notebook. "LocaModa does mobile business and signage display, so I have pretty much one of everything, including wireless data PC cards and service for Sprint, Verizon and AT&T," An notes. On the Boston/New York run, reports An, "There aren't any dead spots worth noting. There are of course, dead spots in the stations."
Over 100 train stations in the U.S. have free WiFi hotspots.
One nice thing about the train: while delays may happen, they're not subject to road traffic, and they are less impacted by weather.
Get On the Bus, Gus
Intercity busses are making a comeback. For example, from Boston and other cities, you can get to New York cheaply—or you can travel in business style.
If productivity isn't your first priority and you are not "large boned," you're in for a pleasant financial surprise. BoltBus runs between New York and Boston, Philadelphia and Washington, D.C., and sells each one-way ticket for between $10 and $30. Prices are graduated; the first ticket on each Bolt bus is $1, then most seats are $10-$20, and up to $35 for the last seat sold. Tickets on MegaBus, Greyhound and others may be more.
A growing number of these low-priced intercity busses, including BoltBus, MegaBus, and NeOn, are offering WiFi. This is definitely cool. You share a mobile broadband connection, so don't count on good quality streaming video, but the connectivity is fine for e-mail and web browsing. Some busses also have AC power outlets at some or all seats.
I've taken the Boston/New York BoltBus a few times. The good news: they leave on time, they run smoothly, the WiFi Internet service works and most (but not all) seat pairs have AC outlets. The downside: the bus has no seat trays, and there isn't enough room to open up a regular notebook fully without twisting my body sideways. That makes it hard to get work done. If you're skinny enough, and/or packing a netbook or other small/low-height-display computer, you may be able to be very productive.
The low-price bus lines have no live customer service. With busses, there may or may not be a rest stop. Plus the busses I've been on have all arrived half an hour late. BoltBus doesn't offer refunds or changes; Greyhound lets you reschedule.
Some people, like Ernest Lilley, technology manager at designB Studios, are finding Bolt-class busses more than adequate for getting work done while getting there.
"On the East coast, if it's less than 200 miles of travel, bus services like Greyhound's Bolt beat the train or the plane for me," states Lilley. "The busses are clean and roomy—they actually took out seats to give [more] legroom. They're also cheap and have both WiFi and AC outlets so you can work. BoltBus picks you up and drops you off in the heart of the city, so you don't add travel time to the airport."
On the Bolt, which Lilley regularly takes between Washington, D.C. and New York City, "The driver lets everyone know that cell phone conversation [volume] should be kept down. And as far as I can see, everyone respects others' spaces."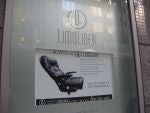 But for bus productivity and comfort, you can't beat the business-class LimoLiner bus, says Farpoint's Craig Mathias. "It's absolutely the best way, bar none, to go between Boston and New York. It's a full-sized bus with 28 seats, so there's lots of room. They have food, movies, an attendant, bathrooms, AC outlets, wired and wireless Internet access—not the fastest in the world, but it works. And the busses travel major highways, so you've got cell phone coverage most of the time."
The LimoLiner's Boston departure point is just across the street from the food court in the Hynes Auditorium. The New York bus is just across from the 53rd Street Gourmet Deli, which has a salad bar—and you're also only two blocks from the Carnegie Deli.
If you're thinking about working on the LimoLiner, Mathias notes, "There are six seats in the back with fixed tables; you want to get one of those, for a nice stable service. You do bounce around a little, of course—anything that moves may be hard to type on."
"Every seat is huge, with lots of work space and AC power for your laptop," echoes Andover, Mass.-based telecommunications engineer Andrew G. Malis. "Even though they provide WiFi (based on a 3G card in their own router), I use my own Verizon EVDO rev A adaptor, so I don't have to share bandwidth with the other riders."
I just tried the LimoLiner myself, to New York and back, and I share Mathias' and Malis' sentiments. There's more room than any other travel option, except maybe the first class car on the Amtrak Acela. Connectivity is free, and it worked along most of the route. Boarding was quick; the busses left on time. The company is looking at expanding to other city pairs, and there may be other companies offering similar service.
The one-way fare on the LimoLiner is $89; you may find discounts. On the non-rush-hour trip back from New York I just took, it was four hours and five minutes from boarding to getting off. You can pre-select your seat. (If it's just you, I recommend the single-seat aisle, unless your trip timing means you'll have the sun in your eyes or on your laptop screen.)
So you have choices worth checking out, and you can apply the same metrics to your own geography. My own conclusions so far: Cut-rate busses like BoltBus are the cheapest, but they are harder to work on. A business-class train like the Amtrak Acela is better (I haven't tried Internetting on one). And a business/first-class bus like the LimoLiner bus is the best for space and amenities, and possibly more productive than the train.
Of course, that's assuming you need, or want, to be that kind of productive. Deadlines and schedules permitting, you may prefer to enjoy being off-line and uncommunicative, so you can catch up on work or non-work reading, thinking, or letting the little grey cells relax.
Daniel P. Dern is a freelance technology writer based in Newton Center, MA. His website is www.dern.com and his technology blog is TryingTechnology.com.