UPDATED: This post has been updated to include a release date for the AT&T BlackBerry Torch 9800 slider.
BlackBerry-maker Research In Motion (RIM) and U.S. wireless carrier AT&T on Tuesday officially announced the new 3G BlackBerry Torch 9800 smartphone as expected at a media event in New York City.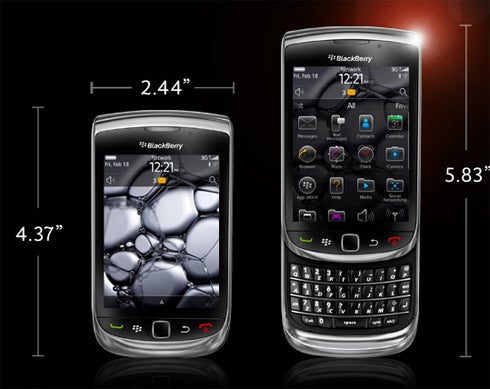 The Torch is the first BlackBerry smartphone to sport both a touch display for on-screen navigation and typing and a slide-out, traditional QWERTY BlackBerry keyboard. It's the first RIM device to run the brand new BlackBerry 6 mobile OS. And AT&T will be the first carrier in the world to offer the Torch when it becomes available on August 12, for $199.99 with new, two-year service contract.
"Today AT&T and RIM are announcing the best BlackBerry ever," said Ralph de la Vega, CEO of AT&T's Mobility and Consumer Markets.
Though the Torch was announced Tuesday, images of the device and purported technical specifications have been circulating throughout the Web for weeks, and an invitation distributed by RIM and AT&T to select media outlets last week hinted at an official BlackBerry Torch launch this week, so the announcement isn't exactly a surprise.
The official tech specs are as follows: Quad-band GSM/GPRS/EDGE networks (850/900/1800/1900MHz); Tri-band 3G UMTS networks (2100/1900/850/800 MHz); 802.11b/g/n Wi-Fi; 5.0 megapixel camera; 512 MB flash memory / 512 MB SDRAM; and an optical trackpad.
RIM released its first touch-screen BlackBerry, the Storm 9500/9530, in November of 2008, but the Torch is the first RIM device with both a touch screen and traditional QWERTY BlackBerry keyboard.
The new Torch device arrives at a time when RIM, the number four handset-maker in the world based on units shipped, is facing serious pressure from competitors in the space, namely Apple, with its iPhone, and Google's Android OS. Some critics, including the New York Times, suggest RIM's fate in the coming months and years will largely hinge on the success of the BlackBerry Torch 9800 slider and BlackBerry 6..
More information on the Torch 9800 is available on RIM's website.
AS
FREE CIO BlackBerry Newsletter
Get better use out of your BlackBerry and keep up-to-date on the latest developments. Sign-up »
Al Sacco was a journalist, blogger and editor who covers the fast-paced mobile beat for CIO.com and IDG Enterprise, with a focus on wearable tech, smartphones and tablet PCs. Al managed CIO.com writers and contributors, covered news, and shared insightful expert analysis of key industry happenings. He also wrote a wide variety of tutorials and how-tos to help readers get the most out of their gadgets, and regularly offered up recommendations on software for a number of mobile platforms. Al resides in Boston and is a passionate reader, traveler, beer lover, film buff and Red Sox fan.