Handset-maker Motorola on Thursday took the wraps off of its new ES400 "enterprise digital assistant" (EDA) at a press event in New York City.
The ES400 is a sleek, yet durable enterprise mobile computer meant for use by field workers, traveling salespeople, service technicians, healthcare representatives and anyone else whose working environment demands a top of the line handheld that's built to last, according to Motorola. And it looks a lot like one of Research In Motion's (RIM) svelte new candy-bar style BlackBerrys, but slightly bulkier and more durable.
The device, which is the smallest and lightest Motorola EDA to date, was developed with four key points in mind, according to Eduardo Conrado, CMO of the company's enterprise mobility solutions and networks: productivity; IT manageability; security; and durability. And it will be the first Motorola enterprise handset to be carrier-branded, when it becomes available later this year. (Pricing details have not yet been released.)
I was fortunate enough to be on hand for the ES400 unveiling. And I've assembled a quick run-through of the new Motorola EDA's most notable enterprise features.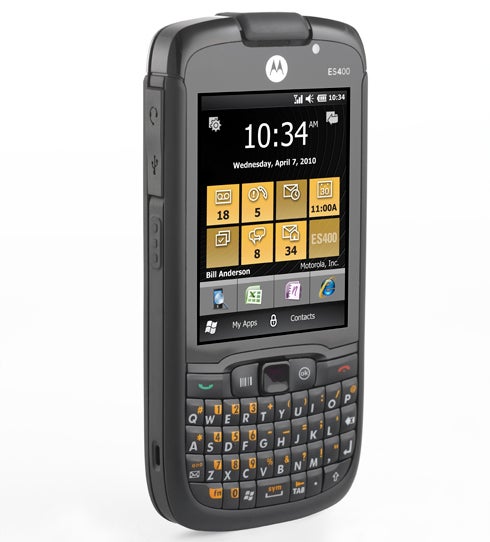 1) The ES400 will run a new version of Microsoft's mobile OS called Windows Embedded Handheld, which is based on Windows Mobile 6.5 technology. Motorola says this is advantageous for organizations because Windows Mobile is tried and true, and the OS will help to ensure legacy application compatibility, security and device management needs. (A newer version of Windows Embedded Handheld based on Windows Phone 7, Microsoft's latest Mobile OS, will be released before the end of 2011, according to David Kelley, Microsoft Windows Embedded product unit manager.
2) Motorola's new EDA has a customizable "Motorola Enterprise User Interface" (MEUI) that lets both users and their IT administrators tailor the ES400's UI to their specific needs. So if a user or group of users constantly employs a specific application, that app can added to an on-screen taskbar for quick, easy access.
3) The ES400 EDA has a 3.2 megapixel camera that functions as a scanner for reading both 1D and 2D barcodes. And a dedicated scanner button directly to the left of the device's "trackpad" provides one-key push-to-scan functionality.
4) The three-inch PenTile touchscreen found on the ES400 is almost twice as bright as the displays found on common consumer smartphones (750 NITS), according to Motorola. But it doesn't support multi-touch. That's because many mobile workers need to be able to confirm receipt of a product or service, or completion of a task, so signature capture functionality is a must. And multi-touch screens aren't well suited for that purpose, Motorola says. (The ES400 has a built-in stylus for signature capture, which slides into one of the handhelds top corners for storage.)
5) Motorola's ES400 EDA is a "world phone," meaning it runs on Sprint's 3.5G CDMA EVDO Rev. A network in the United States, but it'll also work on GSM/HSPA networks in other geographic areas. That means more 3G coverage in more places around the globe.
6) The device supports Wi-Fi 802.11a/b/g for more, faster connectivity options, and a mobile application to enable push-to-talk, VoWi-Fi calling is expected some time next year, Motorola says.
7) The ES400 is built to take a beating while still performing at full capacity. In fact, it's built to resist dust, drops, bumps and minor weather-related damage, and it's sealed with IP42, a measure of the quality of an enclosure. The ES400 meets MIL-STD 810G drop specifications. Both of these facts mean the ES400 should last significantly longer than less fortified handhelds, which will result in significantly lower total cost of ownership, according to Motorola.
8) For additional security, the ES400 sports a biometric fingerprint-reader on its rear side, to help ensure only the appropriate parties get access to information on the device.
9) The Motorola ES400 EDA has a three-year lifecycle, so IT can deploy the same device over a period of months and years without having to worry about another, upgraded model coming to market and complicating the roll-out with more handsets to manage.
10) Last but not least, the ES400 is compatible with Motorola's Mobile Security Suite, for added device-level security protection.
Visit Motorola's website for additional information on the upcoming ES400 EDA.
AS