BlackBerry-maker Research In Motion (RIM) today unveiled the latest version of its mobile application store, BlackBerry App World 2.0.
I told you last week that RIM has a major App World update in the pipeline, and the company showed off the new BlackBerry App World 2.0 on Wednesday as expected at a press event in New York City. Unfortunately, BlackBerry App World 2.0 is not yet publicly available, but it will be "this summer," according to App World product manager Alex Kinsella.
BlackBerry App World was first launched in the United States in April of 2009, and since then it has received a number of minor maintenance- and aesthetic-updates, but App World 2.0 is by far the most significant upgrade.
Perhaps the most notable addition to App World in v2.0 is support for "carrier billing." BlackBerry App World 1.x users had to employ PayPal to purchase applications; RIM did not provide any additional payment options. So any person unable or unwilling to employ the PayPal service simply could not purchase App World applications. I can say with certainty that there are many folks out there who won't even consider touching PayPal with a 10-foot virtual pole due to security and/or privacy concerns. That means no App World apps for those BlackBerry users.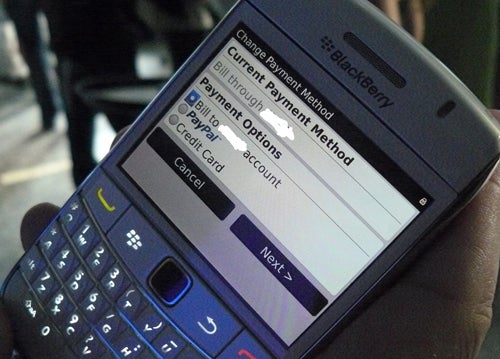 App World carrier billing means that BlackBerry users will be able to circumvent PayPal–or any other online payment service–and purchase applications via their wireless carrier, so any apps they buy are billed to them directly via their monthly wireless service bills. RIM won't say which wireless carriers will support the option when App World launches in the coming weeks, but Kinsella notes that North America will be first to get carrier billing.
PayPal will still be available, and RIM has also added a credit card option, so interested App World 2.0 buyers will have the option of paying for their apps immediately via credit card, as well.
These new payment options have the potential to drastically boost app sales via App World, since RIM is in effect removing some major barriers that dissuaded many BlackBerry users from picking up paid apps in the past.
The BlackBerry App World "My World" section, which displays information on the applications users purchased in the past, as well as whether or not those apps are currently installed or "archived" on their devices, has also been revamped. My World now includes specific sections for installed apps and pending downloads. BlackBerry themes will be accessible via a "Top Themes" category, so they can be viewed separately. And a "Newest Apps" category lets you check out only the most recent App World submissions.
And a new "BlackBerry ID," which will be tied to an e-mail address, will let users easily switch devices and carriers without losing any App World applications or specific preferences, etc.
The mobile app store also got a fairly significant facelift, with a smoother UI and "BlackBerry-6-like" page transitions. (BlackBerry 6 is RIM upcoming smartphone OS, which is expected sometime this year.) And reports suggest the new App World will also feature vastly improved search functionality so users can quickly and easily find whatever they seek.
BlackBerry App World currently has roughly 25 million active users, with nearly 1 million app downloads per day, according to RIM. App World was recently announced in both Taiwan and Japan, and RIM plans to further expand availability in the future, though it's unclear if or when BlackBerry App World 2.0 and its new features will debut outside North America.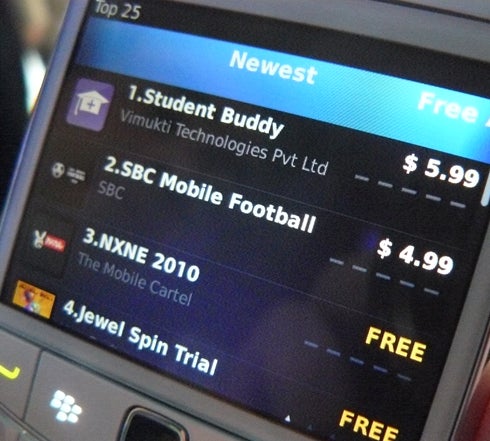 Almost a year ago, I posted a BlackBerry App World "want list" of features I thought RIM needed to incorporate to compete with other major mobile application shops like Apple's iTunes and the Android Market. Though it certainly didn't happen overnight, RIM has with the introduction of App World 2.0 filled in the majority of gaps I identified shortly after the App World launch.
The App World 2.0 enhancements are exciting, and they should go a long way to boosting app sales, which could, in turn, could lead more developers to create BlackBerry software and market it via RIM's mobile app store. This last part will be crucial if App World's going to be successful in the future, since it's really the quality of applications that will draw customers to the app store, not usability.
I still think you should be able to purchase apps for less than $2.99–as is, the cheapest "paid" software in App World costs $2.99. But that's a whole different story altogether.
App World 2.0 is expected to be available for all current BlackBerry devices. And you can find more information on the app store on RIM's website.
AS
FREE CIO BlackBerry Newsletter
Get better use out of your BlackBerry and keep up-to-date on the latest developments. Sign-up »