Research In Motion (RIM) this week released maintenance updates for BlackBerry Enterprise Server (BES) 5.0 SP1 for Microsoft Exchange (maintenance release [MR] 3) and IBM Lotus Domino (MR2).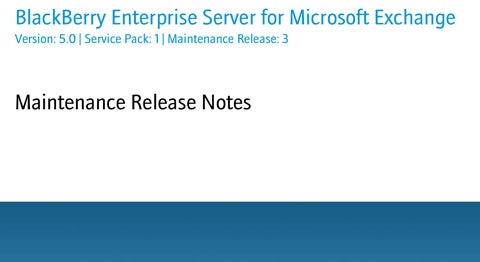 The new BES 5.0 SP1 MR3 release for Microsoft Exchange deployments resolves a variety of issues related to the BES BlackBerry Administration Service; the BlackBerry Attachment Service; the BlackBerry Client for use with Microsoft Office Communicator 2007; the BlackBerry Collaboration Service; and more. (Read more specifics on the issues fixed in MR3 for Exchange on RIM's site.)
BES 5.0 SP1 MR2 for Lotus Domino resolves potential BlackBerry synchronization issues related to device activation, along with problems related to the BES BlackBerry Administration and BlackBerry Attachment Services, among other fixes. (Find specifics on RIM's site.)
BlackBerry administrators planning to install either update on a computer running Windows 2003 should first read the new maintenance release notes that accompany the software online, according to RIM.
The last official MR updates for BES 5.0 came last March.
And both of the recent MR updates are available for free on RIM's BlackBerry downloads page.
AS
via BESmgmt.de
Al Sacco was a journalist, blogger and editor who covers the fast-paced mobile beat for CIO.com and IDG Enterprise, with a focus on wearable tech, smartphones and tablet PCs. Al managed CIO.com writers and contributors, covered news, and shared insightful expert analysis of key industry happenings. He also wrote a wide variety of tutorials and how-tos to help readers get the most out of their gadgets, and regularly offered up recommendations on software for a number of mobile platforms. Al resides in Boston and is a passionate reader, traveler, beer lover, film buff and Red Sox fan.