Just when you thought it was safe to jump into the SaaS waters, a new survey finds that IT and enterprise software decision-makers don't feel totally comfortable with SaaS—namely those nagging security, integration and data migration concerns.
That's the thrust of a new Forrester Research report: "As Adoption Grows, Vendor Managers Can Help Business Users Succeed with SaaS Deployments," by principal analyst Liz Hebert. (The results are from Forrester's Enterprise and SMB Software Survey, North America And Europe, Q4 2009; the data was fielded to 2,165 IT executives and technology decision-makers located in Canada, France, Germany, United Kingdom and United States.)
No doubt vendors' software-as-a-service (SaaS) products have vastly improved since the early 2000s. "The growing maturity of SaaS combined with buyers' desire for solutions that allow them to conserve cash, deploy quickly, and avoid long-term lock-in, means that SaaS continues to gain popularity," Herbert notes.
But IT executives and corporate technology buyers still aren't totally sold on SaaS. Call it the growing pains of a semi-chaotic, underdeveloped marketplace. Herbert writes: "Today's SaaS landscape is frequently characterized by multiple, fragmented and often siloed applications."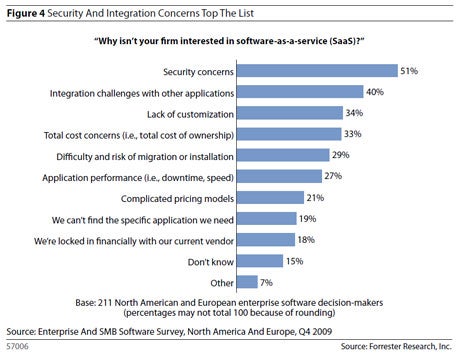 Here are the Forrester survey respondents' top-three concerns:
Security. Security is the top reason preventing firms from moving to SaaS, cited by more than half of the respondents.
"Specific security concerns include everything from physical security (requirements for data centers), to logical security and identity management, to a lack of robust security standards," writes Herbert. "While many standards bodies and cloud alliances work to create security standards for SaaS and cloud, firms can also look to offerings like McAfee Cloud Secure and HP Cloud Assure for elements of a security health check."
Integration. "Firms not only face the challenge of integrating SaaS with on-premise but are increasingly finding that SaaS-to-SaaS integration can be difficult and often expensive," writes Herbert. Companies are looking to third-party solutions from vendors such as Informatica and HubSpan or to custom solutions from vendors like Appirio and Bluewolf, the report states.
"Some tools make it possible for non-IT roles to manage ongoing integration points (within reason), which appeals to business populations that are attracted to SaaS to gain independence from IT," Herbert notes. "However, sourcing and IT professionals should typically get involved to make sure that the integrations are cost-effective and avoid duplicating integration work being done elsewhere in the organization." (For more on this topic, see CIO.com's Cloud Computing: What CIOs Need to Know About Integration.)
Data Migration. Herbert writes that some areas of SaaS that are popular with companies include "peripheral/edge" areas where companies have little or no existing applications or where SaaS is supplanting lightweight Excel tools only.
"But in more strategic areas, like financials or supply chain, firms planning a migration to SaaS are typically faced with a significant data migration," Herbert contends. "This has significant impact on time to deploy, lock-in/commitment and implementation considerations," such as the need for systems integration and consulting help. Companies can incur additional cost in these areas.
One critical area mentioned by Herbert in the report and echoed in an incisive blog post by Enterprise Irregular blogger Brian Sommer is that SaaS vendors have to do a better job at fielding CIOs' technical questions. As Sommer opines, CIOs' have lots of SaaS-based questions. Do the vendors have the answers?
The Forrester survey results and Sommer's conversations with CIOs show that SaaS vendors' have much more growing up to do.
Do you Tweet? Follow me on Twitter @twailgum. Follow everything from CIO.com on Twitter @CIOonline.