BlackBerry-maker Research In Motion's (RIM) today announced the latest version of the BlackBerry Mobile Voice System (MVS) at its ninth annual Wireless Enterprise Symposium (WES) in Orlando. MVS 5 adds new voice over Wi-Fi (VoWi-Fi) functionality and support for additional corporate PBX systems.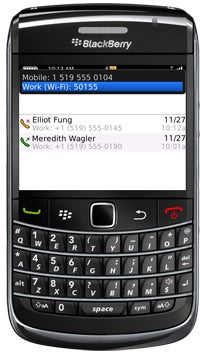 RIM's BlackBerry MVS helps organizations "cut the cord" on traditional, wired phones-systems, according to RIM Co-CEO Mike Lazaridis, by merging corporate desktop phones with BlackBerry smartphones. In other words, MVS lets corporate users employ their BlackBerrys to answer calls placed to their corporate desk-phones and smartphones, and make calls via BlackBerry that appear to originate from their desk-phones, among other things.
RIMs MVS connects to corporate PBXs via BlackBerry Enterprise Server (BES), so associated communications are secure and all users can be located and authenticated, RIM says. Many of the features available via corporate telephone systems, such as quick extension dialing, caller ID and direct-to-voice-mail functionality, also become available via BlackBerry.
The core benefit behind BlackBerry MVS, according to RIM: business users can receive calls made to their work landlines on their mobile phones. Because the system employs Wi-Fi calling, where available, it can potentially save businesses significant wireless service charges. BlackBerry MVS reduces the need for businesspeople to physically be in the office. And it's ideal for employees who often work at home or spend their days away from the office, like heathcare, construction, and sales staffers, RIM says.
BlackBerry MVS isn't new–it was announced three years ago at WES 2007. And neither is the VoWi-Fi functionality, really–T-Mobile starting offering MVS with VoWi-Fi last fall as part of its "Wi-Fi Calling with MobileOffice" service for corporate customers. But MVS 5 supports VoWi-Fi calling on additional wireless carriers. (For more details, read "Benefits of Using T-Mobile UMA for VoWi-Fi v. New MVS 5"
T-Mobile corporate and consumer customers can already place VoWi-Fi calls using Unlicensed Mobile Access (UMA) technology. But MVS5 uses a different VoIP protocol to route calls over Wi-Fi, so the new feature is available through carriers who don't offer UMA. Corporations and users looking to take advantage of the new VoWi-Fi calling must employ Wi-Fi-enabled smartphones like RIM's BlackBerry Bold 9700. (Learn more about the Pros and Cons of Dual-Mode VoWi-Fi smartphones.)
From an IT standpoint, MVS also adds a number of new administrative features including Wi-Fi network access controls to specify which Wi-Fi networks users can connect to securely and employ MVS features. New network preference settings let admins prioritize Wi-Fi or cellular for voice calling via MVS. And call-filtering features can be set based on predefined allowed- or blocked-caller lists.
I've written about MVS a number of times, and I honestly believe RIM's on to something truly valuable with the idea. However, MVS doesn't seem to be gaining any sort of major traction in the corporate world. In fact, I know of very few organizations that are currently using MVS on a large-scale, beyond the companies RIM has highlighted in the past, like Dell.
I asked RIM about this, and I was told by the company's then-Director of Software Product Management, David Heit, that MVS uptake has been relatively slow but steady, and once early issues with PBX compatibility and corporate systems integration are ironed out, the company expects MVS to take off. (Read more on my interview with Heit, along with a list of MVS benefits to corporations, here.)
Today, RIM announced additional PBX support in the form of a new MVS interoperability platform for telecom providers, and it has no doubt been working studiously away on solving those "systems-integration issues," so the time may be now for MVS to hit the big time. Whether or not organizations will eventually embrace MVS in the way RIM hopes remains to be seen. But the idea of doing away with the desk-phone for a corporate BlackBerry could potentially shake up the mobile enterprise.
BlackBerry MVS 5 is expected to become available before the end of 2010. And more information on the product can be located on RIM's website.
AS