Corporate BlackBerry users who spend a good portion of their workweeks on conference calls and participating in online meetings have a cause for celebration today: Cisco has released the free WebEx Meeting Center for BlackBerry application, which lets users quickly and easily join WebEx meetings by clicking on invite URLs in e-mail or BlackBerry calendar entries.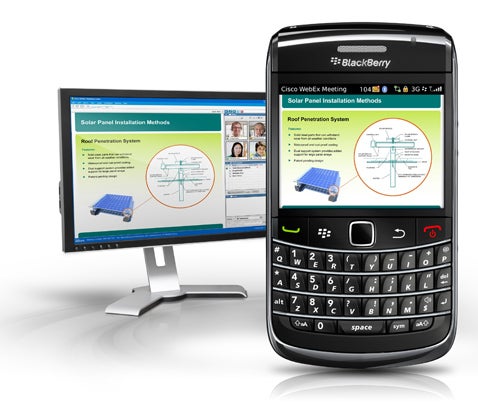 Cisco WebEx Meeting Center for BlackBerry also lets users view shared meeting documents and participant desktops. And menu options within the app provide speedy access to WebEx features and shortcuts for more efficient navigation via smartphone, all using the company's "Cisco WebEx Collaboration Cloud."
I haven't had time to put the app through the paces quite yet, but this sounds like a good one. It should be easy to use; Cisco says you just click on a WebEx meeting URL using your BlackBerry, and the WebEx audio conferencing system should call your device shortly thereafter. When you answer the call, the "data-portion," or the visual component of your meeting, should launch immediately via BlackBerry.
WebEx meeting hosts can begin previously-scheduled meetings via BlackBerry, and they can also pass on presenter control to other participants using PCs–presumably that means presenters cannot "control" meetings using just a BlackBerry and no computer. And you can use the app to view shared presentations, applications and participant desktops, all with live annotations, Cisco says.
The WebEx BlackBerry app isn't the first of its kind; Fuze Meeting for BlackBerry offers similar functionality. But it's designed by Cisco specifically for WebEx, so it will presumably offer a better overall experience–at least for Cisco online meetings.
It's unclear what BlackBerry devices and/or carriers are supported at this point, but I was able to download and install the app on my T-Mobile BlackBerry Bold 9700 without any issue.
Cisco WebEx Meeting Center for BlackBerry should be available via BlackBerry App World soon, but as of 12 noon EST today, it's still not listed. For now, you can download the app by simply clicking on a WebEx meeting URL within a BlackBerry e-mail or calendar entry. If your device is supported, you should be prompted to download the app. Or you can download it directly from Cisco via BlackBerry browser at WebEx.com.
AS
FREE CIO BlackBerry Newsletter
Get better use out of your BlackBerry and keep up-to-date on the latest developments. Sign-up »