The more friends you have, the more often it happens: You log into your Facebook account and find your News Feed cluttered with meaningless messages such as your friends' FarmVille updates, who's now friends with who and who became a fan of what. (Yes, of course you like cheeseburgers. Next!) A cluttered Facebook News Feed makes it more difficult to discover posts that matter most to you—so check out these three ways to manage the information that flows through it.
Your News Feed: How to Manage Your Facebook Friends
Choose the view "Most Recent" from the top of your News Feed. Scroll to the bottom, and you'll see two options: "Older Posts" on the left and "Edit Options" on the right. Choose "Edit Options" to manage the friends that appear regularly in your News Feed.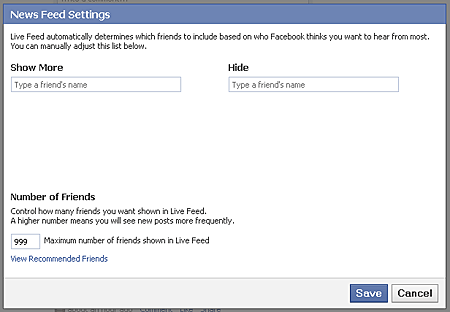 As its default, Facebook chooses which friends' posts it thinks you'd like to see in your News Feed based on how many friends are commenting on the post, who posted it and what type of content it is. You can tweak this list by adding friends whose activity you want see more of, and limit others by adding them to the "hide" list, so they appear less frequently in your News Feed. You can also control how many friends you want shown in the Live Feed: The higher the number you choose, the higher the frequency of new posts.
[For more on Facebook apps, read "4 Facebook Apps that Add Professionalism to Your Profile.]
Your News Feed: How to Manage Facebook Applications
Facebook application updates tend to be the worst culprit in cluttering News Feeds, but you can manage these easily. When an unwanted application update appears in your News Feed, hover above the post and a "Hide" button will appear. Click it, and you'll have the option to hide all updates from the application, or hide posts from the user.
[Looking for more advice on Facebook? Visit CIO.com's Facebook Bible: Everything You Need to Know About Facebook.]
To view the applications you've hidden, or to unhide an application, switch to the "Top News" view of your News Feed. Scroll to the bottom and choose "Edit Options." You'll see which applications you've hidden, and can choose "Add to News Feed" to restore an app.
Your News Feed: How to Sort Facebook Updates
Another way to manage what you see in your News Feed: Use the options from the toolbar on the left side of your screen. By choosing "Friends," a drop-down menu will appear. Here, you can choose to view only the status updates from your Facebook friends in your News Feed, or you can choose to view the latest updates from specific groups of people you've created, such as those on your Limited Profile list.
While creating these specific lists can be tedious—for example, one for coworkers, one for family members, one for friends you know well&the lists offer an efficient way to control what you see in your News Feed, as well as controlling your Facebook privacy settings.
Staff Writer Kristin Burnham covers consumer Web and social technologies for CIO.com. She writes frequently on Twitter, Facebook, LinkedIn and Google. You can follow her on Twitter: @kmburnham.