When viewers tune in to coverage of the 2010 Masters golf tournament, they will see IBM advertisements on the CBS and ESPN TV broadcasts and the IBM logo on the Masters.com website. Viewers will most likely hear about IBM's vision of a "smarter planet" campaign. (I always look forward to the guy who says "Smarter Stuttgart.")
Viewers don't have to fret about being overwhelmed with the volume of ads. This is the Masters, after all. The annual golf tournament prides itself on a "less is more" philosophy when it comes to advertisements. Commercial interruptions are the exception, not the norm: During eight hours of TV coverage on Saturday and Sunday of the 2009 Masters, Nielsen data showed just 36 minutes of commercials.
In fact, unlike most professional golf tournaments, the Masters has only three sponsors: IBM, AT&T and ExxonMobil. These three business giants pay for the exclusivity of the Masters' "limited commercial interruptions," though that price tag is a closely guarded secret.
Even so, the return of Tiger Woods back into the public eye and the professional golfing world will likely make this year's edition a marketer's dream: TV ratings are projected to be through the roof and fan interest in the event is, impossibly, at an even higher level than typical. According to one Bloomberg article, the trio of Masters sponsors could realize a 43 percent boost in the value of TV ads simply because of Woods' return.
IBM's sponsorship, however, is a little bit different than AT&T's or ExxonMobil's arrangements with the executives who operate the Augusta National Golf Club. Sure there are the TV spots that IBM buys, but viewers will also notice that the tournament is "powered" by IBM technology.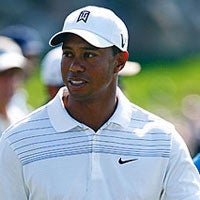 Tiger Woods makes his return

to professional golf at

the 2010 Masters Tournament.
No, IBM is not the state of Georgia's new utility provider. It means, according to Rick Singer, IBM's VP of client executive marketing, that IBM systems and staffers provide the IT backbone for Augusta National. "We provide virtually all of their technology needs from beginning to end," Singer says. That includes a wide range of tasks such as: core infrastructure and data center management; website design and interactive content development; networking and security; and golf scoring and player statistics, a.k.a. "data management."
Simply stated, Singer says, "We're helping them communicate with the world." And with Tiger Woods back roaming the fairways and greens of Augusta National, it will probably feel like most of the world will indeed be watching.
A Sponsorship Unlike Any Other
IBM's sponsorship-partnership arrangement with Augusta National is unique, especially when compared with your typical corporate sponsorship of golf events, tennis tournaments or other sports-related business schmoozefests. Those typically look like this: Show up on the day of event with clients, wine-and-dine, talk-a-little-business and offer up a reverential "golf clap" every so often.
No doubt, as a sponsor, IBM entertains key customers and executives at the Masters. And IBM pays for that, though Singer won't disclose that amount. (For the record, IBM spent $1.2 billion in 2009 on advertising and promotional expenses, according to its annual report. That's for its entire marketing activities, a small portion of which is spent on sports sponsorships, according to an IBM PR representative.)
An image of the 2010 Masters.com website,
which is run by IBM.
But because IBM has its own software, hardware and people working on-site, in real time, while the world is watching the Masters, an IBM customer can get a little hospitality as well as a more engaging product demo than your garden-variety game of 40 PowerPoint slides in a conference room. In other words, the Masters is a living, breathing reference customer that IBM customers really, really want to hear about. "It's not a demo; it's real business," Singer says. "We see it not so much as hospitality—though that is part of it—but as truly an event. It's an IBM event because they're getting a taste of our technology. And it's wrapped in a very nice box."
IBM views an event like the Masters as well as the business strategies and IT infrastructure working behind the scenes as a way to tell a business story that customers want to hear, Singer says. "For us to talk about the business challenges that the Masters or USGA [U.S. Golf Association] faces or how we sat down with the NFL [National Football League] and figured out how technology can help them address their issues, it takes it out of the realm of discussing 'balls'—footballs, tennis balls and golf balls," he says. "It's more about challenges on managing data, challenges on managing infrastructure and reducing cost."
Making the Relationship Work
This is not a new type of marketing arrangement for IBM. Singer says IBM began this back with the 1960 Winter Olympics in Lake Placid. Today, technology partnerships include such deals with the USGA (pro golf's U.S. Open), the four major championships of professional tennis (Australian Open, French Open, Wimbledon and U.S. Open) and the NFL. (CIO.com profiled the IBM team's efforts at the U.S. Open tennis championships and PGA Championship back in 2000.)
Why these events? Singer says IBM chooses these sports properties because of "the passion" the events evoke among IBM's customers and potential new clients. "It's what our customers care about," he says. "These are the things our clients will travel for, and they'll watch on TV." Plus, he adds, "It's fun to hear about a business story wrapped around something you're passionate about."
For decades, many in corporate America have claimed that the golf course is "where business gets done." But according to a 2008 CIO magazine survey of 394 IT industry professionals, not everyone is sold on golf's career-enhancing powers: 55 percent said that their interest in the game of golf had helped their careers; 45 percent said it had not helped them.
Nevertheless, there aren't too many golf fans (even casual ones) or IBM customers who would ever turn down a visit to the Masters tournament. Singer confirms that fact. The 2008 CIO survey found that Augusta National was the number-one golf "dream destination."
IBM's Risk-Reward Question
While IBM's deals are different than the norm, they also can be tricky. Singer points out that the dual dependency inherent in IBM's partnerships with the sports organizations adds an interesting wrinkle to the business relationship: both parties are buyers and sellers.
So what's the hard-dollar return for IBM and its sponsorship and partnership activities?
In short, there isn't one (or at least one IBM will publicly disclose). That, though, has more to do with the inexact science of marketing campaigns rather than IBM's efforts, says Jennifer Belissent, Forrester Research's senior analyst on technology vendor strategy. Directly linking efforts such as IBM's to exact revenue or sales metrics is "one of the hardest things to justify," she says. However, it's easy to see why companies want to be associated with premier sporting events such as the Masters or the Olympics. "It's associating that company or product with excellence," she says.
Singer won't get into specific financials but offers this ROI assessment:
We look at what we spend, we look at what we think we've generated—based on a number of sources—in incremental revenue, whether it's clients who attend or clients who reach out to us in other ways…. At the end of every year we look to see how we are doing on these properties: We spend X: What kind of a return are we getting? We're not looking for a return in terms of bringing in revenue. You really want to get a multiple return, and we're strict on that. It tells us that: Every year, every property pays out at that multiple. Some years may be a little more challenging than others. But we don't look at the payout of what the property would spend with us; we look at where the opportunities are outside of that, because that's where the huge opportunity is. And our management keeps letting us renew them, so I guess we're doing OK.
Because IBM provides a service to events that are being watched around the world, the reward is clearly there: massive exposure and brand awareness. But there's also risk.
At the 1996 Olympics in Atlanta, for instance, the Games' website was slower than a heavyweight wrestler competing in the 50-meter dash. In addition, one of the seven main systems providing competition results to 12 news organizations flamed out. The company managing it all? IBM. (Financial and sponsorship disagreements between IBM and the International Olympic Committee ended their 40-year partnership with the 2000 Games in Sydney.)
Forrester's Belissent, who has done research on Olympics sponsorships, says that tech vendors have to hedge for the huge amount of risk they face. "There's a fine line between innovation and risk abatement. And they'll take no risks," she says. "So they'll innovate, but there's a stopping point at which they'll start testing and testing. They absolutely recognize that there's no room for error."
Singer says the IBM team is aware of the weight of the world watching the Masters this year—barraging the IBM systems and data centers. Tiger Woods' return to Augusta has made that intensity undeniable. "It's certainly a great challenge, and we are preparing ourselves for a tremendous amount of [website] traffic," Singer says. "As far as the TV audience goes, we know a lot of people will be seeing IBM ads."
Do you Tweet? Follow me on Twitter @twailgum. Follow everything from CIO.com on Twitter @CIOonline.