With the next generation of Office Communications Server, due out before the end of this year, Microsoft will look to establish itself as a company that can be trusted with unified communications. One of Microsoft's sticking points with customers will be enterprise voice capabilities.
Code-named OCS 14, the new suite will include more voice features and will be the final wave in the full Office 2010 release, according to a recent blog post by Gurdeep Singh Pall, Microsoft Corporate VP of Unified Communications.
Exchange 2010 has been available since November and Office 2010 and SharePoint 2010 will be available to businesses May 12 and to the general public in June.
Unified communications is a broad term meaning the integration of VoIP (Voice over Internet Protocol) and telephony, instant messaging, presence and video conferencing into a Web-based platform. Forrester Research predicts that by 2015, the unified communications market will grow five-fold to $14.5 billion.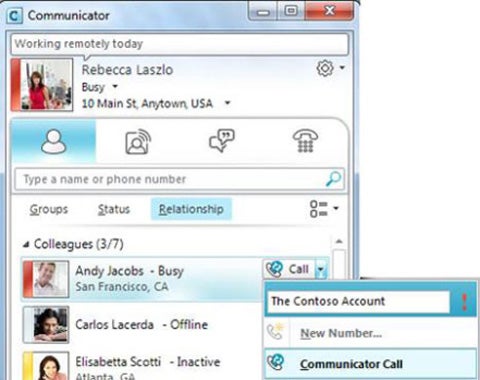 As enterprises craft their UC plans and budgets, Microsoft, Cisco, Avaya and IBM/Lotus will be fighting for customers. Microsoft approach with UC is to keep it software-based, integrating UC features like voice and chat into Outlook and SharePoint. Its main competitor, Cisco, is traditionally a hardware networking company, but its acquisition of WebEx has given Cisco an e-mail service with Cisco WebEx Mail and a UC suite called Cisco WebEx Meetings.
Has Microsoft Found Its Sweet Spot with OCS 14?
SharePoint 2010: Five New and Improved Features
Slideshow: Fighting the Dark Side: Tech's Heroes and Villains
Microsoft's main goal with OCS 14 is to get enterprises off of old PBX (private branch exchange) systems, says Microsoft's Pall. But Redmond will need to win the trust of customers who think of Microsoft as a software company and not a reliable provider of VoIP and telephony services.
Here are five features that Redmond hopes will encourage OCS 14 upgrades.
E911 (Enhanced 911)
An important new feature in OCS, E911 (Enhanced 911), allows users to dial 911 and get local assistance no matter where they are located. Also, with E911 the caller's location and information is displayed to the emergency responder without the person calling having to provide it. This is most useful when communicating one's location is difficult or impossible.
Simultaneous Ring
With the simultaneous ring feature, the user can choose, based on who is calling, to have the call ring at a specific number, go straight to voice mail, or simultaneously ring at multiple numbers, such as a cell phone and a desk phone.
Contextual Calls in Real Time
When selecting a contact to call in OCS14, the user will have a field to type in the reason for the call — such as "Brainstorm about PowerPoint presentation" — before placing a call. The recipient will see the subject of the call — i.e. context — before he or she answers.
Call Parking
Another new feature in OCS 14, Call Parking, lets the user put a call on temporary hold, then transfer the call to an unused phone line that is integrated into the OCS system, and then resume the call.
Enhanced Voice Recognition
With improved speech recognition software in OCS 14 and Exchange 2010, the Communicator client can transcribe voice mails and then deliver them to a user's Outlook inbox as both an audio file and as text to be listened to and/or read.
Shane O'Neill is a senior writer at CIO.com. Follow him on Twitter at twitter.com/smoneill. Follow everything from CIO.com on Twitter at twitter.com/CIOonline.