New Global Positioning System (GPS) data released today by GPS-navigation provider TeleNav offers a number of insights into the behaviors–and preferences–of U.S. drivers.
The data, collected randomly from millions of U.S. TeleNav users throughout 2009, suggests American drivers are most frequently searching for big-box retailers like Walmart and Target, as well as a quick caffeine fix via Starbucks. And on a state-level, residents of Maryland are by far the most frequent users of GPS for navigation.
TeleNav customers employ the service via mobile applications for popular smartphones like Apple's iPhone and Research In Motion's (RIM) BlackBerry, as well as via standalone GPS navigation units, like TeleNav's Shotgun.
The top "states" for GPS-based navigation in 2009 were Maryland, Washington, D.C., Massachusetts, North Carolina and California, according to TeleNav. In fact, Maryland residents used TeleNav for twice as many trips per month than the national average, according to the company.
TeleNav says its users conduct millions of GPS-based searches a month. The leading U.S. city-areas for GPS-searches were Los Angeles, Dallas/Forth Worth, Chicago, Houston and Atlanta.
And Americans are using TeleNav frequently to help find popular retailers; the most sought-after U.S. businesses in 2009 were Walmart, Starbucks, Target, Best Buy and Bank of America.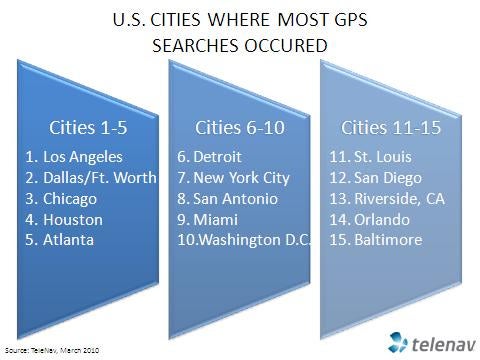 Additional noteworthy data includes the most frequently searched for types of food–Pizza in Chicago and Chinese in New York; along with the cities in which drivers most often used GPS to avoid traffic and locate the cheapest fuel–Los Angeles and Phoenix, respectively.
For additional information on TeleNav and its 2009 national GPS usage data, visit the company's website.
And if you're a BlackBerry smartphone user, check out my tips, tricks and best practices for getting the most out of TeleNav for BlackBerry.
AS
FREE CIO BlackBerry Newsletter
Get better use out of your BlackBerry and keep up-to-date on the latest developments. Sign-up »
Al Sacco was a journalist, blogger and editor who covers the fast-paced mobile beat for CIO.com and IDG Enterprise, with a focus on wearable tech, smartphones and tablet PCs. Al managed CIO.com writers and contributors, covered news, and shared insightful expert analysis of key industry happenings. He also wrote a wide variety of tutorials and how-tos to help readers get the most out of their gadgets, and regularly offered up recommendations on software for a number of mobile platforms. Al resides in Boston and is a passionate reader, traveler, beer lover, film buff and Red Sox fan.