Amazon.com has released its new, free Kindle for BlackBerry application, giving Research In Motion (RIM) smartphone users access to the online retailer's catalogue or more than 400,000 digital books for its Kindle e-reader and associated mobile applications.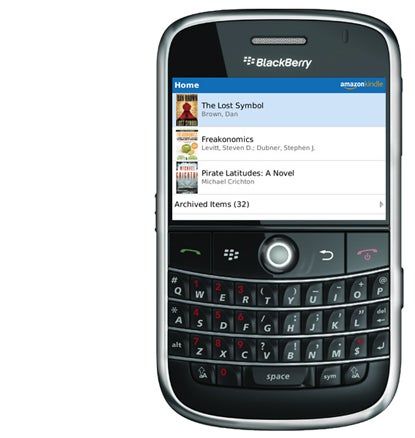 I told you to expect the Kindle BlackBerry app about two months ago, and Amazon has finally decided to let the free application out into the wild. Kindle for BlackBerry lets you access your Kindle books even if you don't have a Kindle on-hand; the app automatically synchronizes your last page read and annotations between devices using Amazon's "Whispersync" technology; and you can create bookmarks and view annotations you created on your Kindle in past, according to Amazon.
In other words, you can use multiple devices–a Kindle, a PC and your BlackBerry–to access the same Kindle content, and Whispersync will make sure your bookmarks and other notes carry over to all your gadgets.
You can also preview the first chapter of Kindle books before purchasing. And an in-app Kindle store makes building your library simple, with most books priced at or around $10. Unfortunately, Kindle newspapers, magazines, and blogs cannot be accessed via Kindle for BlackBerry.
The app's initially available for the BlackBerry Curve 8520 and 8900, Bold 9000 and 9700, Storm 9530/Storm2 9550 and the Tour 9630. And it should work on all major U.S. carriers, according to Reuters, though users outside the United States will have to be patient until an international version arrives…or simply register a U.S. address on your Amazon.com account. (Thanks, Bla1ze!)
For some reason, I've been unable to download the app to my T-Mobile 9700–I keep getting internal server errors. But it downloaded to my Storm2 on Verizon just fine. And I've checked in with a number of colleagues using different RIM handhelds on different carriers who had no issues downloading the app.
I've been using Amazon's Kindle for iPhone application for months, and it's one of my favorite iPhone apps. So far, the BlackBerry version looks very similar and it should make a great e-reader for BlackBerry users who haven't taken to existing e-readers like Mobipocket or eReader or who are already Kindle users.
Download the new Kindle app via BlackBerry browser at Amazon.com/kindlebb. Or click on over to Amazon.com for additional information.
AS
FREE CIO BlackBerry Newsletter
Get better use out of your BlackBerry and keep up-to-date on the latest developments. Sign-up »