What It Is:
Beginning today, if you're a Microsoft Outlook user, you can integrate your LinkedIn network with your Outlook inboxes. This is the fruit of a partnership between Microsoft and LinkedIn that was originally announced in November. This new feature will give you greater transparency into the people with whom you e-mail: Photos of your connection are displayed in your e-mails, activity from your connection is aggregated at the bottom of e-mails and a new folder in Outlook is displayed containing e-mail addresses and profile details. How It Works:
Click here to download the latest version of the Outlook Social Connector from Microsoft. This download requires Outlook 2003, 2007 or 2010. Once that is installed, download the LinkedIn Outlook Connecter here. Then restart your Outlook application and follow the instructions to connect your LinkedIn account to Outlook.
What You'll Find:
After your downloads are complete, you'll see a LinkedIn folder appear in Outlook. This folder aggregates information from your LinkedIn account and your Outlook contacts, presenting it in a business-card format that includes the contact's photo, title and e-mail address. You can e-mail your LinkedIn connections by typing a person's name into the Outlook "To:" box and letting Outlook fill in the rest. You may also search for a specific contact alphabetically.
Additionally, in a new window pane under an e-mail from a contact, you'll see a summary of the contact's most recent LinkedIn activity, status updates, accepted connections and e-mails. You can sort these updates by news feed updates and RSS articles about this person; e-mail messages; attachments; meetings and status updates by clicking on the icons to the left of the feed. If you are not yet connected on LinkedIn, you can click "Add" to add them to your network.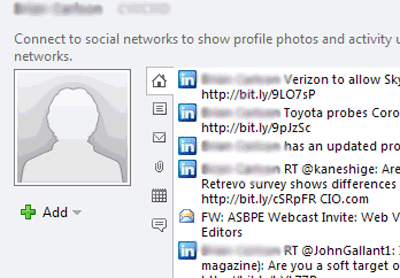 Why It's Important:
"This is great for professionals who use Outlook as you will be able to keep in touch with your LinkedIn network even more," says Lewis Howes, author of LinkedWorking: Generating Success On The World's Largest Professional Networking Website. "It's a great way to start growing your network," he says.
Will you be using LinkedIn with Outlook?
Staff Writer Kristin Burnham covers consumer Web and social technologies for CIO.com. She writes frequently on Twitter, Facebook, LinkedIn and Google. You can follow her on Twitter: @kmburnham.